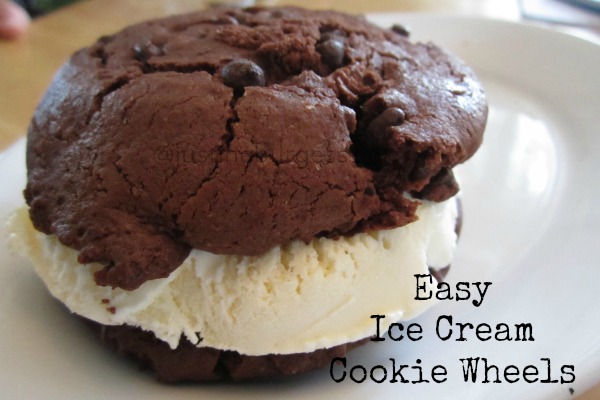 Contributing post by Justine Burgess.
So, you need a sweet treat that takes almost no time to make and is budget-friendly? Look no further than these easy ice cream cookie wheels. This delicious looking ice cream sandwich is about the easiest thing you'll ever do.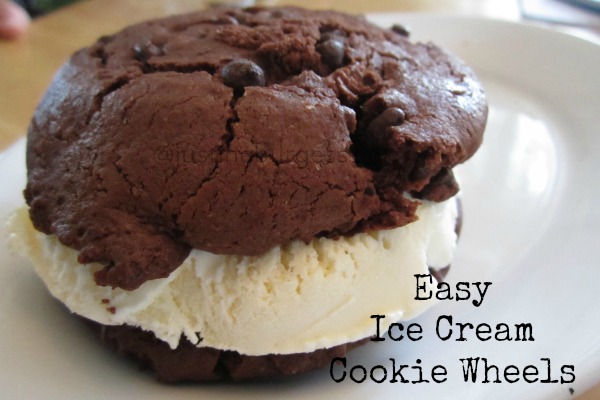 It seems obvious, but I honestly never thought about making homemade ice cream sandwiches until my 5-year-old suggested it. Since not everyone likes to buy baked goods, we have two versions for you- easy and easier. Easy requires baking your own cookies. For the easiest version, it's super simple – just scoop and squish. Yep, that's it. And, the best part is that it's easy for kids to make on their own. Just hand them the ingredients and an ice cream scoop (and cover your table with a wipeable cloth) and let them go to town. My son and I did this the other day- it was tons of fun and so delicious, I kept wondering why it hadn't occurred to me before, especially because it was so simple (and I'm sure some of you are thinking "and so obvious!").
Super Easy Ice Cream Cookie Wheel
Ingredients
Ice cream
Big cookies
Directions
Lay out two large store-bought fresh bakery cookies
Soften ice cream slightly and scoop it onto the flat side of one of the cookies.
Take the second cookie and plop it on top, then squish it down and eat it!
If you want less messy-melty cookie sandwiches, put them in the freezer for a little while to harden the ice cream back up.
You can use any kind of cookies, but these giant Chocolate Chocolate Chip cookies we used (from Ralphs Grocery fresh bakery) are one of our favorites. You can even customize your cookie sandwiches by rolling the edges in various toppings like sprinkles, chocolate chips, or M & M's, then put them in the freezer to solidify a bit.
If you want the "easy" (read: slightly harder and more involved) version, make your own cookies (any kind of cookie that will hold up to ice cream), then do the above steps once the cookies have cooled. You can also see my recipe for double chocolate chip cookie recipe and make your own cookies. You could also make your own ice cream- but that kind of takes the "easy" completely out of the recipe. Happy snacking!
Originally published on August 23, 2013. Last Updated on February 26, 2019 by Pattie Cordova