I live in Southern California and the need for a sweater doesn't come around too often. Unfortunately, that also means that we don't usually have a hoodie for the kids. This was the case last week. He finally outgrew his one hoodie that he had and now he needs one for this coming season. You would think that I could go to the store by myself, or even online, and purchase him one, right? WRONG! My kid has his own sense of style and I can't get him to wear anything that he doesn't personally choose out. And because I don't like having to tow around the baby while we shop, I gladly sit down with my oldest kid while he browses and shops for his fall fashion clothes.
So on this particular occasion we were on the Cookie's Kids website looking for kids clothes, specifically a hoodie and some nice jeans. If you're an online shopper, you'll be pretty happy shopping on their website. However, if you're in the NYC area, you should be happy to know that they have 7 stores in the NYC area in Bronx, Brooklyn and Jamaica. I would imagine that it would be better to shop in person since they might further discount their already super-affordable kids fashion and school uniforms.
We get online, go to the Cookie's Kids website and go to the pants section first. My kid wants some pants to go with some dress shoes that his abuelita got him. There were A LOT of pants choices. We clicked a few and eventually eliminated the non-jeans pants. That still left us with a lot of choices so we then read reviews on the pants. Now, I don't know about you, but I rely heavily on reviews. I want to know if the pants are going to shrink, lose their colors in the wash, if the length is long enough, etc. Luckily, Cookie's Kids has a reviews section on each item and a few of them had reviews posted. For the ones that didn't I went outside of Cookie's Kids and searched for them that way. After much deliberation, we settled on Nautica "Seamly" Straight Jeans. They're classic, stylish and uber-affordable on CookiesKids.com. Only $19.99 – compared to $37.50 at other retail locations.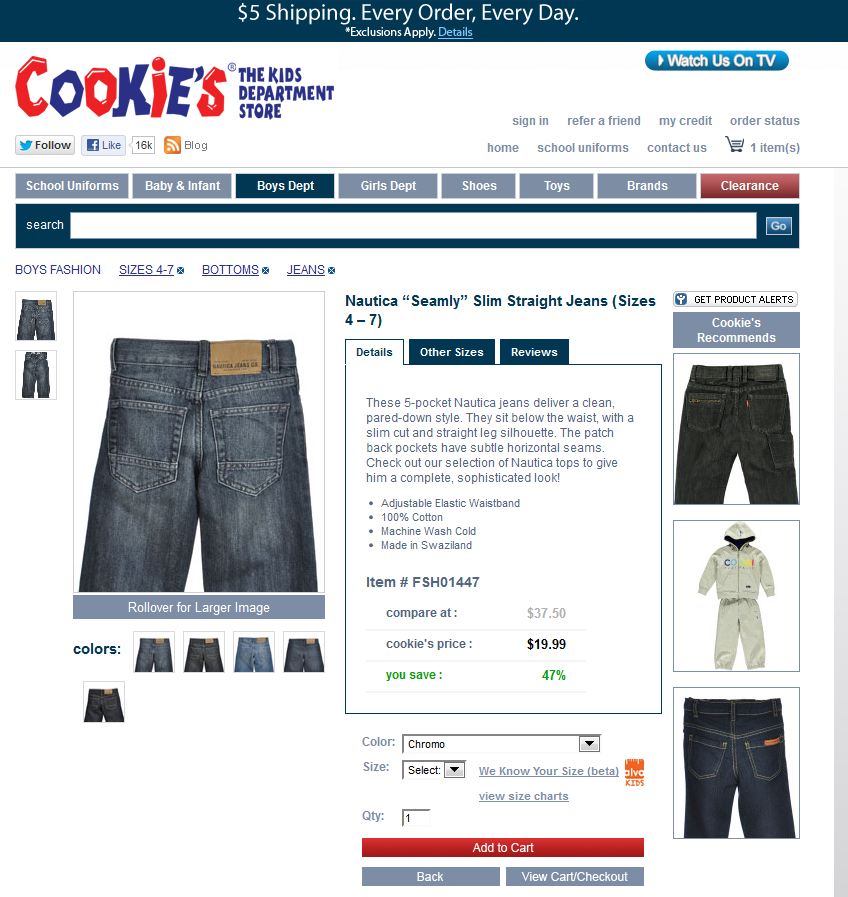 Our next stop was hoodies. My kid checks them out and as soon as he gets to the super hero hoodies he stops. He examines each one until he settles on a Spider-Man "Hero for Hire" hoodie.
Because my kid isn't 5 yet, I always worry that buying him clothing that is size 5 and above will fit him too big. So in an attempt to avoid having to return the hoodie in case it didn't fit I used their Alva Kids tool.
Alva Kids is a tool that allows you to tell what size your child wears in that particular item. You have to register with the site, but their Facebook login button allows you to do it super quick. I did and it took me a couple of minutes. I went to use their sizing tool with the hoodie and it gave me a response telling me that they didn't carry my kid's size. Well, I couldn't explain that to my kid so I just ordered a size 5 and crossed my fingers that it would fit (it did).
In the end I purchased the Spider-Man hoodie and the Nautica dark wash jeans. Of course, I couldn't leave well enough alone so I went on a search for a coupon code to either remove my shipping charges, or throw something in there for free. I scored with the TMNT coupon code. When I added it, it threw in a stationary kit for FREE! I also noticed that Cookie's Kids automatically gave me a Parenting School Years magazine for free. Well… I don't have kids in school so I asked for a refund ($10 value). In the end, I ended up saving $10 thanks to the Parenting magazine reimbursement that I will receive in the mail, and I received a free TMNT stationary kit. Win-win.
The clothes came in and they were perfect. The pants were just an inch shorter than what we usually purchase, but my kid likes them shorter because he doesn't like them to touch the ground. So really, these were perfect jeans for him. The stitching is really top-notch, the wash is dark enough to go dressy if he wants to, and they fit him in the waist.
The hoodie was another score. The sleeves come to his wrist, and doesn't cover his palm. He has this thing (yes, another "thing") about sleeves going lower than his wrist. He doesn't like to feel the fabric on his palm. This hoodie's length in both the sleeves and the waist is so right-on that I'm thinking of going back and getting him the rest of the super hero line. I like that the hoodie part is made of mesh fabric so even if he does have it over his mouth and nose, he can breathe easily through it.
Both the Nautica jeans and the Spider-Man hoodie make perfect play clothes without feeling like he's compromising style. With the cooler season coming, I invite you to visit Cookie's Kids and see the great deals that they have for babies and kids. You can also click through to the #CookiesKids Google+ album and check out other items that I found.
Follow Cookies Kids Online
Facebook | http://www.facebook.com/Cookieskidsfans 
Twitter | https://twitter.com/cookieskids
[disclaim]I am a member of the Collective Bias™ Social Fabric® Community.  This shop has been compensated as part of a social shopper insights study for Collective Bias™ and CookiesKids.com #CBias #SocialFabric[/disclaim]
Originally published on October 25, 2012. Last Updated on August 9, 2017 by Pattie Cordova