My kids are huge YouTube video consumers. They know their favorite YouTube channels for kids by name, they look to videos for must-haves and must-dos, and fell in love with videos so much that they started their own channel (shameless plug: LoganCordova.com). However, even though they do have their favorites, I find myself sitting next to them whenever they're on the app because every once in a while they'll come across another channel that is not exactly kid-friendly. And this is why the launch of the free YouTube Kids app is such a big deal.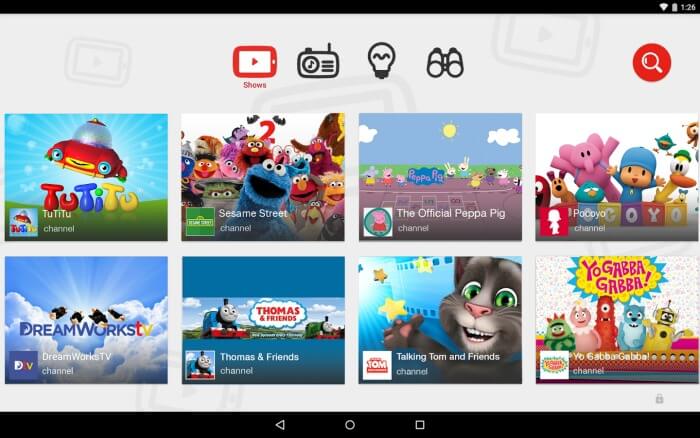 YouTube Kids is the first Google product built from the ground up with little ones in mind. The app makes it safer and easier for children to find videos on topics they want to explore.
The app features a bright and playful design making it easier for your kids to find their favorite shows. It features larger images, bold icons and more, it's fast and simple for little thumbs to navigate. They've also built in voice search so that even if your child can't spell or type, they can still find videos of things they're curious about.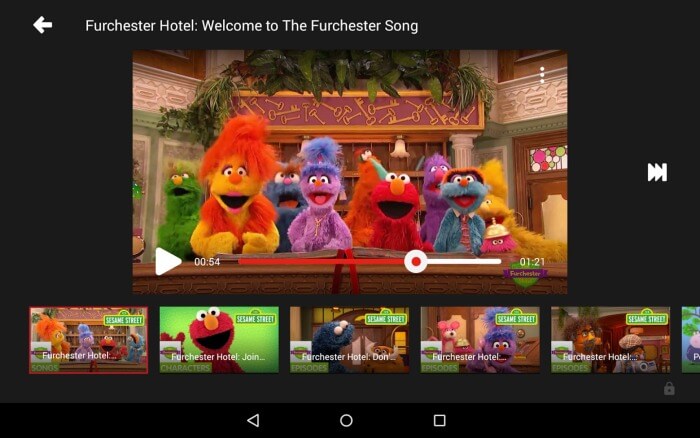 You'll be able to find family-focused content in the YouTube Kids app by browsing channels and playlists in four categories: Shows, Music, Learning and Explore. Parents and children can also search for videos of particular interest to your family, like how to build a model airplane, spelling tutorials, and so much more.
Along with favorites from DreamWorks TV, Jim Henson TV, Mother Goose Club, Talking Tom and Friends and more, your kids can watch new series from YouTube channels they already like. Discover new facts about dinosaurs from National Geographic Kids; learn about technology from Reading Rainbow; or watch Thomas the Tank Engine leave the world of Sodor for the first time in 70 years to travel the globe. Plus, more new videos are coming soon from beloved YouTubers like the Vlogbrothers and Stampylonghead.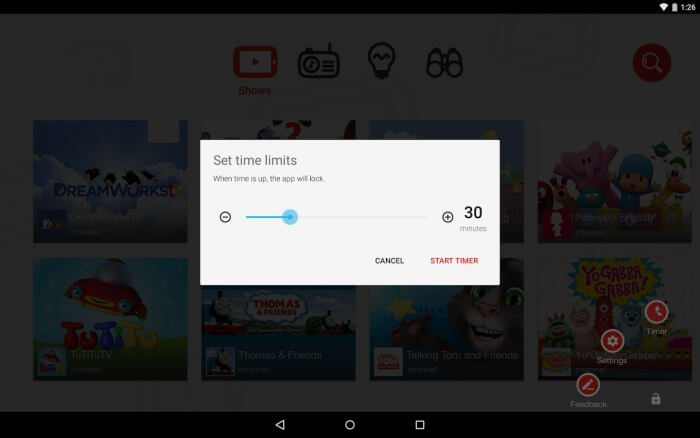 Of course, just because it's an app for kids doesn't mean that there aren't any parental control. Parents have access to the following controls:
Timer: Let the app be the bad guy with a built-in timer that lets you limit kids' screen time. The app alerts your child when the session is over, so you don't have to.
Sound settings: Sometimes you need a little peace and quiet! You have an option to turn off background music and sound effects, so your kids can keep watching while you catch a breather.
Search settings: If you'd rather limit your children to just the pre-selected videos available on the home screen, you can turn off search.
Product feedback: Help improve YouTube Kids by giving your feedback.
I hope you get a chance to check out the YouTube Kids App because I think that it will definitely be a game changer.
Download YouTube Kids for free on your Android or iOS device.
Android: http://goo.gl/SsDTHh
iOS: http://goo.gl/P0cikI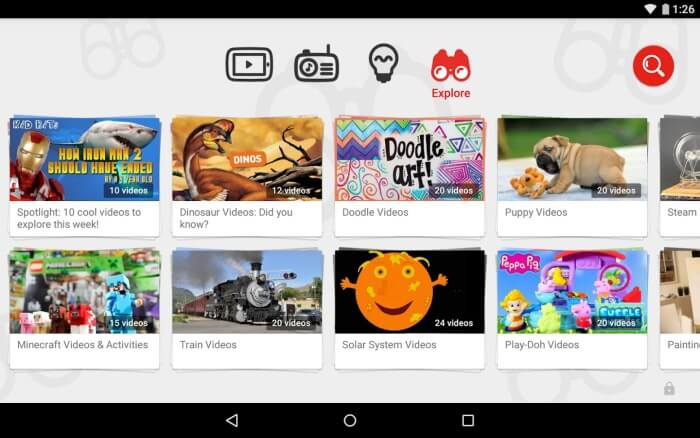 Images courtesy of YouTube
Originally published on February 23, 2015. Last Updated on August 15, 2018 by Pattie Cordova