Holidays
I found my fun at The Color Run
Last week I was able to check off an adventurous and fun item on my bucket list – The Color Run. I assembled my team – Team Shout® – and headed off to Dodger Stadium bright and early to start a day full of fun, friends, laughter and lots of color! We lived la vida loca at The Color Run, and with any luck, I'll be in New Zealand living it up over there too, (but more on that later).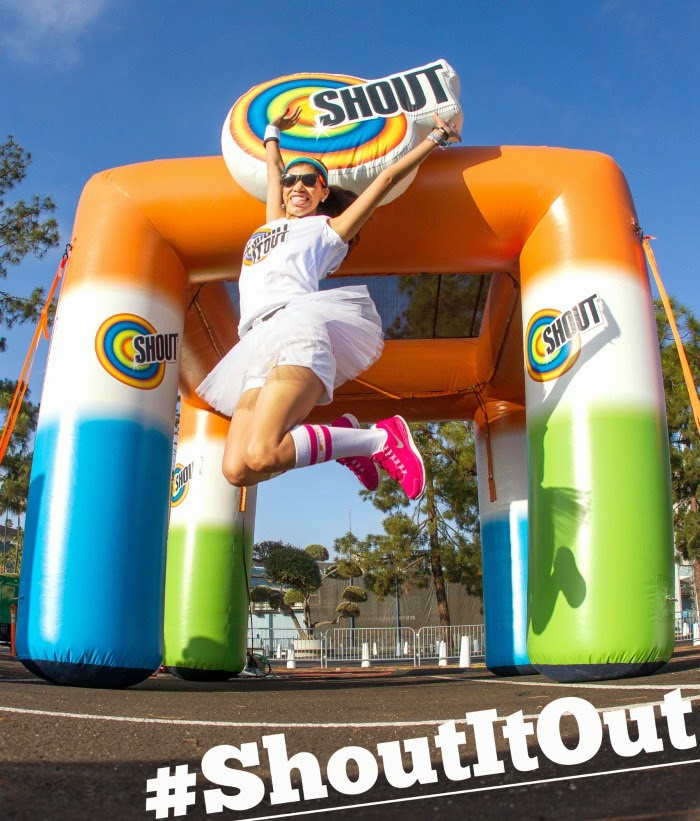 The day before The Color Run, I received my outfit that I would sport the following day. My kit contained everything that I would need for the day, including tattoos, super cute socks, a shirt that told everyone that I was with Team Shout® and… a tutu! Seriously?! If I knew that I could wear a tulle tutu during the run, I would have done every single one in California! I couldn't wait to put everything on and head out to my first Color Run.
I reveled in the white outfit, ready to take the day by color. It was a great representation of the #ShoutItOut campaign, from start to finish. I mean, what better partnership than one where there is an equal give and take in the relationship? Shout® is all about enabling us to have fun (no matter what age we are) and allowing us to get messy in the process (because hello, they've got it all handled for us!), and The Color Run is a fun way to do that, regardless of how dirty colorful our clothes get!
I looked at my outfit as a blank slate, so I made sure to take lots of "before" pictures. For my inaugural Color Run, I opted to leave the kids at home – instead choosing to join the fun with my new Team Shout® friends, family – and my mom! Yes!! Having fun has no age requirements and The Color Run is friendly to people of all ages and stages. It was a particularly special event to share with my mom because just last year she had knee surgery. Being able to do a 5K walk/run would be a bit challenging for her, but she gave it her all and we had a blast in the process.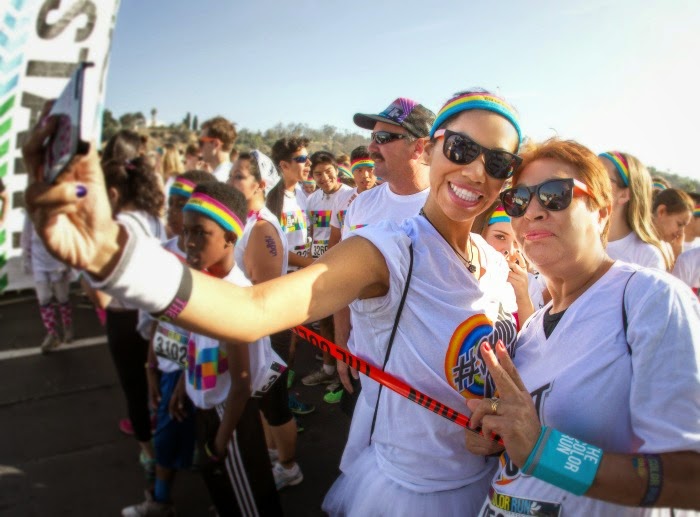 Our race time was 8 a.m. By then, we were amped up and ready to go thanks to the emcee, the crazy unicorn mascot and the upbeat music. We knew we were in for the time of our lives with one simple objective – have fun!!! As soon as the horn went off, we raced to our first color – blue.
We saw the opportunity to get some color on us, and we took advantage of it. At some point, I think we stopped in front of one of the color throwers just to make sure that we had plenty of color on us! Each station was hosted by energetic volunteers whose sole purpose was to get us colorific (and in the process, really make Shout® work overtime in the laundry). It was a blast to get out there, do our thing and not have to worry about how we would take the color off of our clothes later. Shout® really helped us find our fun again by allowing us to forget about our daily cares and just go out and enjoy our time with new friends. We made so many colorful memories that will stay with us for years to come.
We crossed the finish line after we had a few other color variations thrown on us. We were a much more colorific bunch than when we started. Soon after, we hopped up on stage with Jennie Garth and had a full-on dance party with hundreds of other participants. It was so awesome!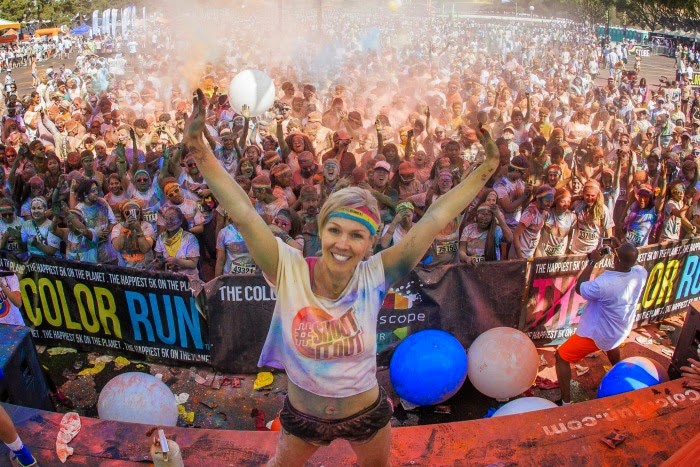 We threw bright orange color powder on each other and danced until they practically pulled us off stage. The energy was unbelievable.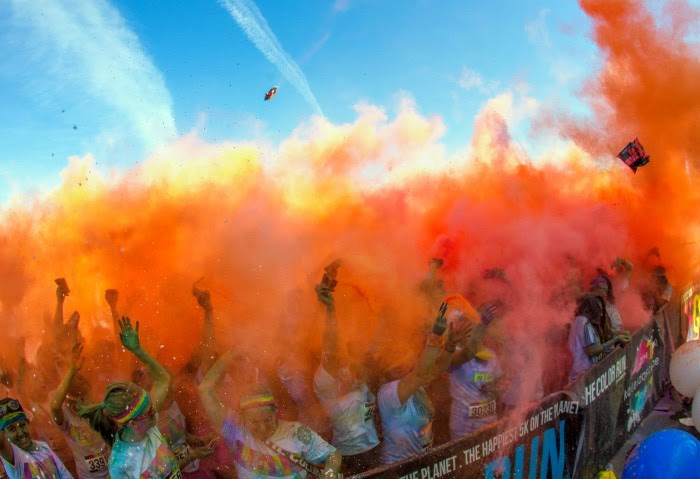 When our fun onstage was over, we headed over to the Shout® 360 Color Cam booth where we created a silly video-still as a reminder of all the awesomeness that just happened.
Shout® thought of everything too. They had a special "Clean Zone" station set with leaf blowers that blew off all the excess color across the lot. Prepping us for a clean ride back home.
I'm so thankful to Shout® for encouraging me to step out of my comfort zone and go out and experience new adventures more often! In fact, I've stayed on a roll and kept the fun going by using the Shout It Out Fun Finder. It's an easy way to find activities in my neighborhood, or any city I travel to (we have a vacay coming up)! Visit ShoutItOut.com to get a list of fun activities served by nearby locations based on your IP address.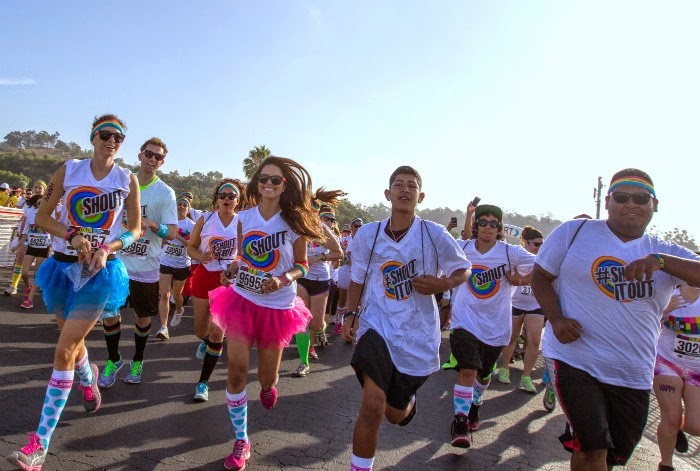 At the end of the day, I know that Shout® will take care of me by getting my clothes back to their original state – and that makes me more apt to seize the day – with and without kids. Stay tuned this week because we have a great giveaway where one lucky reader will walk away with a Shout® prize pack filled with plenty of products that will help encourage you to find your fun without having to worry about your clothes getting ruined during your adventures.
And in case you're wondering – my mom had the most amazing day.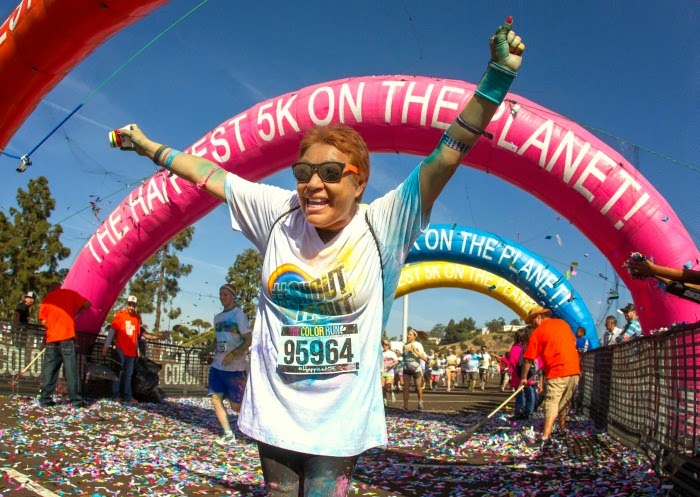 Don't forget to enter for a chance to win an experience of a lifetime: joining Shout® in New Zealand for The Color Run! To enter, simply post a photo on Twitter or Instagram with the hashtags #ShoutItOut #enter. Contest will run through September 30, 2014. ¡Buena suerte!
To learn more about Shout, visitShoutItOut.com, the official Facebook Page at www.facebook.com/shoutlaundry, Twitter at www.twitter.com/shout and Instagram at http://instagram.com/shout.
[disclaim]This is a sponsored post on behalf of Shout®. Images courtesy of The Color Run. All thoughts and opinions remain my own.[/disclaim]
Originally published on July 2, 2014. Last Updated on November 19, 2014 by Pattie Cordova