I'm a Taurus, and according to my astrological sign, I am a loyal person. My loyalty goes beyond people though, it also includes products. There are certain brands that I will purchase time and time again (even if they're not on sale) because I am loyal to them. I may go off and try other products, but it is often the case that I will run back to what is familiar and comforting to me.
Now I want to share with you my new loyalty with Seventh Generation's new Wee Generation baby care products line. We're fans of these organic, "natural", good for the environment, etc. type of products because I want what is best for the kids.
Before I go any further, do you want to read something scary? Take a look at these two facts and then read on to see how Seventh Generation's baby products differ from others on the market.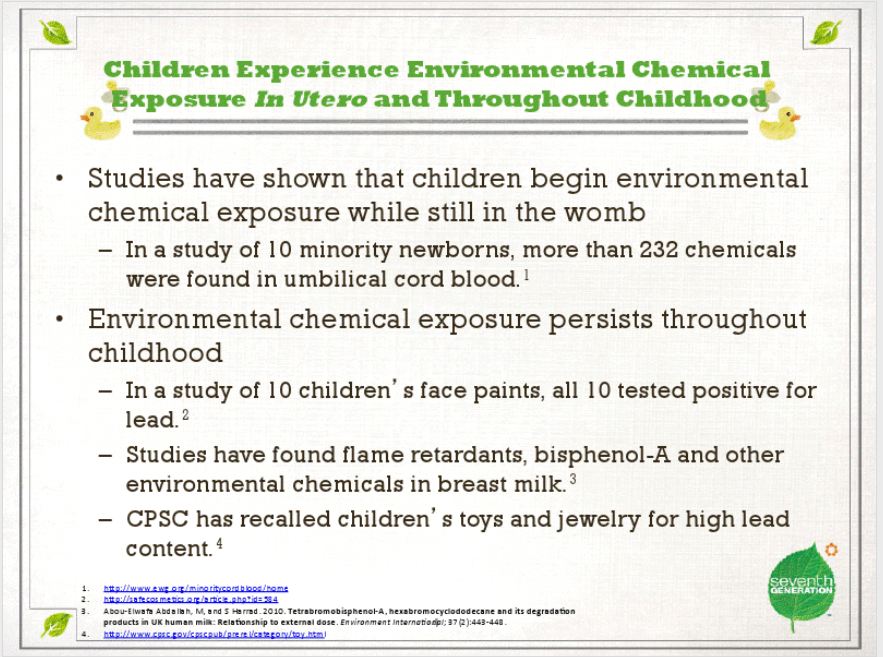 I bet that slide above will make you think twice about face painting, right?
Anyhow, my oldest kid has eczema and we have tried dozens of products that promise to moisturize and help heal broken skin. So many of these products have failed to come through. Now my second kid also has super-sensitive skin and his skin breaks out in a rash with anything that has too many chemicals. Thankfully, the arrival of Seventh Generation's baby care products is here and I can finally purchase just one product for both kids.
Seventh Generation is known for their "good for the environment" type of products and as an adult, I have used quite a few of them. For years I couldn't why they chose to produce diapers and wipes, but stopped short of producing a complete baby products line. Turns out they were working out all the kinks and making their baby care products line as perfect as they could get them. Now that they've done it, take a look at what makes them special:
First complete line of USDA-certified biobased baby care products
Endorsed by Healthy Child, Healthy World
Products are gluten-free
No synthetic fragrances, phthalates, parabens (all ingredients of concern)
Tear-free, no worries about getting in eyes
Non-toxic, biodegradable formula
Made with natural ingredients that come from plants and minerals
Extra-virgin olive oil to moisturize and protect
As a lover of all things Seventh Generation, I was recently invited to be on a call with Cara Bondi, Senior Research Chemist at Seventh Generation, and Tina Allen, founder of Liddle Kidz Foundation, to further discuss the new line and to learn some tips on massaging a baby. Once the one hour call was over, I was beyond excited to be able to represent a brand that worked hard to get it done right.
The kids had the opportunity to try out the new line and by far, their favorite is the foaming shampoo and wash. I mean, what's not to like. It smells wonderful, it has a cute logo, fun container and IT FOAMS! Built in bubbles are a kid's best friend.
It smells wonderful and it provides a fun element to the kids when they use it. It also seems to be that it lasts longer because I don't have to squeeze a bunch on the loofah for the bubbles to come out.
We also use our sunscreen a lot. Whether or not the sun is out, the kids will slather on the sunscreen to protect themselves from harmful UV rays. Seventh Generation's baby sunscreen is safe for babies (over 6 months) and it doesn't make my kid itchy (the one with the eczema).
Seventh Generation continues to go above and beyond what consumers have asked for. For example, the new baby care line lists all of their ingredients – in plain English, and they also happen to be gluten free! Now I know that the last part is especially important to a lot of parents with kids that have a wheat allergy. Making their baby care products gluten free means that if the kid gets soap in their mouth and they're eating the bubbles, they won't have anything to worry about.
During the call, we also received a few tips on massaging babies from Tina Allen, founder of leading children's health and nurturing touch organization, Liddle Kidz™ Foundation. If your baby is over three weeks old, you may want to consider giving him/her a massage using these tips:
Choose the Best Time and Place. Creating the best environment for massage is an ideal way to give yourself, and baby time to relax. Choose a familiar place that is warm, quiet and with few distractions. The best time for massage is when baby is awake, healthy and happy. Some babies prefer the morning, while others prefer the afternoon or before bedtime.
Be comfortable. Relax, enjoy and have fun! Position yourself so that you are comfortable. Be sure baby is safe and placed on a soft area. Keep in mind, babies roll and become slippery when using oil. Be sure your hands are warm and clean before you begin.
Choosing Massage Oil. While it is not required, using oil can help make massage more enjoyable for some babies and parents. Olive oil and Grapeseed oil are some of the best choices for infant massage. However if you choose to use lotions be sure to choose a non-toxic option, like Seventh Generation baby lotion – which contains olive oil as a main ingredient.
Ask Permission. Infant massage can be a wonderful tool for increasing your communication. Massage is not something that parents do to their baby, but rather with their little one. Listen to your baby. She will give you the signals to let you know she is enjoying massage, or when she is all done for now.
Know When Not to Massage. Never provide massage for your baby without permission (when sleeping, crying or fussy). Avoid massage when he is ill, has a fever or infection. If he has broken skin, rash or bruising. Wait at least 48 – 72 hours following immunizations. For tummy massage, wait 30 minutes after eating. If he has any special healthcare needs seek further guidance as to what would be the safest approach.
[question]Which Wee Generation by Seventh Generation product is your favorite?[/question]
[disclaim]This is a sponsored post. I received Seventh Generation products and compensation in exchange for my honest opinions and thoughts on their new baby care line. All thoughts and opinions remain my own.[/disclaim]
Originally published on November 7, 2012. Last Updated on August 9, 2017 by Pattie Cordova