The kids and I had the opportunity to enjoy the new LEGO Chima Water Park at Legoland California before its grand opening on May 25th.
We read up on this new water park addition before heading in so we could plan our visit. Everything that it says on the LEGOLAND California site was spot-on!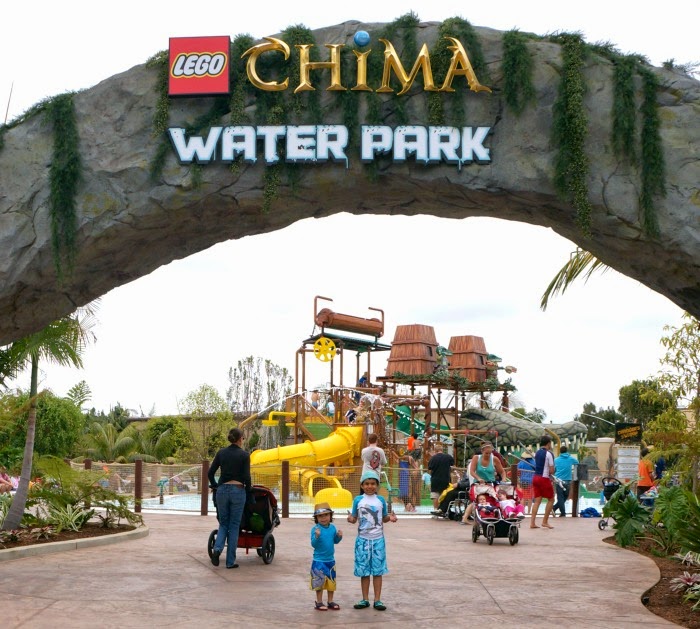 About LEGO Legends of Chima Water Park
The LEGO Legends of Chima Water Park is based on the LEGO Group's newest hit product "Legends of Chima," where animal tribes battle in a mystical land for control of the precious energy source called "CHI". The Lion Temple Wave Pool is the marquee attraction in the new Water Park where guests make their way through a LEGO lion archway as Mount Cavora releases 400 gallons of water every minute into the wave pool. An animal from each of the eight animal tribes is represented on Mount Cavora and families will enjoy spending the day splashing about one of the many water features in the pool, playing with oversized soft LEGO brick and soaking in the sun.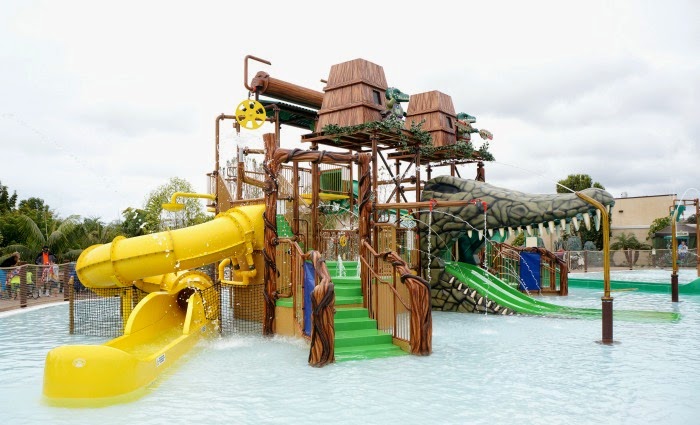 The addition is about the size of the current water park, maybe a bit smaller, and perfect for the entire family. My kids are ages 6 and almost 3 and they especially loved Cragger's Swamp. The water is also kept at a wonderful temperature of 80 degrees – just don't stick your head in the water. That's a big no-no with the water park. They also clear everyone out for ten minutes a few times during the day. Take this as an opportunity to take the kids to the restroom!
What to do at LEGO Legends of Chima Water Park
Lion Temple Wave Pool is the centerpiece of our new Water Park where you'll make your way through a LEGO archway and into an interactive wave pool designed for families with young children.
Cragger's Swamp is a hands-on water play area that invites you to ride water slides, blast water cannons and jets and slide through the head of a massive crocodile. More than 50 interactive water play features will delight young guests in water that is only one foot deep.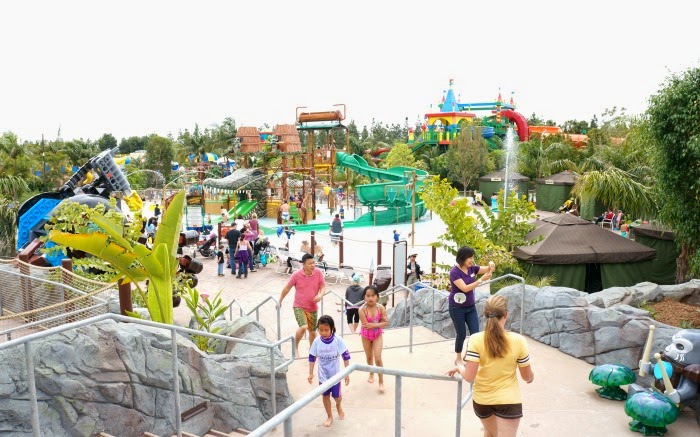 Eglor's Build-A-Boat follows in the unique interactive play experience introduced with Build-A-Raft River already at LEGOLAND Water Park. Eglor's Build-A-Boat gives your children the opportunity to use their creativity and bring their imaginations to life. Young guests can build their own boat and race against their friends and also build their own LEGO scene in Chima on any of four base plates set in front of model scenes.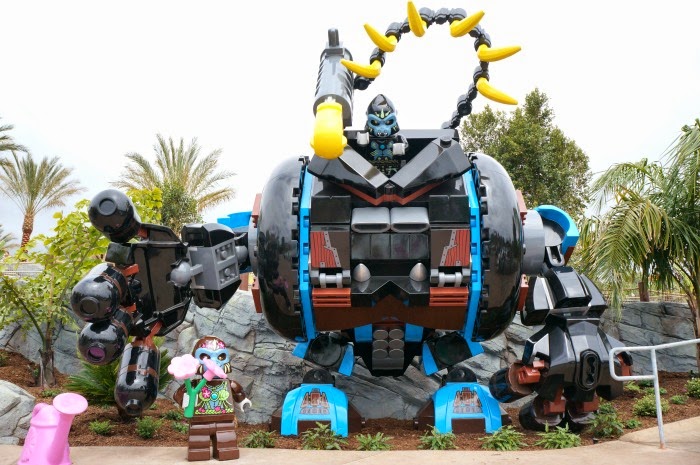 Explorers Forest is a lush and tropical forest where you will be greeted by Gorzan the Gorilla in his 15-foot tall mech suit.
Rhino Beach is a sand filled oasis that offers you a place to get some shade, lounge and rest.
Speedorz Arena is an interactive play area lets you race your Speedorz through unique obstacles.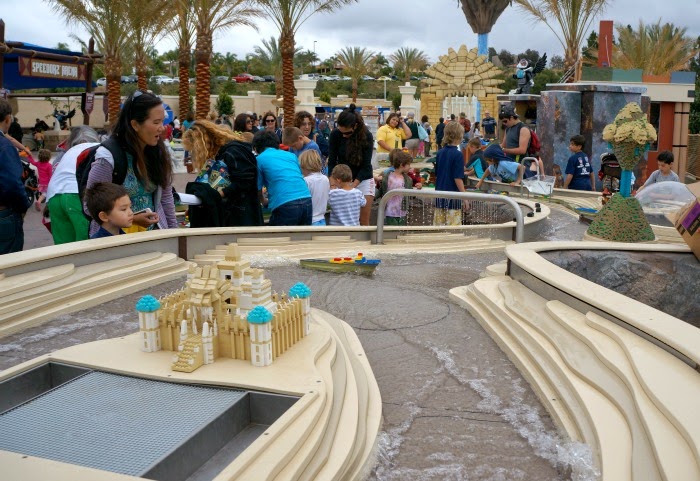 Forever Rock is featured just outside Cragger's Swamp, the iconic rock contains a smaller rock acting as chalk board for your kids to tally their achievements just as Cragger and Laval did. For those that want to kick back and stay awhile, 12 new cabanas surround the area for rent.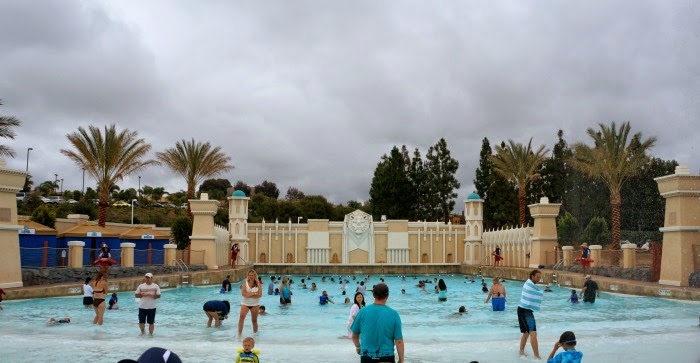 Where to eat
Wolves' Den offers plenty of tasty food while guests are surrounded by collectibles gathered by the clever wolf tribe.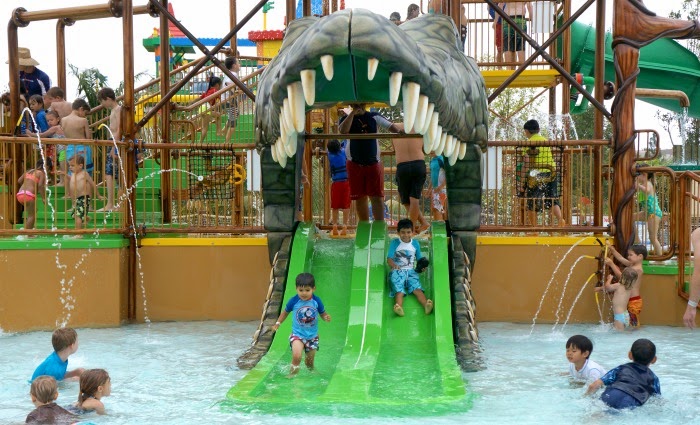 Our first visit was on a cloudy day, but that didn't stop us from enjoying everything that the water park had to offer. We can't wait to head back and do it again!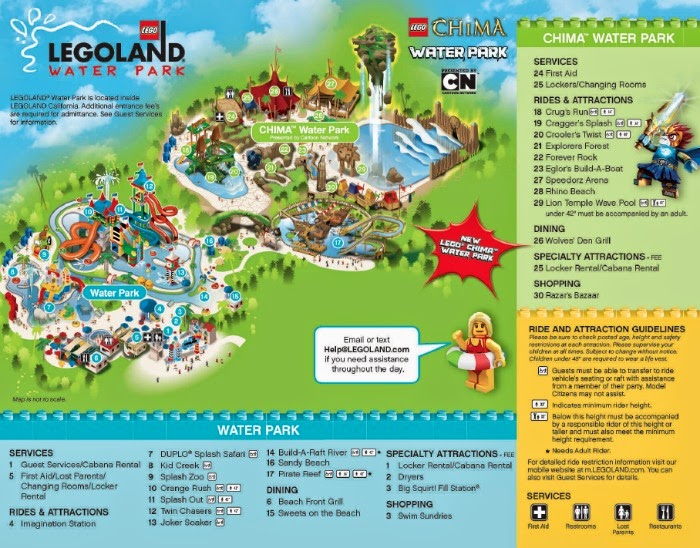 LEGOLAND California® is located at One LEGOLAND Drive, just off Interstate 5, in the seaside village of Carlsbad, 30 minutes north of San Diego and one hour south of Anaheim. For more information, visit http://california.legoland.com.
[disclaim]This is not a sponsored post. I was invited to preview LEGO Legends of Chima Water Park as a member of the press. All thoughts and ideas remain my own.[/disclaim]
Originally published on May 23, 2014. Last Updated on September 8, 2015 by Pattie Cordova