Father's Day is June 15th, and right now would be the perfect time to start shopping for a few gifts for dad to complement the kid's homemade gifts. Unless you have some mad crafting skills, I highly suggest you head towards some cool, unique gifts that they'll treasure for years to come.
I have one dad to shop for, and that's the hubster. Take it from me though, it doesn't make it any easier to shop for just him. Like any other guy – he is hard to shop for! It doesn't help that he always gets me the perfect gifts either. This year, I was asked by UncommonGoods.com to gather a selection of unique gifts for Father's Day to share with you. I have listed each item below the image with links that take you directly to the item.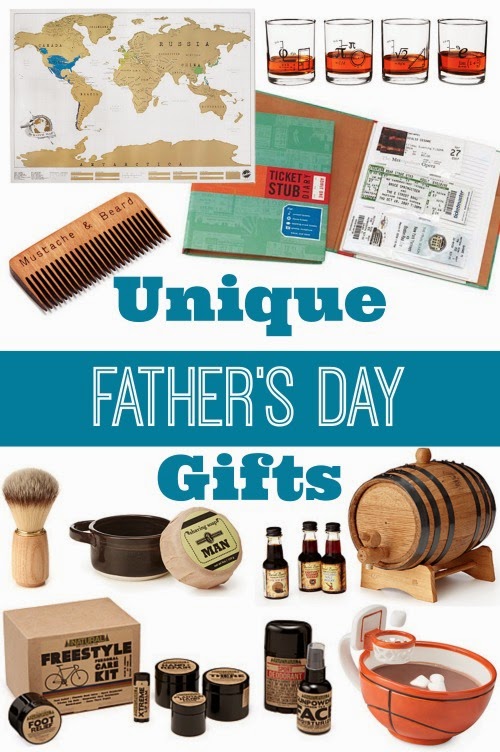 Scratch Map $20 | Math Glasses $38
Wooden Whisker Combs $12 | Ticket Stub Diary $12
Herban Men's Shaving Set $60 | Whiskey and Rum Making Kit $75
Freestyle Care Kit $24.99 | The Mug with a Hoop $24
I curated this collection based on hobbies and necessities. I like to give practical gifts along with something that is cool and he wouldn't normally purchase on his own. The scratch map is great for a traveler, while the shaving set is something that he would use weekly.
Homemade gifts like the whiskey and rum making kit might even lead to a new hobby! And then, there's the mug with a hoop that will make any beverage more fun.
These gifts can be coupled together and presented in a gift basket style, or maybe wrap them each individually and stack them into a giant pyramid. And don't worry about breaking the bank on these gifts either, they're all under $100 and even if you purchase them all it's still under $270 plus shipping!
Discover more gifts for men at UncommonGoods.
[disclaim]This is a sponsored post. I received a complimentary gift card to shop at UncommonGoods and facilitate this post. All thoughts and ideas remain my own.[/disclaim]
Originally published on June 5, 2014. Last Updated on November 13, 2016 by Pattie Cordova