My kid has been begging to plan a date to go see "The Croods" ever since he saw the commercial. He thinks the characters are hilarious! Have you seen the trailer?


Anyhow, I'll be able to tell him all about it before taking him in to see it because I get to attend The Croods Parent Blogger Summit on Monday and Tuesday! I'm super excited because the agenda is packed with activities at Dreamworks Studio such as the screening of the movie, Q&A with the filmmakers and more. And really, I am also going for YOU, because I want you to be on the inside too! So, I invite you to follow along on February 11-12 as I share what I see (well, most of it anyway) on Twitter using hashtag #TheCroods; I'll be tweeting from @PattieCordova.
About The Croods
THE CROODS is a 3D comedy adventure that follows the world's first modern family through the journey of a lifetime. When the cave that has always been their home is destroyed – with the rest of their world not far behind it – The Croods are forced to set off on the first family road (or path) trip. Rocked by generational clashes and seismic shifts, The Croods discover an incredible new world filled with fantastic creatures, and a future beyond any they imagined.
The Cast and Roles of The Croods
The Crood family dynamics, though unfolding a few million years ago, feel like they could come from your own household. Like most fathers, family patriarch Grug (Nicolas Cage) is fiercely protective of his wife and three kids. His hyper-vigilance has kept his cave-bound family safe, secure and….super- bored.  Grug's strong and dutiful better half, Ugga (Catherine Keener), accepts her husband's "fear is good; change is bad" mentality, as does their son Thunk (Clark Duke), who's content with the static status quo. Feisty mother-in-law Gran (Cloris Leachman) never tires of needling (or sometimes assaulting) Grug; and stone-tough toddler Sandy might be the fiercest Crood yet.
But leave it to a rebellious teenager (is there any other kind?) to stand up to parental authority. Grug's sole focus is survival, but Eep (Emma Stone) wants to actually live, and her curiosity about the world outside their cave collides with her dad's primitive rules. (Ever the defiant outsider, Eep gets her own ledge to sleep on while the rest of the Croods pile on top of one another for some family shut-eye.)
A cataclysmic event forces the Croods to venture into parts unknown and rethink their way of living.  En route, they encounter Guy (Ryan Reynolds), whose dazzling new discoveries – like fire…and shoes – shake up the Croods in unexpected ways. Most of the family (especially Eep) is open to Guy's vision of a new place called "tomorrow," but Grug sees the biggest calamity yet: a charming teenage boy from which he must "protect" Eep. The Croods soon realize that if they don't evolve…they're history.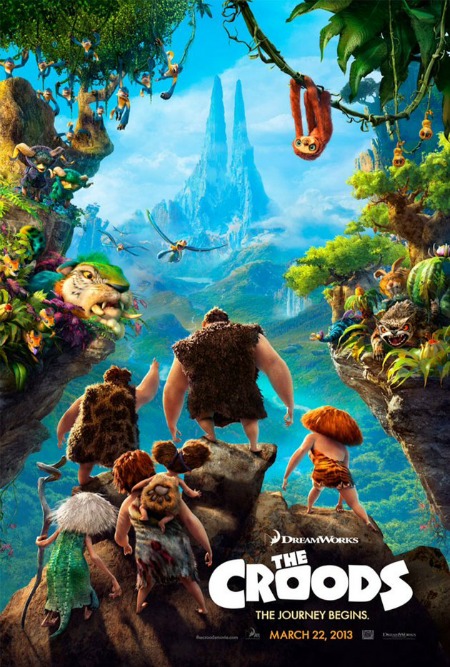 Originally published on February 9, 2013. Last Updated on January 2, 2019 by Pattie Cordova