Mother's Day is just around the corner. Come next Sunday, chances are that you'll be heading out to a brunch, celebrating at home with a nice meal, or something very similar. Well, let me just say, as one mamá to another, what I would really love is some time off. Maybe a girls night out before Mother's Day and then on Sunday, a chance to just chill out. I want to veg on the couch all day, binge watch something on Netflix and have lots of wine, iced coffee and snacks. Most of all, I want to not lift a finger for housework, but have the entire house cleaned. That would be the ultimate Mother's Day gift (with some actual gifts on the side).
Luckily, it seems that TGI Fridays can help with at least a part of this. In honor of Mother's Day, TGI Fridays is offering half-priced bottles of wine all weekend long. So my girls night out can totally happen on Friday or Saturday! Drink up some wine, chill out with some chicas and enjoy some delicious desserts and cheese sticks (my personal TGI Fridays fave).
On Sunday, I can have the hubster make some refreshing cocktails so I can enjoy while watching About Time or American Horror Story (I'm almost done with the second season). Of course, if you'd rather go out on Mother's Day, TGI Fridays is also offering two tasty cocktails in honor of Mother's Day – Peach Sangria and Cosmo Noir. Enjoy them at your local TGI Fridays then come home and make some more. I'm sharing the recipes below!
So I told you about my perfect Mother's Day – what would yours be like?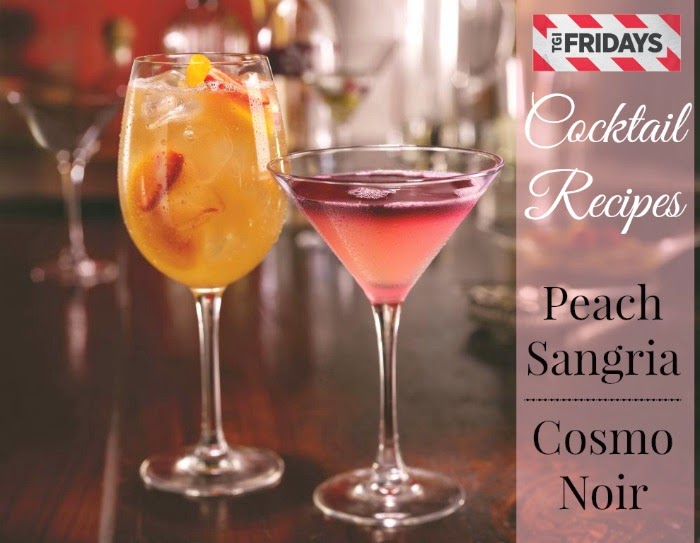 Peach Sangria
¾ oz. Hendrick's Gin
¼ oz. St. Germain Elderflower Liqueur
2 oz. Seven Daughters Moscato
¼ oz. Honey Simple Syrup
½ oz. Peach Purée
2 oz. Fresh Sour Rocks Mix
2 Peach Slices, thawed
3 Strawberry Slices
Cosmo Noir
2 ½ parts Raspberry Vodka
1 part Lemon Juice
1 part Vanilla Syrup
1 ½ parts Pinot Noir (floated)
Originally published on May 5, 2014. Last Updated on August 1, 2017 by Pattie Cordova