My baby turned two years old on Friday. We celebrated his birthday with a Sesame Street themed birthday party the following day.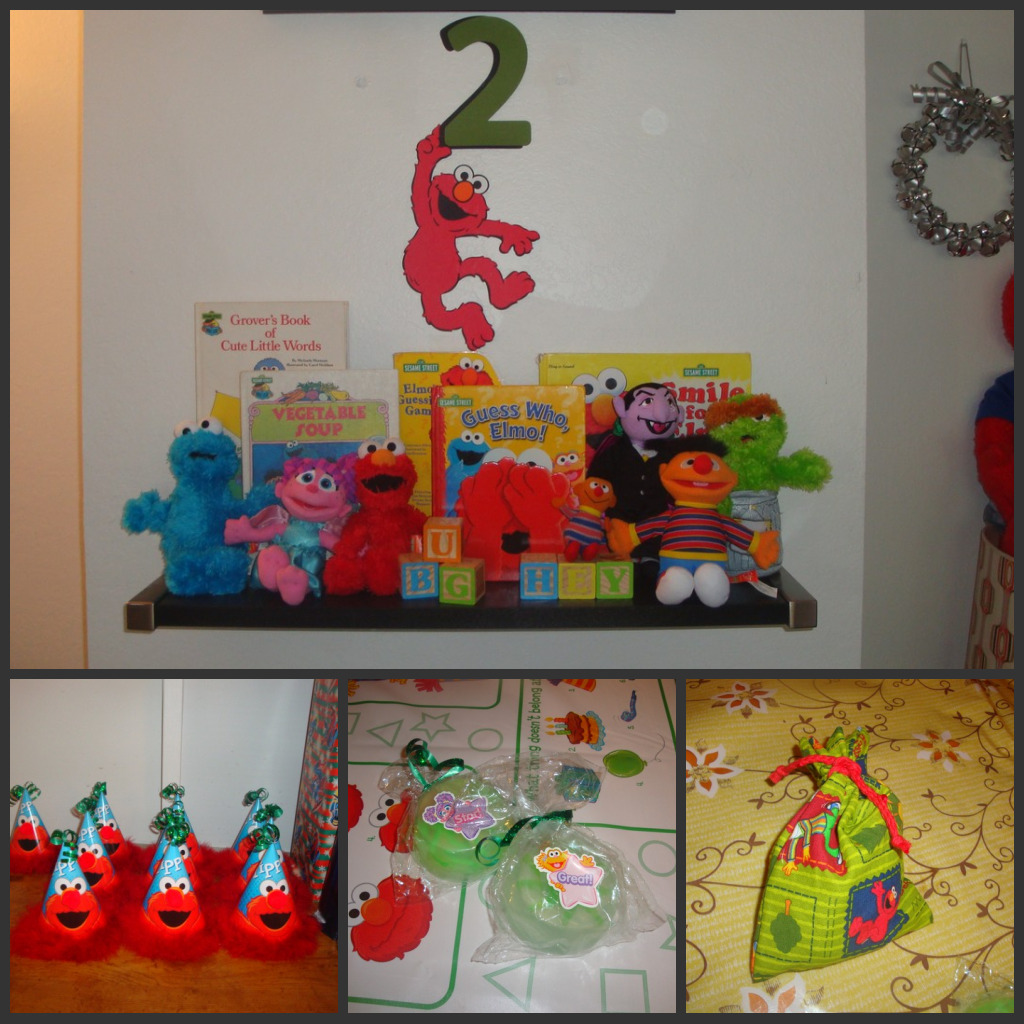 Sesame Street Birthday Party Ideas
Sesame Street Decorations
We streamed Sesame Street themed crepe paper across the living room and foil stars across the kitchen and garage. Decorations and the Happy Birthday banner I made using my Cricut machine were put up in our living room. Birthday hats were purchased at Jo-Ann's and embellished with fur, pom poms and ribbon. We had A LOT of people crammed into our condo and thankfully every thing worked out great. My only regret of the day is not having hired a photographer to take the pictures. I was so busy with the hosting part of it that I didn't take many pictures.
Party Games and Activities
We kicked off the festivities with a Prize Walk (instead of a Cake Walk) that allowed even the smallest kids to be involved. After the Prize Walk, the face painters did their thing for an hour and a half and every child (and some adults) had some kind of design done on them. After the face painter, we played "Hot Potato" with an Elmo/Cookie Monster ball and followed that up with "Pin the Nose on Elmo". We got the adults involved in our "Jigsaw Puzzle" game that I created by cutting up the front of Earth's Best cookie boxes into 12 pieces and having them race to finish it first. I packaged each puzzle in a blue paper bag and sealed it with a sticker. We wrapped up the games by breaking a huge Elmo piñata filled with YummyEarth candy and toys. The party came to an end after our little one cut the cake (also organic) and served the soy ice cream. It was so much fun.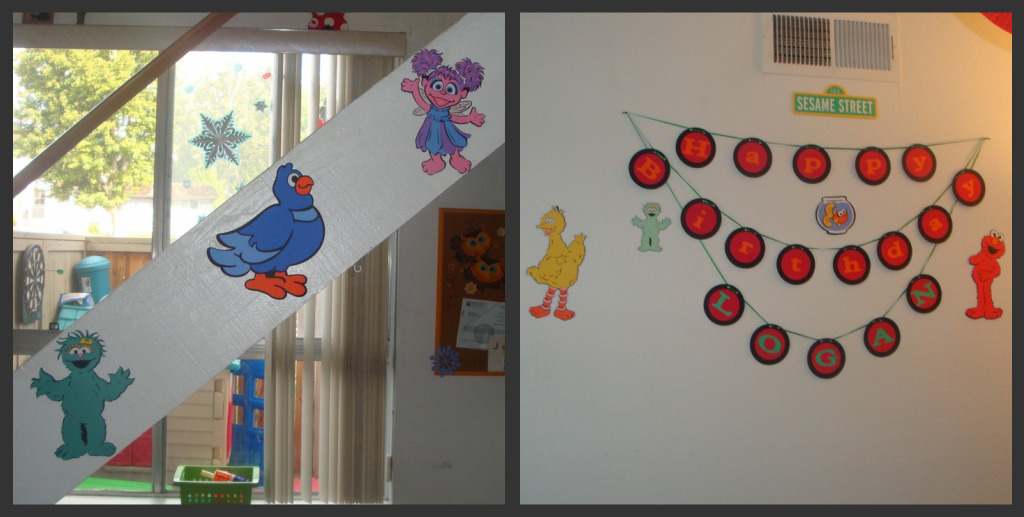 The Food
We served garden burgers and hot dogs as the main course, with all the fixings. The sides were fruit salad and potato salad. We also served hummus and pita chips as well as cinnamon alphabet cookies and potato/lentil snacks. These last two were served in vintage lunch boxes lined with blue napkins. Utensils were set in Elmo and Abby Caddaby pails purchased at Target for a dollar each. We had a coffee station for the adults and organic apple juice for the kids. We purchased Solo cups with Sesame Street characters pictured on them that also had lids and straws to minimize spills.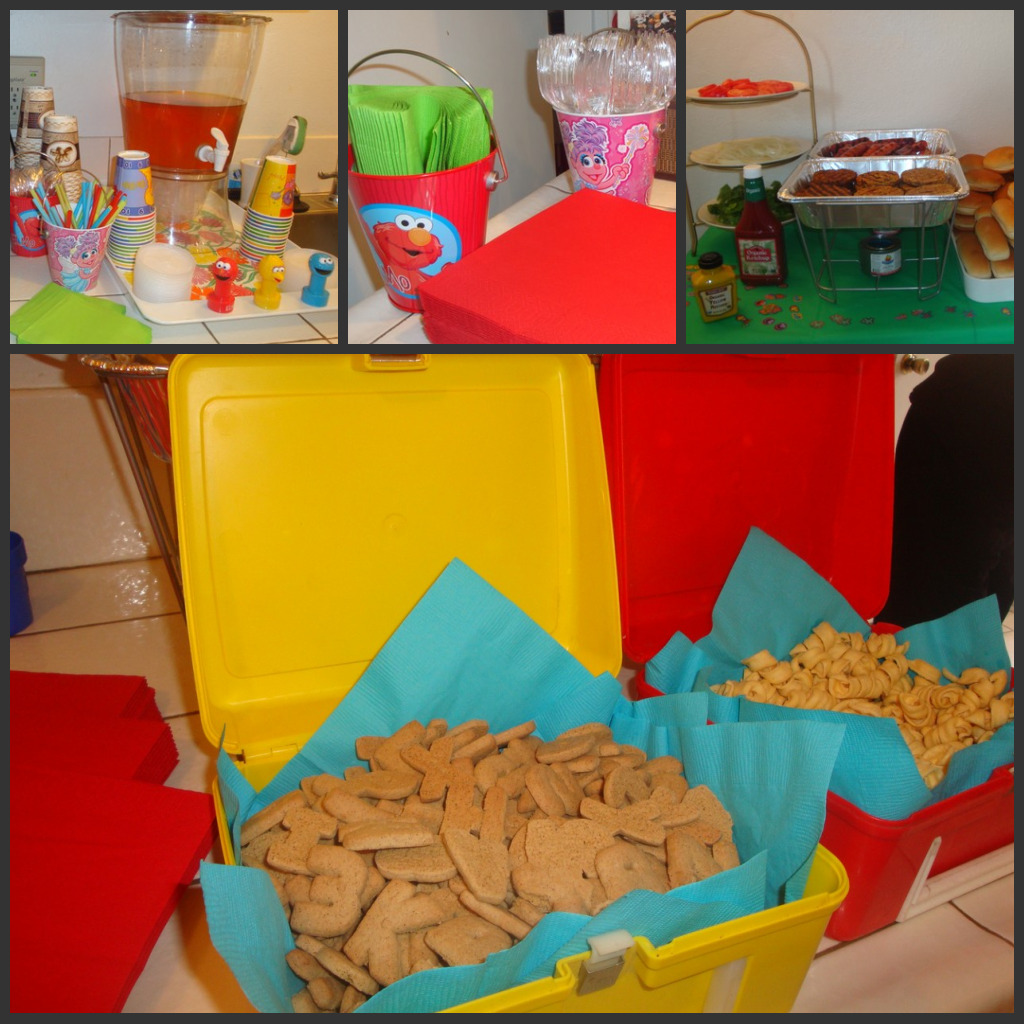 Sesame Street Party Favors
Party favors were glycerin soaps (which my mom and SIL helped me make) packaged in clear baggies and wrapped with sparkly green ribbon with a Sesame Street sticker in the front. We made the soaps by melting glycerin soap and adding a small toy to it so that when the kids use up all the soap, a toy will be had in the end. Goody bags were also handmade using Elmo/Ernie fabric and wrapped with red rope. The goody bags were filled with more YummyEarth candy and toys like Elmo wristbands, bouncy balls, pencils, play-doh, stickers and Sesame Street dog tags. We also gave all the kids bubbles that were decorated with Sesame Street stickers.
We had lots of toys for the kids to entertain themselves throughout the party and a play dough station. We handmade the play dough with grape kool-aid and it was a huge hit.
Originally published on December 7, 2009. Last Updated on May 7, 2019 by Pattie Cordova