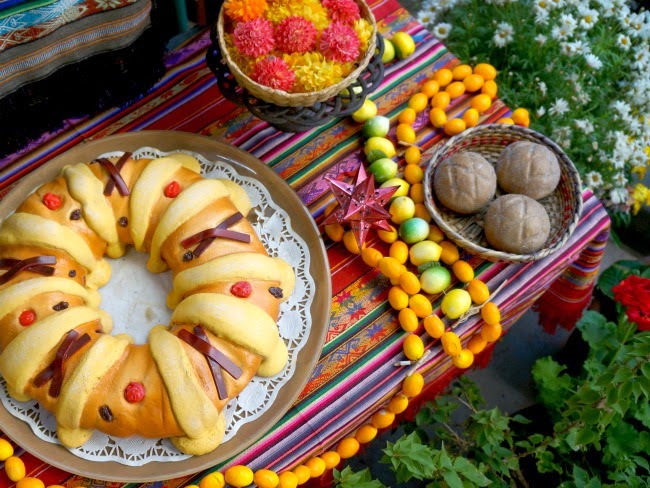 Holidays
Rosca de Reyes tradition and Where to Buy Rosca de Reyes in Orange County
The Rosca de Reyes tradition is traditional celebrated on January 6th, and it marks the end of the holiday season for many cultures around the world, including many people in Orange County!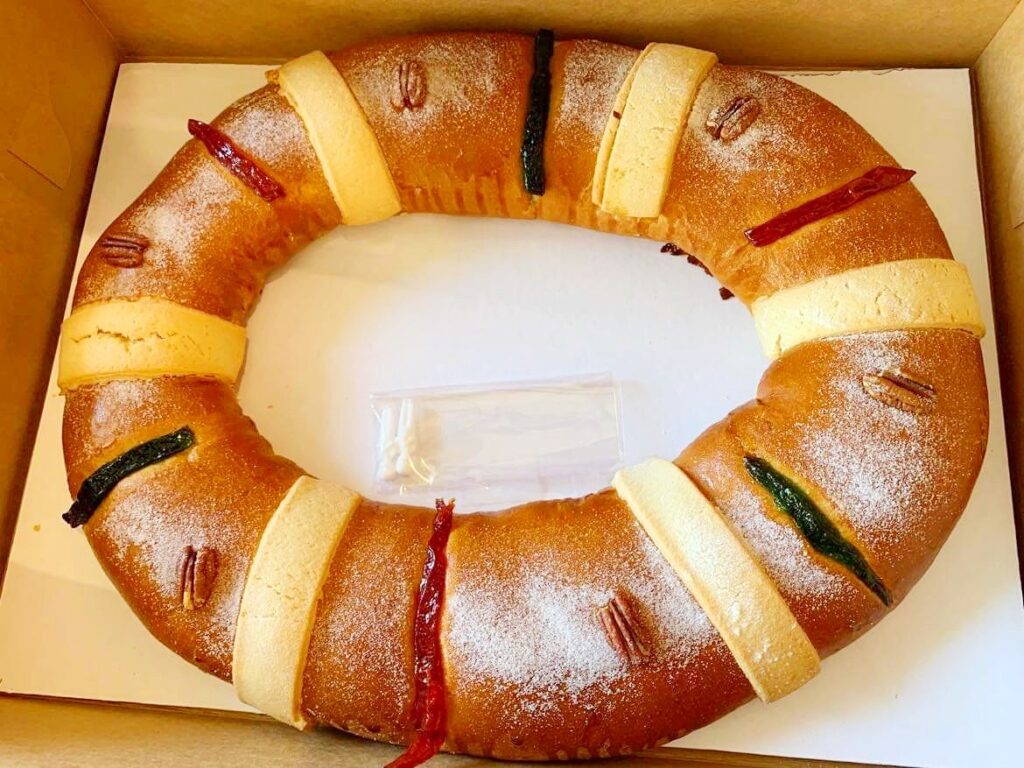 Rosca de Reyes tradition
January 6th is known as the day the Three Wise Men brought the baby Jesus gifts. Therefore, some cultures bring gifts to their children on this day instead of on Christmas Day or in addition to Christmas Day.
As a little girl, my family celebrated this holiday by having the children put a shoe by the front door the night before and in the morning, we would find a dollar in in our shoes that the wise men had left for us.
Rosca de Reyes meaning
The Rosca de Reyes is a traditional sweet bread that is served on this holiday with a very special meaning.
Inside each oval-shaped bread ring is a plastic baby Jesus. Sometimes the bread will come with a baby Jesus figuring that you can insert yourself (tip: insert it into the bread from the bottom). If you're order a really big rosca, your bread will come with more than just one baby Jesus.
The tradition goes that and whomever finds baby Jesus on January 6th, cooks (or buys) tamales for everyone on February 2nd.
If you'd like to wait, you also have the option of throwing a party on Fat Tuesday, the day before Lent season begins, and share tamales then.
The Rosca de Reyes traditions vary, but one thing we love about January 6th is celebrating with some delicious Rosca de Reyes sweet bread.
We have gathered a list of places in Orange County where you can buy this special bread that is only sold during this time of year, usually a few days before leading up to January 6th.
Where to buy Rosca de Reyes bread in Orange County
La Reina Markets, Orange and Anaheim
This place is extremely popular for all of their specialty breads, and their Rosca de Reyes does not disappoint. This place is a staple for all Mexican holidays, and you can find all sorts of good stuff here such as pan dulce, masa for tamales and so much more. You can expect long lines at this place. It's that good.
Northgate Markets, Various Locations
We just love this business that had its start in Anaheim, California. They really have accomplished the American dream, the Gonzalez family has built a chain of stores in Southern California with so many Mexican products and foods. We love their Rosca de Reyes and you can find it packaged in a box perfect to give as a gift. They are readily available in their stores, and they have affordable prices.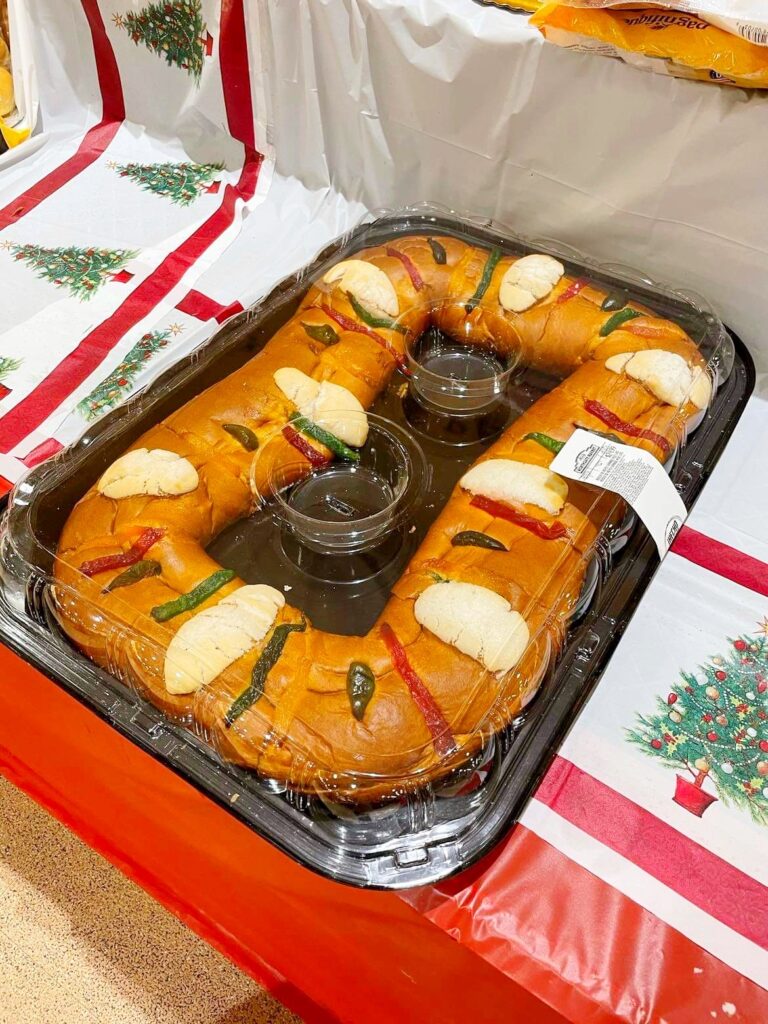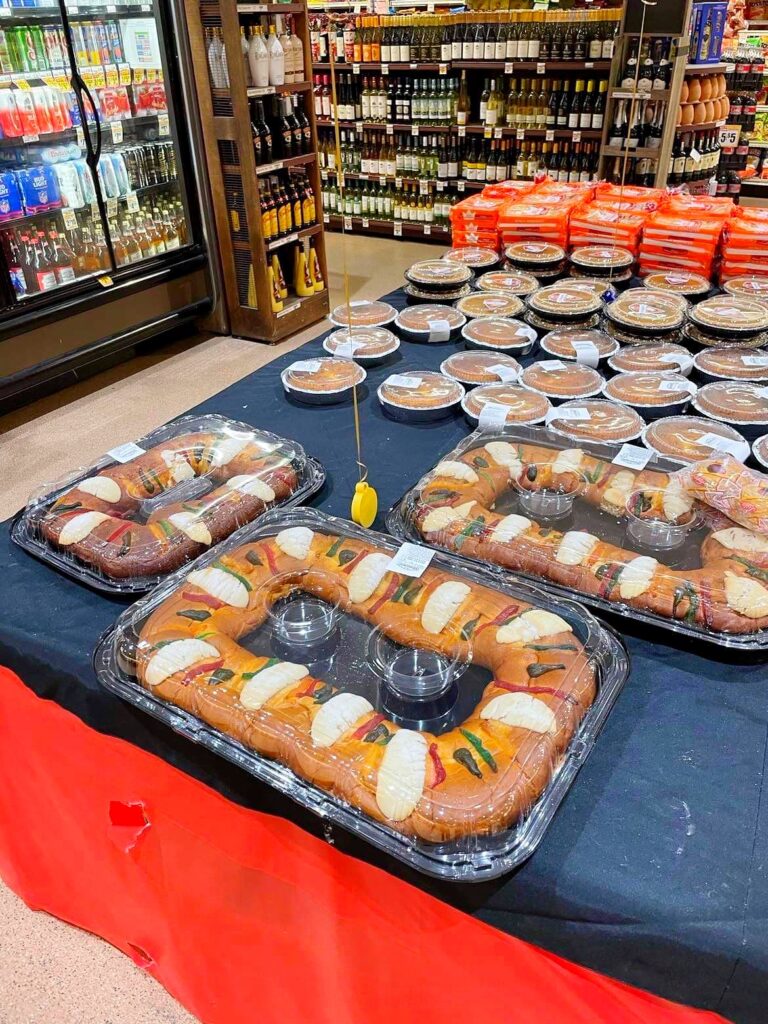 Porto's Bakery and Cafe, Buena Park
Another amazing success story is the story of the Cuban family, the Porto's who came to the United States with the hopes to reach the American dream. Their first bakery and cafe that started in Burbank is now a chain of stores in select cities in Southern California and is an extremely popular bakery. You can definitely expect lines at this place, but we believe it is worth every minute that you wait. You can also pick up some of their amazing pastries along with your Rosca, we love their cakes and coffee as well.
Tlaxcala Bakery, Santa Ana
Tlaxcala Bakery is located in Santa Ana and makes the most amazing pan dulce. It stands to reason that their Rosca de Reyes is just as good. We love this panaderia because they are a full service bakery, so along with your Rosca you can pick up pan dulce or even a cake for that special occasion.
My niece has a birthday on Christmas Day, so we always purchase her a Tres Leches cake at this place, a type of Mexican cake made with condensed milk, evaporated milk and regular milk. You must grab a piece to try to go along with your Rosca de Reyes, they sell them by the slices.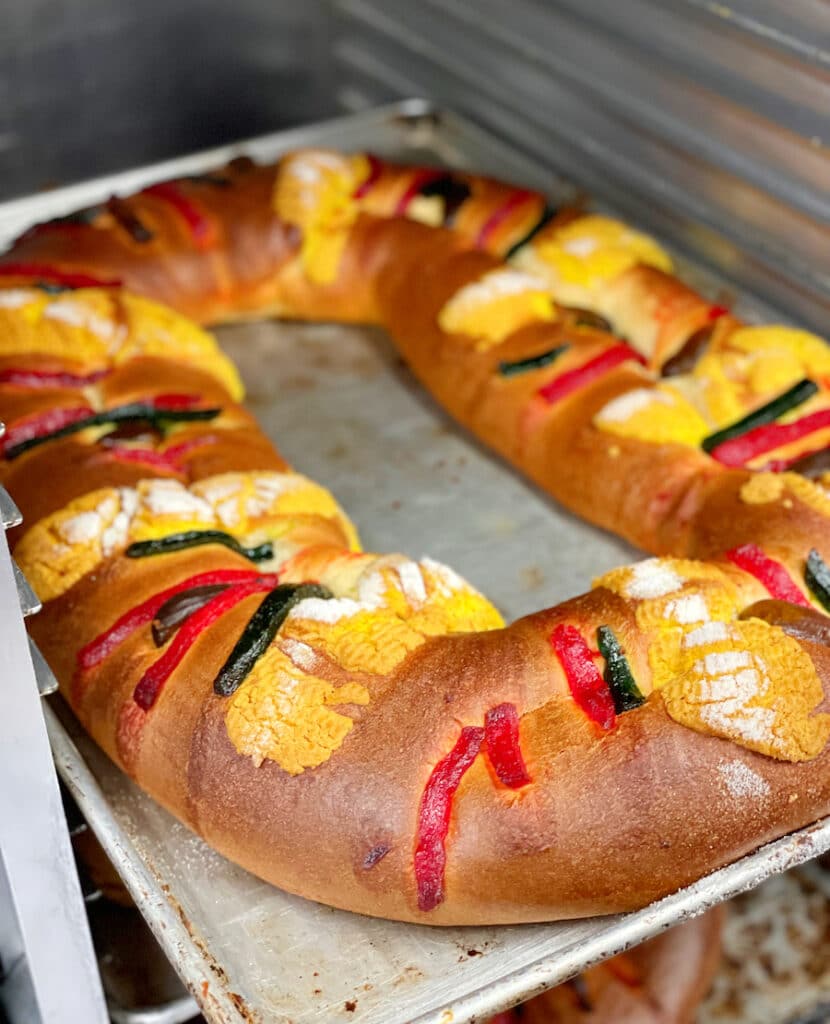 El Gallo Giro, Santa Ana
We love El Gallo Giro Roscas, they are delicious! One different feature is they decorate the top with chocolate flavored strips, it gives it a unique flavor different than other Roscas with the usual vanilla strips on top. They come in beautifully decorated boxes ready to take to your loved ones. We also love that you can pair them with their famous champurrado, a thick warm chocolate flavored Mexican drink that you must try! You can also order Roscas ahead of time.
French's Pastry Bakery, Orange- Mission Viejo- Costa Mesa
We have yet to try this bakery' roscas but it comes highly recommended from our social media audience, therefore we are going to try it this year and we hope you do too. This is a small business that we love supporting throughout the year as you know we love supporting small businesses. They have been around since 1965.
Oli's Bakery, Santa Ana
This bakery is a local favorite to Santa Ana residents, and our family loves to visit year-round because the bread comes out fresh multiple times a day. Their Rosca comes recommended by our family and friends. We have yet to try it, but it's definitely on our list.
Superior Grocers, Santa Ana
We love this grocery store because their bakery department is top notch.
Bodega R Ranch Market, Various locations
Bodega is known for it's Mexican food, so it comes as no surprise that they have a Rosca de Reyes that is as traditional as they can be.
Loaded Cafe, Santa Ana – Placentia
We haven't tried this rosca yet, but we are a fan of this restaurant. Their food is delicious, and we can't wait to try their rosca. They offer three flavors and two different sizes.
Cafe Cultura, Santa Ana
We love the roscas here, because they offer mini roscas which are so fun for the kids. Make sure you call ahead and check when they will be available because they run out fast!
Mill Bakery, Santa Ana
This is a childhood favorite, and although their downtown location is now closed, you can still visit their other location near the south part of Santa Ana. We highly recommend this place that has been around for a very long time, it is still run by the original owners who take part in the baking as well!
Outside of Orange County
La Monarca Bakery – Whittier
We love this bakery that is just outside North Orange County. There are more locations in Los Angeles, but we love the Whittier location because it's the closest to Orange County. This bakery specializes in Mexican foods, breads and special food products such as Mexican hot chocolate which is perfect for the wintertime. We love their Rosca de Reyes and our families love it too. They have a large size that can feed your entire family. This place is worth the drive because you can pick up several specialty items for the entire family, it's the perfect place to visit when you need a large order for that special occasion.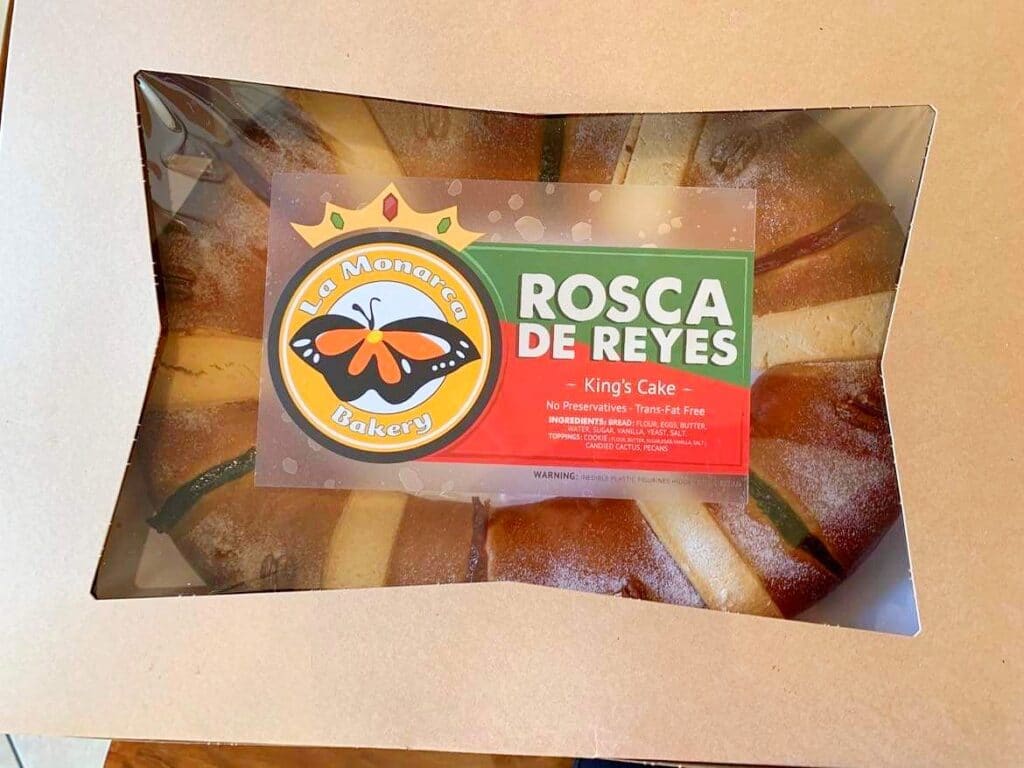 Make your own Rosca de Reyes for Three Kings Day
Our friend, Nicole at Presley's Pantry, has a great rosca de reyes recipe that you can use to make it at home. Give it a try! You can buy baby Jesus' for your bread here: https://amzn.to/3e7ULe1.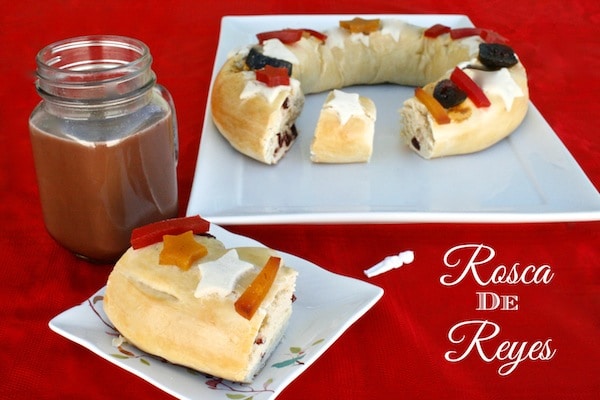 Originally published on December 19, 2021. Last Updated on January 6, 2023 by Belinda Espinoza Simon