I'm not much of a cook and because my little one and I are vegetarians, we eat vegetarian at home (much to my husband's dismay). So although we don't change our eating habits during the Lent season, I love all the great vegetarian recipes that are shared during this time.
Nestlé recently shared three different recipes with me, including the Zucchini Boats Stuffed with Lentils. However, my favorite of them was the Strawberry Crunch Ice Cream Pie. I know, I know… not very nutritional. In my defense, I'm 6 months pregnant and totally craving frozen foods and strawberries. It's true! I had a huge bowl of frozen strawberries with La Lechera for lunch paired with a banana, strawberry and soy milk smoothie.
Below is the great (and easy) recipe for Strawberry Crunch Ice Cream Pie. Stay tuned for more vegetarian recipes and keep in mind that I hate spending a lot of time in the kitchen, so the recipes featured here will be quick and with minimal ingredients.
Strawberry Crunch Ice Cream Pie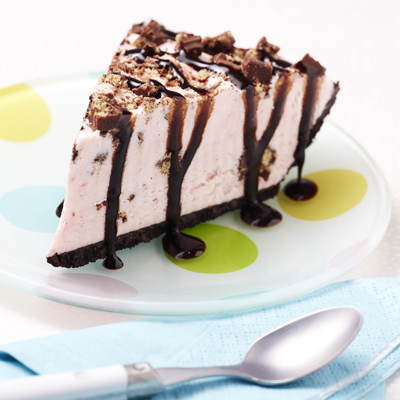 Estimated Times
Preparation Time: 10 mins
Cooling Time: 4 hrs freezing
Servings: 8
Ingredients
1 1/2 quarts Strawberry DREYER'S or EDY'S SLOW CHURNED Light Ice Cream, softened
3 (1.55 ounces each) NESTLÉ CRUNCH Candy Bars, chopped (about 1 cup), divided
1 prepared (6 ounces) chocolate cookie crumb crust
NESTLÉ NESQUIK Chocolate Flavor Syrup or NESTLÉ ABUELITA Chocolate Syrup
Directions
COMBINE ice cream and half of chopped candy bars in large bowl; stir well. Spoon mixture into crust. Sprinkle with remaining chopped candy bars. Freeze for 4 hours or until firm. Drizzle with syrup before serving, if desired.
Click here for a YouTube step-by-step video (note: It's in Spanish, but still helpful even if you don't speak the language).
Image and recipe courtesy of Nestlé USA.
Originally published on March 11, 2011. Last Updated on February 14, 2016 by Pattie Cordova