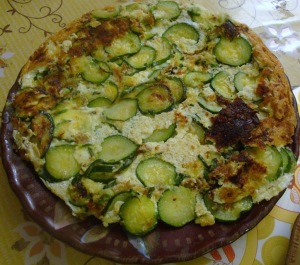 I swear this tastes better than it looks… and the picture in the recipe book looked a lot better too. I think I had the pan too hot when I fried the zucchini.
Recipe from: The Little Big Vegetarian Book
Ingredients:
3 large zucchini/courgettes
1/2 cup plain flour
1/2 cup extra-virgin olive oil
6 eggs
salt and freshly ground black pepper to taste
Directions:
1. Slice the zucchini into thin wheels and coat with flour, shaking off any excess.
2. Heat all but 2 tablespoons of the oil in a large frying pan over high heat until very hot.
3. Saute the zucchini for about 8 minutes, or until lightly browned.
4. Drain well on paper towels.
5. Discard the oil and replace with the remaining oil. Arrange the zucchini in a single layer in the pan and return to medium-high heat.
6. Beat the eggs in a medium bowl. Season with salt and pepper.
7. Pour the egg mixture into the pan and cook for 4-5 minutes.
8. Turn on the broiler (grill) and broil the frittata for 3-4 minutes, or until the top is golden.
9. Turn out onto a heated serving dish and serve hot.
Originally published on October 8, 2009. Last Updated on August 9, 2017 by Pattie Cordova