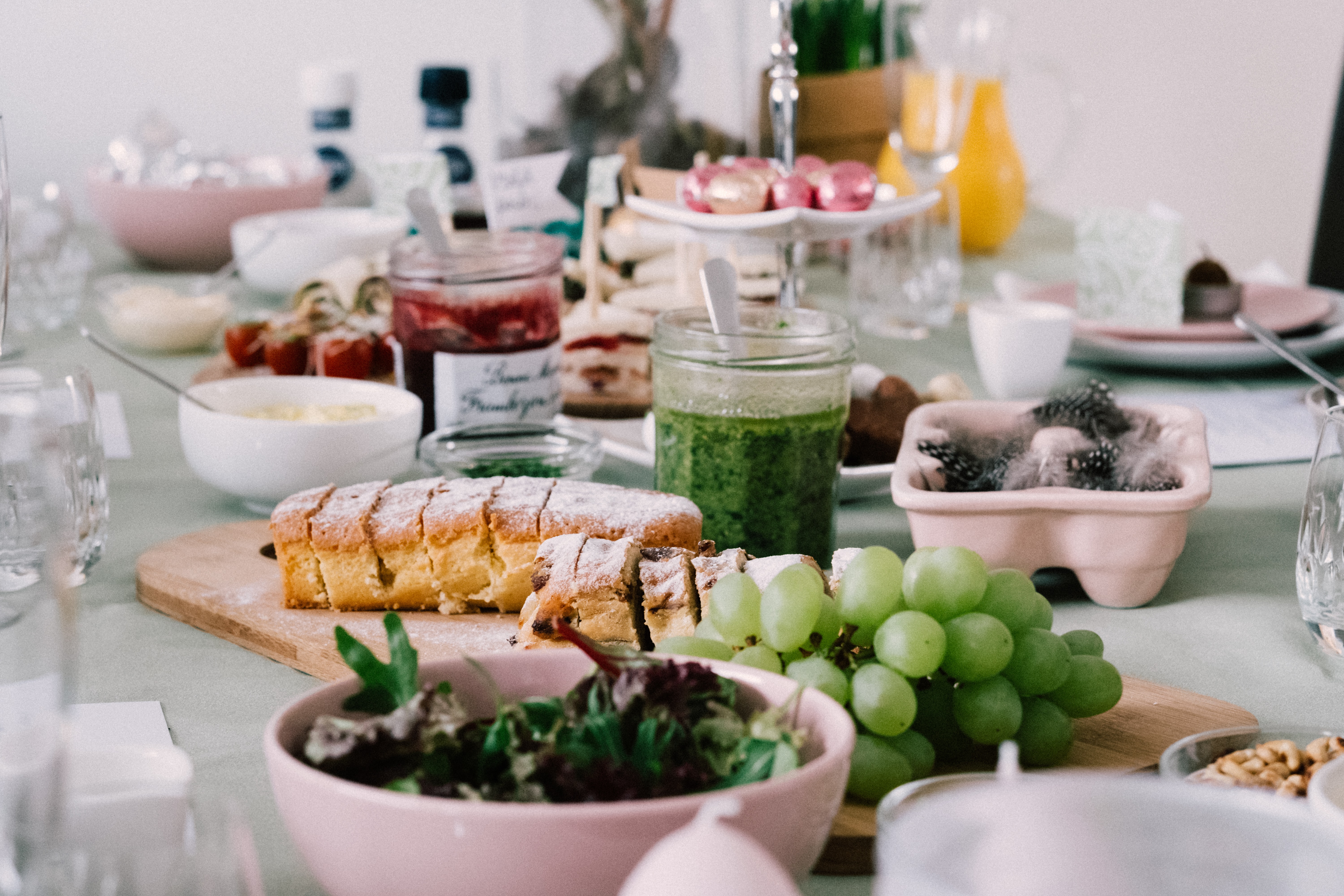 Holidays
Best Easter Brunch Restaurants in Orange County
Easter Sunday is on April 4, 2021, and we're happy to be able to enjoy special Easter brunch in Orange County this year with family. In my family, we love being able to dress up on Easter, go to church and then enjoy a nice meal together after church.
We found a few places that offer a special Easter brunch (but if we missed one, please let us know!). Due to a high demand for in-person dining, we recommend you make a reservation ahead of time as many places will require it in order to dine-in.
And if you're looking for Easter events to enjoy with your family in Orange County, check out our list of things to do this Easter in Orange County.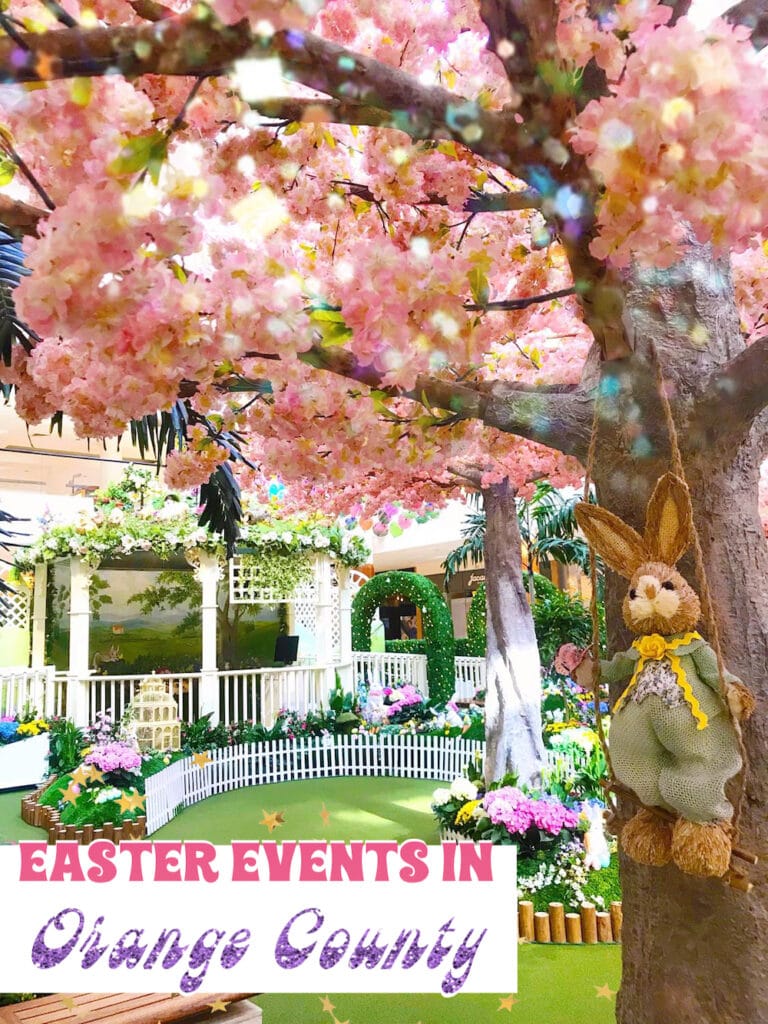 For ease of use, this Easter brunch restaurants in Orange County list is organized by city in alphabetical order. Take a look and let us know if we missed one of your favorite Spring events! Email ([email protected]) or message us on Facebook.
Some restaurants are also offering Easter brunch to-go for families who feel more comfortable dining at home.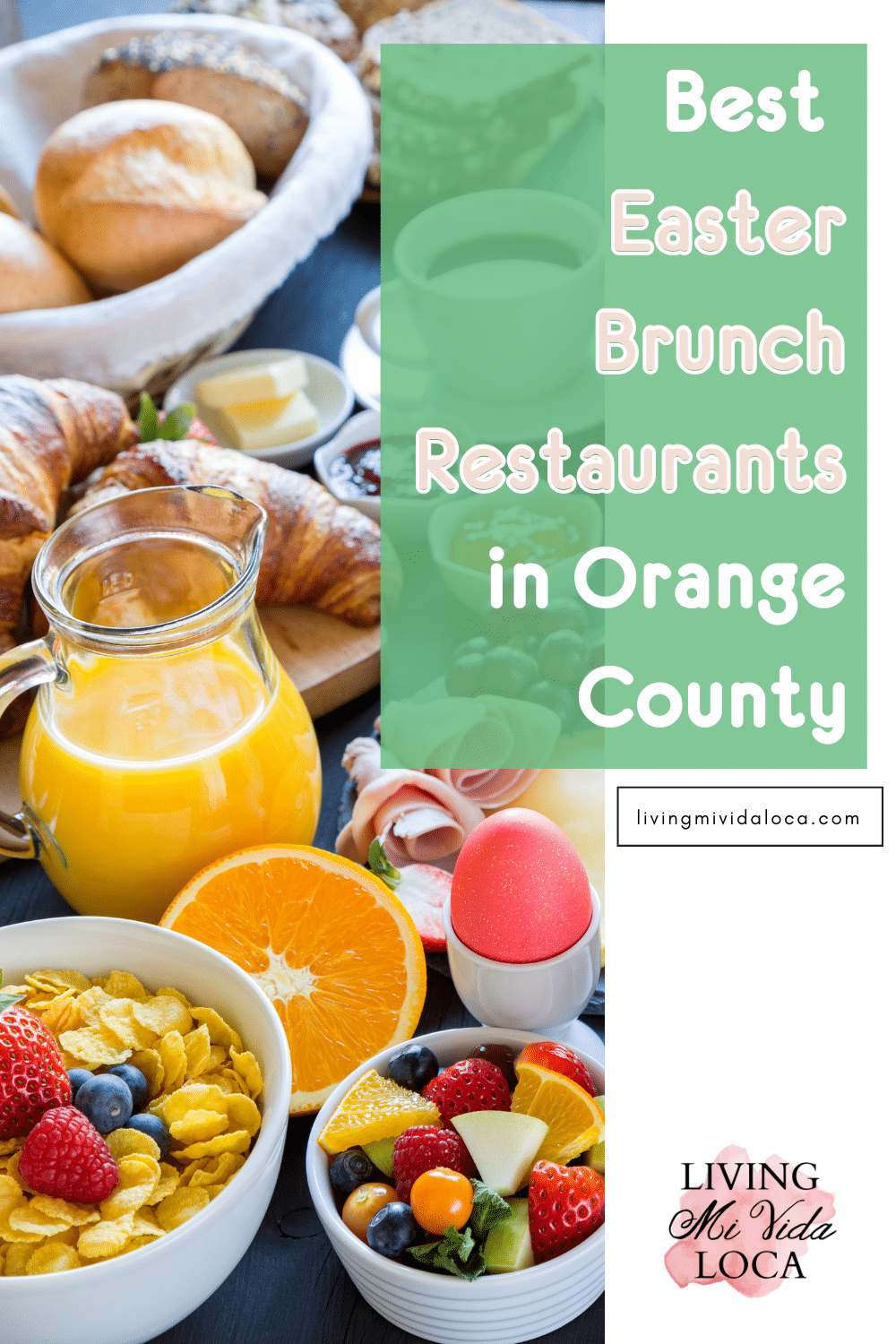 Best Easter Brunch restaurants in Orange County
Buena Park
Enjoy a holiday feast that includes all of the home-style classics. Make your reservation now by visiting OpenTable or calling (714) 220-5055.
Corona Del Mar
They have a Sunday brunch at this beautiful restaurant inside a plant nursery. This restaurant is only available by reservations for the time being. Their brunch is designed for two people so this is best for a couple looking to fine dine. They have two available main courses which are a seasonal frittata and a seasonal French toast. For drinks, they do offer champagne or Bloody Mary's. They do offer take out and you can order larger sizes for your entire family to go.
Costa Mesa
Pre-order a three-course, family-style Easter dinner for takeout, serving four to six and featuring a whole rack of bone-in filet, salad, grilled asparagus, potatoes & Flourless Chocolate Espresso Cake. Pre-order is available with pick-up April 3 or 4. Or opt to dine on-site with Easter Sunday brunch that offers Lobster Frittata and Wagyu Strip Steak and Eggs.
What we love about this place is that there is more than Spain's delicious flavored food here, there is also a live DJ in the Costa Mesa location on Sunday afternoons. Weekend brunch is on Saturdays and Sundays and they offer bottomless mimosas. The torilla española and the churros con chocolate are two very popular Spanish dishes that you must try!
Their Sunday brunch is from 11am-3pm. They will have live music starting at 12pm. Please make reservations in advance as indoor and outdoor seating is limited. Descanso is a modern taqueria with a large selection of items for their brunch including chilaquiles, carnitas hash, salmon avocado toast and more. They have 8 types of tacos on their brunch menu for the taco lover in your family.
Pre-order an "Easter Green Box To Go," serving two or four to six, with choice of glazed spiral ham, salmon or beef tenderloin, plus salad, sides & "Mini Indulgence" desserts. Or book on-site Easter Brunch.
Dana Point
This special one-day menu will feature seafood, dessert, and all-you-can-eat dishes with delicious brunch items such as Crème Brulee Stuffed French Toast, All You Can Eat Prime Rib, Filet Mignon Benedict Oscar, Bavarian Cream Puff, and of course bottomless bloody marys and mimosas. Brunch will be served from 10 a.m. – 3 p.m. with first come first served seating on the waterfront patio or inside the restaurant.
Huntington Beach
Easter Brunch at Paséa Hotel & Spa
Hop on over to Paséa Hotel & Spa for a decadent Easter brunch with all the trimmings. Enjoy playful Easter themed activities, pictures with the Easter bunny and live music, while noshing on seafood displays, breakfast favorites (like a Build-Your-Own Waffle bar), sushi and other brunch classics.
$110 per adult, $50 per child (ages 6-12). Kids 5 & under are free. Reservations required in advance.
Irvine
Celebrate Easter brunch 11 a.m. – 2 p.m., then dinner 2 p.m. – 9 p.m. ("Full Churrasco Experience" is free for kids 6 and under, half price for those 7 – 12). For family takeout, order ready-to-eat Easter Day To-Go package, serves six, with two fire-roasted meats, sides, salads, pão de queijo (cheesy bread rolls) and cocoa fudge brownies. The package is available for delivery and pick-up April 3- 4, with pre-orders due April 1.
Brunch will be served, with classics like eggs benedict, blueberry pancakes or Gulliver's Famous Prime Rib, for both indoor and outdoor dining in the eatery's 18th century England-inspired setting from 11:30 a.m. – 3 p.m. on Easter Sunday. Regular dinner service will resume at 5 p.m. Capacity is limited, so reservations are recommended.
Enjoy Easter at home with takeout & delivery of entire menu, or the Premium Feast for Five ($50) that includes choice of chicken parmesan or chicken marsala, fettuccine alfredo or spaghetti & meatballs, salad and rosemary peasant bread.
Laguna Beach
They have a weekend brunch from 8AM-3PM and there is indoor and outdoor seating available. They have a large variety of alcoholic drinks available including margaritas, mimosas and Bloody Mary's. It is a 4 course price fixe for $45. Some of the items that look delicious include the pozole verde, chilaquiles, huevos rancheros and filet & eggs. Their traditional flan for dessert looks great.
Huntington Beach
Make it an easygoing Easter weekend with Saturday & Sunday brunch, 9 a.m. to 2 p.m., for takeaway or delivery. On menu: Brunch Potato Nachos ($12.50) with platter of fried breakfast potatoes, onions, Ranchera salsa, melted cheeses & more; Huevos Rancheros ($12.75) with corn tortillas, refried beans, fried or scrambled eggs & more; Berry Cinnamon Bread Pudding ($9); and Rainbow Mimosa ($5.50).
Laguna Hills
Grilling authentic Argentine Asado . All you can eat meats, chorizo, chicken and much more! Plus…. antipasto, pasta, roasted potatoes, salad and delicious dessert. Call (949) 454-8880 or (949) 454-8585
Newport Beach
This restaurant offers a weekend brunch from 10AM-2PM. They also offer brunch for take out. You can order online or call to order. They offer breakfast burritos, margaritas pitchers and $3 mimosas. Reservations are recommended, but they also take walk ins.
This restaurant offers a weekend brunch accompanied by live music. They offer a Mexican cuisine which includes omelettes, tacos and desserts. They also offer craft cocktails and wines. They offer an extensive menu which includes tortilla soup, one of our favorites, and they also offer botomless drinks that include margaritas, mimosas, Bloody Mary's and sangria.
Orange
Sunday, April 17th Orange Hill will have their Easter Brunch from 10am to 4pm. Some of their items include chilled seafood, tartines, charcuterie, filet & eggs benedict, lobster & waffles, crab cake benedict, Faroe Island salmon and more. For dessert, they will offer a basket of assortments for the table that include easter eggs, carrot cake, lemon meringue tarts, chocolate salted caramel tarts, café con leche and more. Adults $89 Children 5-12 $35. They will also have bottomless mimosas for $25. Make sure to make a reservation in advance.
Citrus City Grill will have their Easter brunch on Sunday, April 17th from 3pm to 10pm. 3 Course Pre-Fix Meal $40 per person
Various Locations
Habana, Costa Mesa and Irvine
Both locations have brunch Saturdays and Sundays from 11:30AM-3PM. They offer unlimited mimosas and unlimited Bellini's for $18 either one. Their entree specials are their Caribbean pancakes, steak and eggs and ropa vieja & eggs. They also offer other menu items besides their brunch specials.
Cha Cha's Latin Kitchen, Brea and Irvine
At Cha Cha's, they offer a Sunday champagne brunch with bottomless mimosas and their brunch includes two courses. It is $24. The Irvine location has live music. Hours for brunch are 11AM-3PM. They have an extensive brunch menu at both locations and you will find some similar items and some different. The pozole verde, chilaquiles and empanadas at the Irvine location look great and the chicken hash, shrimp ceviche and chicken flautas at the Brea location look great.
All three locations have an Easter Menu available for take-out and you can order online or by phone. It features courses such as beef tenderloin, roasted pork prime rib and roasted leg of lamb. We also love their desserts including their carrot cake which is part of the Easter Menu.
There is an ongoing weekend brunch available Saturdays and Sundays from 9AM-2:30PM.
This Mexican restaurant has a Sunday brunch every weekend. They will have an Easter All-You-Can-Eat Brunch from 8am-2pm. Your brunch will start with their famous churro pancakes and then you can visit their brunch stations and serve yourself fajitas, Mexican entrees, tacos, omelettes, soups, salads and desserts. There will also be bottomless mimosas and $6 Unlimited Bloody Mary's. Please make reservations online and contact your local El Torito for pricing as it varies.
Take-home Easter feasts include muffin or quiche platter that serves eight-10 and comes with muffins or quiches in ham, bacon or vegetable. Also offered the "Ham Dinner Family Meal for 4," with ham served with chipotle glaze, potatoes, gravy, vegetables and cornbread, and "Roasted Turkey Family Meal for 4," featuring turkey, stuffing, gravy, potatoes and cranberry sauce. Or order "Pot Pie Meals for 4," with four mini pot pies, salad and cornbread. And keep it sweet with limited-time, seasonal Fresh Strawberry Pie. Pre-order online or at local restaurants March 26 through April 4.
Celebrate at home with "Family-Style Meals" to-go. Choose from "Family Bundle" (large pan of lasagna, jumbo house salad and breadsticks), or "Family-Size Pans" with such options as Fettucine Alfredo, Chicken Parmigiana and more. Add bottle of wine, starting at $15, to-go, where permissible. Order online & have your meal delivered right to your car. Find ordering info here.
Outside of Orange County
Long Beach
Easter Brunch will be April 3 and 4 from 11AM-4PM. Easter weekend brunch menu available online and you need to reserve your table early for dine in. They will also have Fuego To Go and you can take an Easter Family Feast home. They will offer some classic Mexican dishes such as pozole, shrimp ceviche and tacos and their whiskey-raisin bread pudding sounds amazing. If you've ever been here before, you will also love the harbor views.
If you decide not to have Easter Brunch at these Orange County restaurants, we found some popular Easter dishes you can make at home that are traditional. Lamb is a popular main course and carrot cake is a popular dessert. Easter ham is also a popular dish. Happy Easter!
Originally published on March 22, 2021. Last Updated on April 22, 2022 by Pattie Cordova