New Year's Eve will be here before we know it, and I don't know about you, but I'm hoping the kids are sleeping when New Year's Day arrives. So we plan on celebrating it during the day! Last year, we went to Discovery Cube OC to bring in Noon Year's Eve. There was this big celebration with a DJ, refreshments, noise makers, hats and a countdown that ended with streamers falling across Dino Quest. The kids had a blast!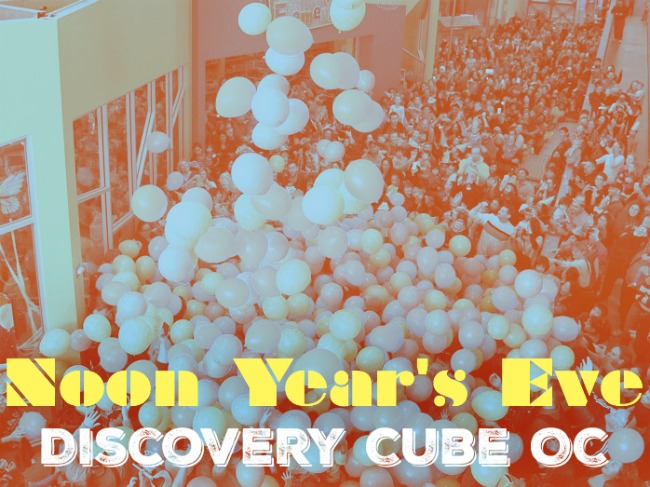 This year, Noon Year's Eve will be a different experience because they're bringing the fun indoors! Discovery Cube will host Noon Year's Eve on December 31, 2015 inside the Showcase Theater. It's 10,000 square feet and will have a huge balloon drop, confetti blasts, and a ginger ale toast to accompany the countdown at 12:00 p.m. and 2:00 p.m.  If you remember, the Showcase Theater was the first big part of the expansion that opened (right where Bubblefest and the Sherlock Holmes exhibit was featured this past summer).
Be sure to come dressed in your favorite superhero costume! They'll have a large green screen for fun photo booth pictures and hats and horns to celebrate the new year.
And now, we're sharing this easy science experience that you can do with the kids to get in the mood for a big fiesta at Discovery Cube OC.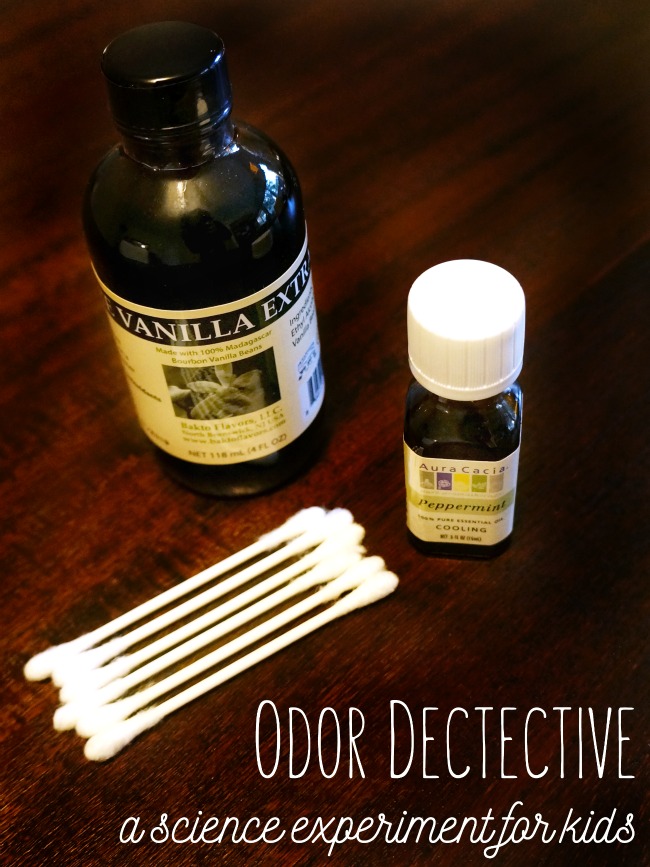 Odor Detective – a science experiment for kids
What: Odor detection is due to chemicals in the air coming in contact with nerve endings (chemical receptors) in the nose. These receptors send electrical impulses to the brain that the brain perceives as a particular odor.
Why: If you are exposed to the same smell over an extended period of time, it may seem that certain odors go away. Instead, your nerve endings have become over-stimulated and the brain momentarily stops perceiving the smell (alerting you to the smell). As an example of this, think of a time when you have walked into a poorly maintained pet store and been initially overwhelmed by the odor. After browsing at the puppies for a while, you stop noticing the unpleasant smell and believe that the smell has gone away. But if you were to walk out of the store and re-enter, you will very clearly notice the initial odor again, as strongly as before.
Materials needed
Clove oil or vanilla extract
Peppermint oil
2 ear swabs
Directions
Have the guest close his/her eyes to help him/her concentrate.
Dip one end of an ear swab into the clove oil or vanilla extract and hold it near the nose of the guest. (Keep another ear swab dipped in peppermint oil nearby.)
Have the guest raise his/her hand when he/she smells the clove oil and keep the hand up until he/she stops smelling the odor. Once the guest cannot detect the odor, have him/her drop his/her hand and open his/her eyes to show that you have not moved the ear swab away from his/her nose.
Move the clove oil swab away from the nose and introduce the peppermint-soaked ear swab. Ask the guest if he/she can tell you what they smell (peppermint).
Let him/her know that his/her nose has not stopped functioning and that the clove oil is not gone from the initial swab.
Reintroduce the clove oil swab and ask if they can smell the clove oil once again. (They will be able to smell the clove oil immediately.)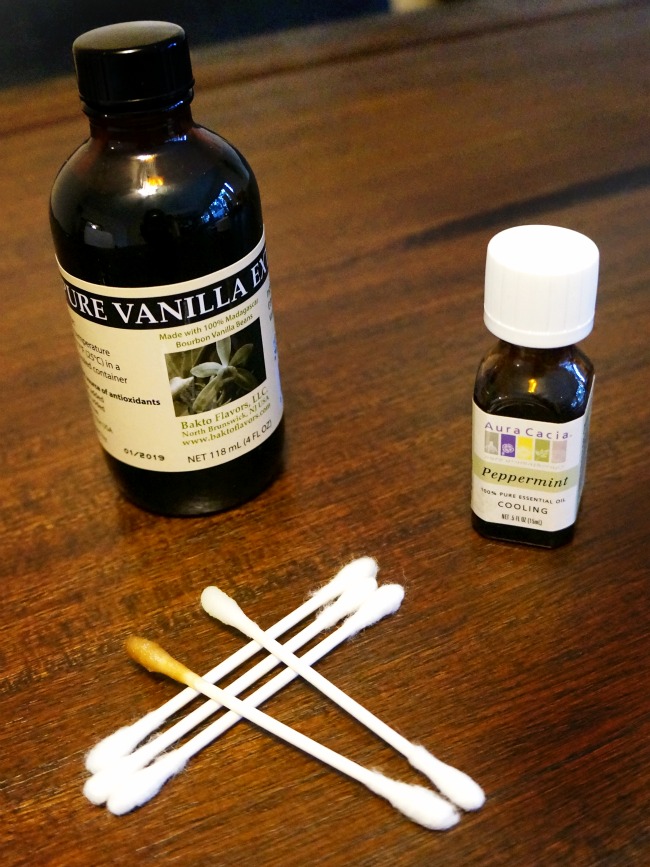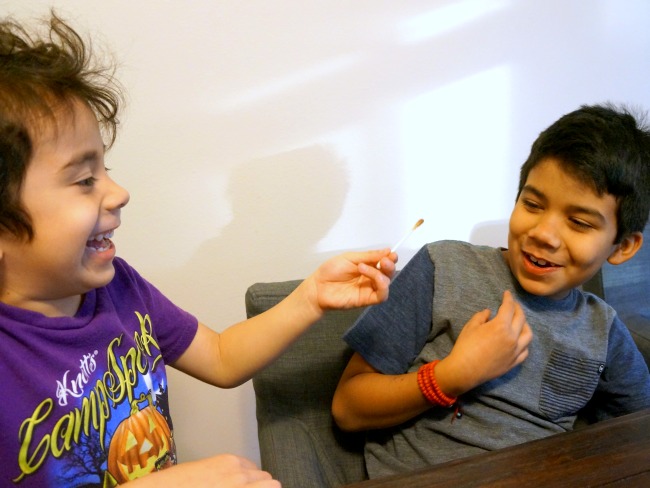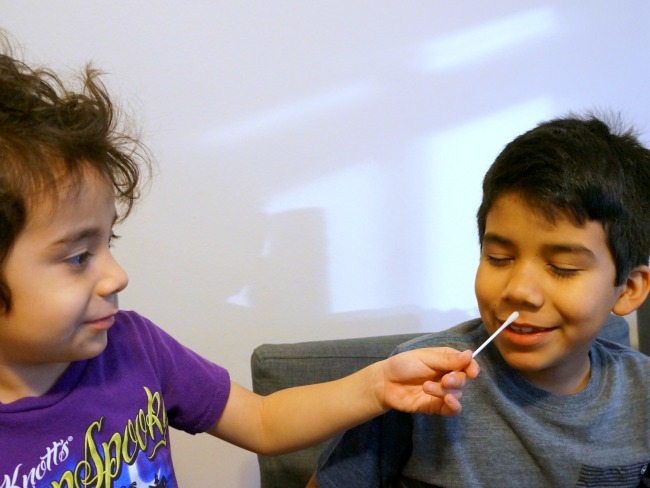 Why does this happen? One of the purposes of your sense of smell is to alert you to nearby objects that are emitting those odors…to tell you that food is nearby; that a potentially harmful chemical is nearby; that an animal is nearby, etc. Your brain gives you this information to which you can react, by drawing closer or moving farther away from that food/chemical/animal/etc. If you stay in close proximity to that object, after a while these odors can become a distraction and the nerve endings can become over-stimulated by the processes involved in chemical detection. So, the brain stops alerting you to that particular odor until it is introduced once more, or when a new odor is introduced.
The kids had a blast doing this experiment, and then they moved on to our other essential oils. It took them about 30-60 seconds to stop smelling the first scent. Let us know how your kids do with the experiment in the comments below! And don't forget to enter for a chance to win an annual membership to Discovery Cube!
[disclaim]This is post in partnership with Discovery Cube OC as a Discovery Cube Mom. All thoughts and ideas remain my own.[/disclaim]
Originally published on December 21, 2015. Last Updated on September 23, 2016 by Pattie Cordova