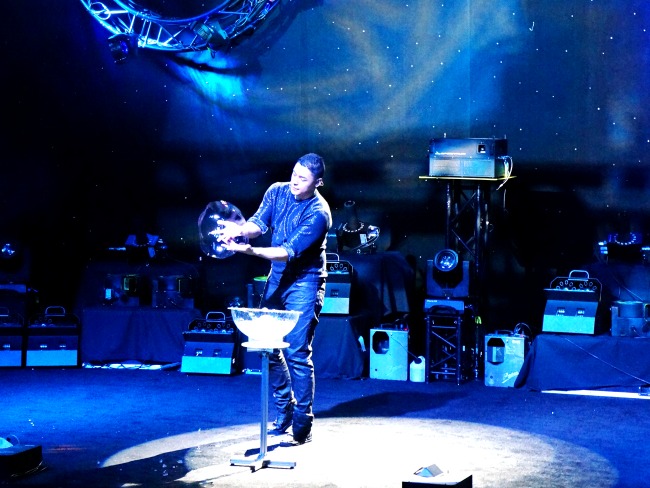 Travel
See Deni Yang at Discovery Cube OC's Bubblefest
Bubblefest is back at Discovery Cube OC for its annual stay during spring break. This is one of my favorite exhibits of the year because we've been coming to it for years and years, and something as simple as bubbles is still pretty cool to watch and learn about.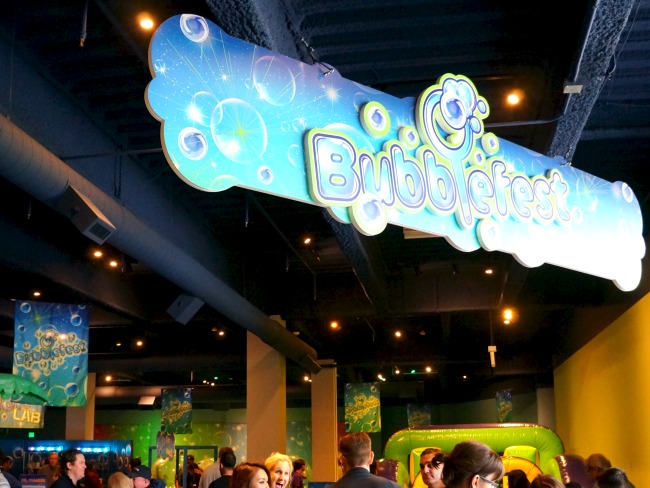 The show is held inside the 10,000 square foot Showcase Theatre on the second floor. It provides for very comfortable seating for the adults, and lots of space for the kids' seating closest to the stage.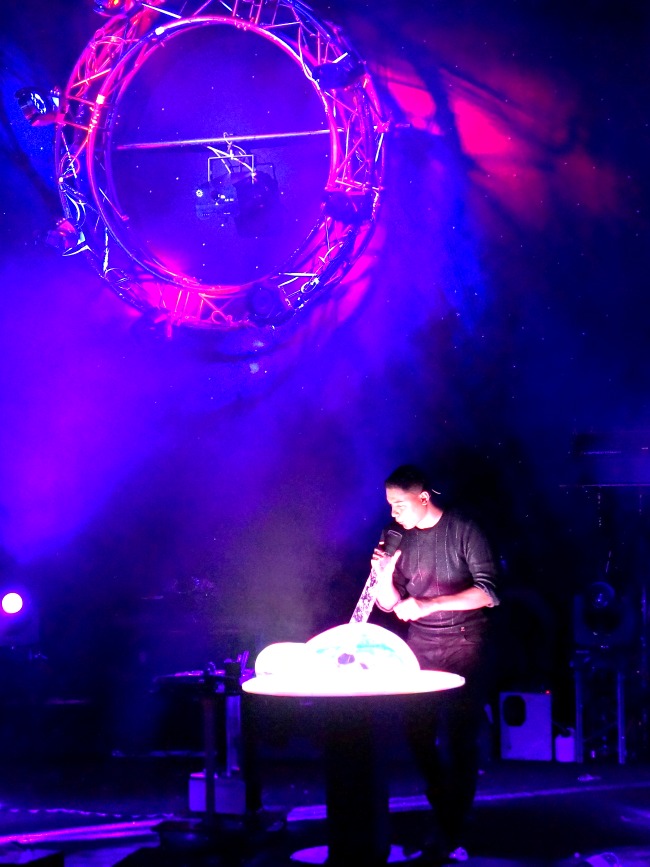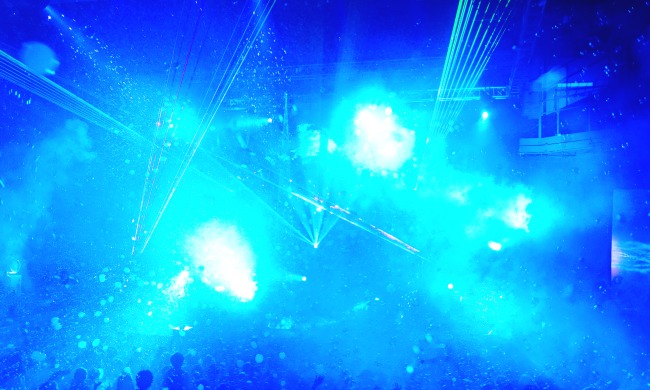 The Bubble Show is performed by the fabulous Deni Yang, who performed his first bubble show at the age of 4! I remember visiting the cube way back when and seeing his dad perform the show. Years later, it's fun to take my own kids and watch Deni Yang put on a riveting Bubblefest that is great for both adults and kids.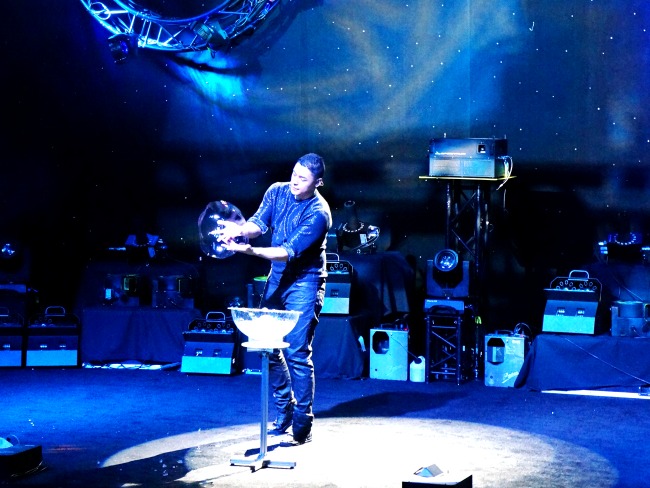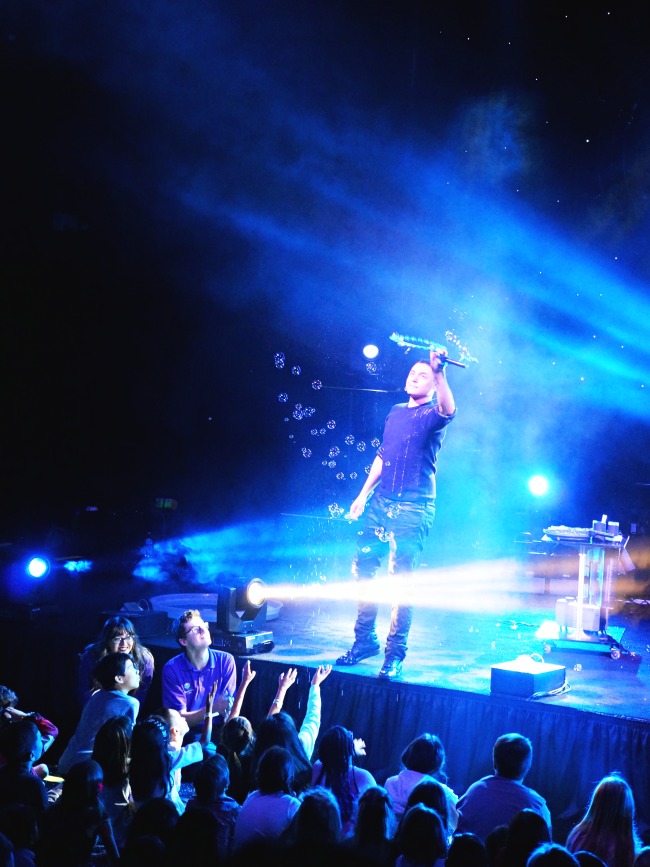 Deni Yang is an amazing performer and a Master of Bubbles – just like his dad. His 45 minute performance doesn't have a second of dullness. During the show, you'll feel like a kid again being surrounded with thousands of bubbles in the air. Each of the kids have their favorite part of the show – everything from the laser show at the end, to the story of the snow to watching kids go on stage and post inside a giant bubble.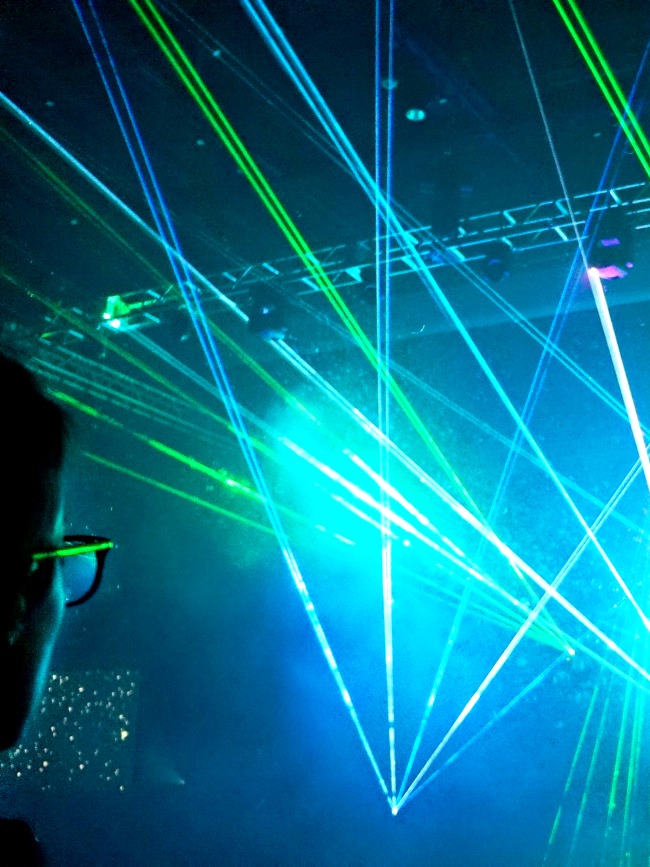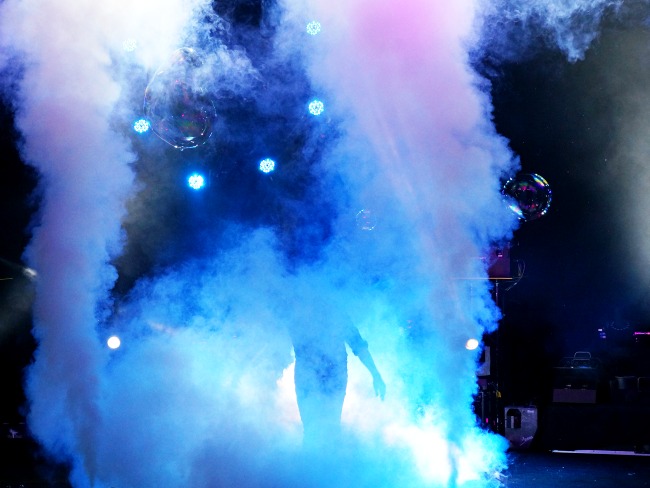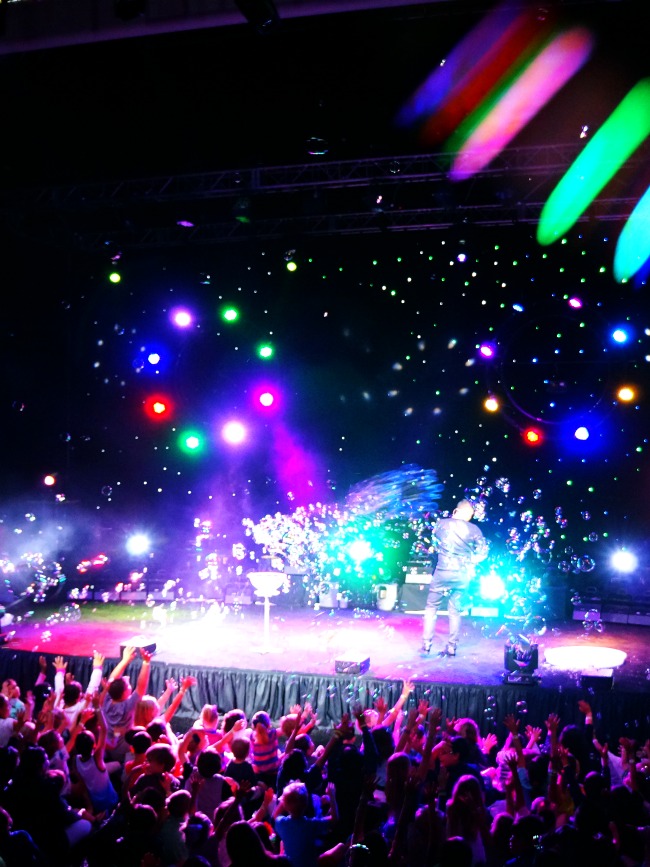 Once the amazing show is over, you can go downstairs back to the main floor where the bubble activities are being hosted and hang out in giant bubble spheres, create a bubble wall and even learn about flow patterns.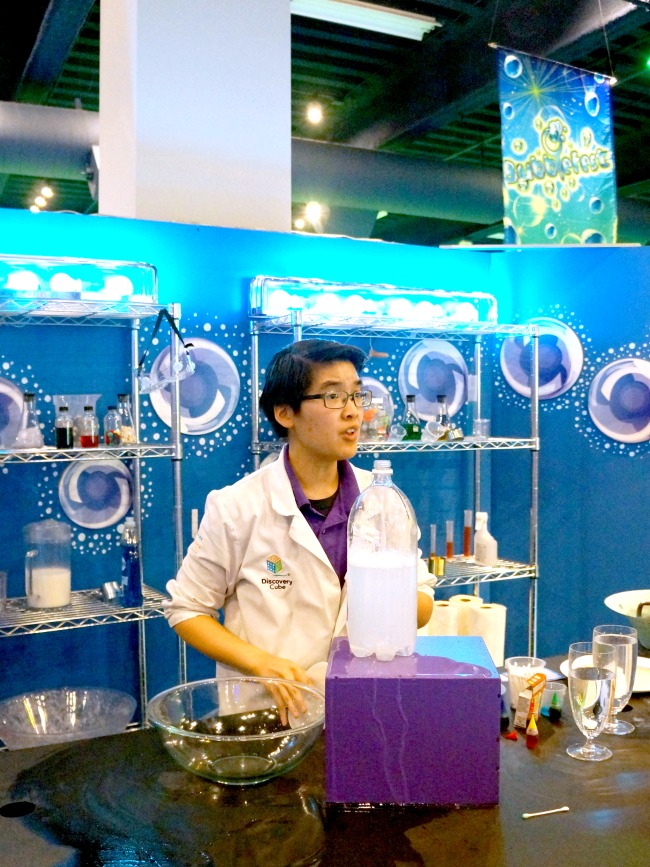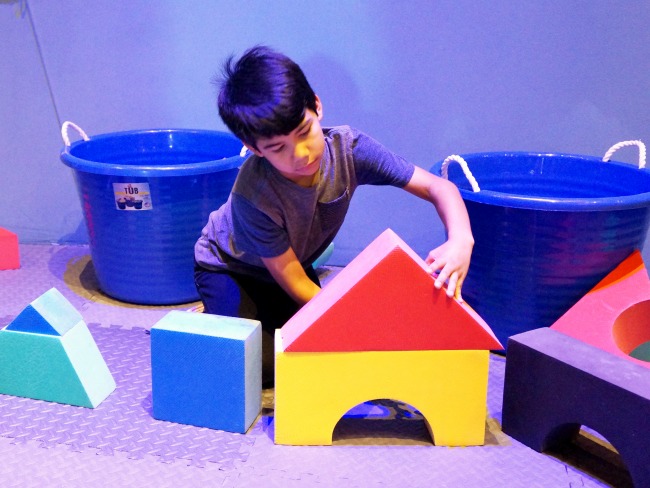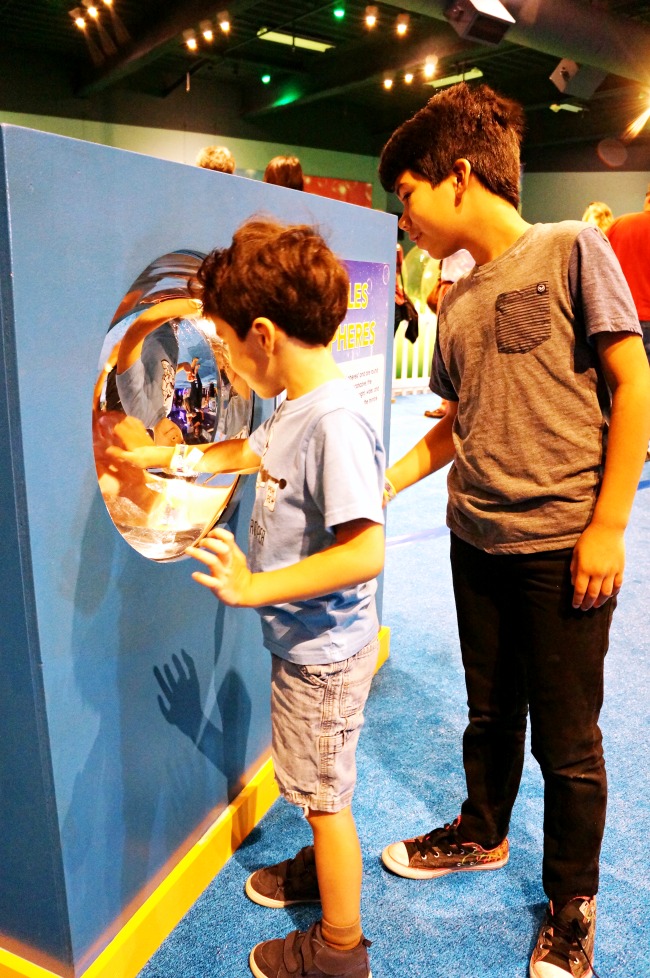 Aside from the wonders of Deni Yany and his Mega Bubblefest Laser Show, there are so many other bubble activities that the kids can enjoy. Activities are included in each Bubblefest admission ticket:
Bubble Spheres: Your child (or you!) can climb into giant bubble sphere and see what happens when you try to walk, crawl, sit, or lay down! Learn about buoyancy and Archimedes' Principle with this thrilling activity;
Bubble Wall: Learn how heat and dryness affect bubbles and try to put your hand through a bubble wall without it popping;
Bubble Art Studio and more!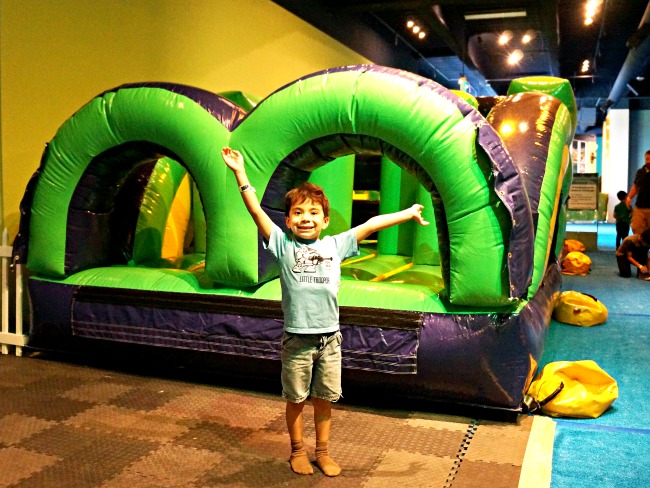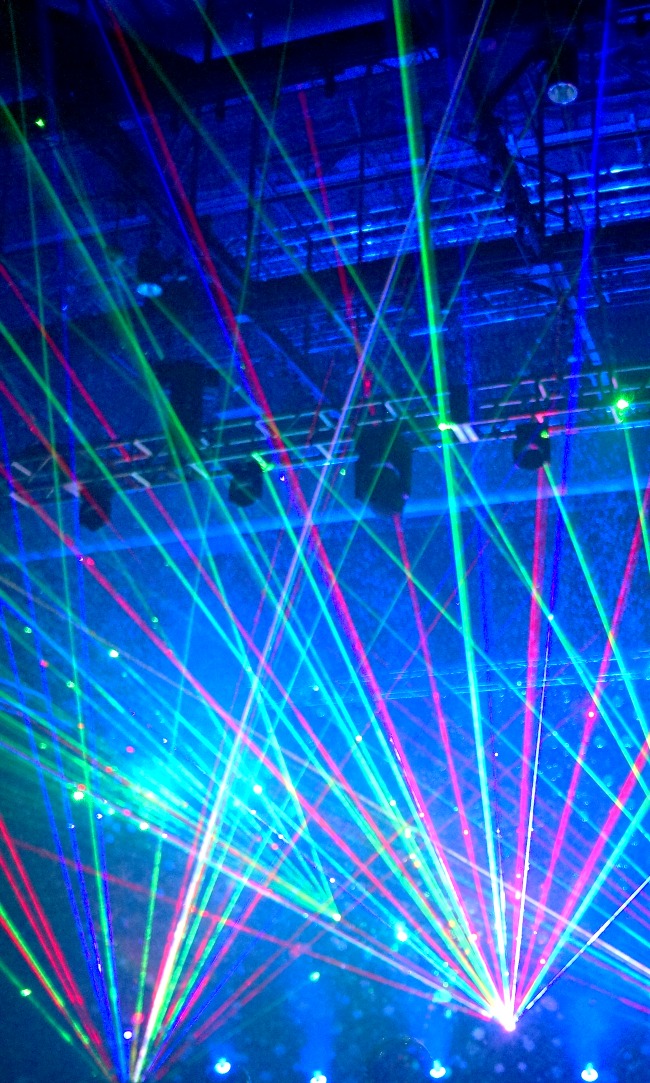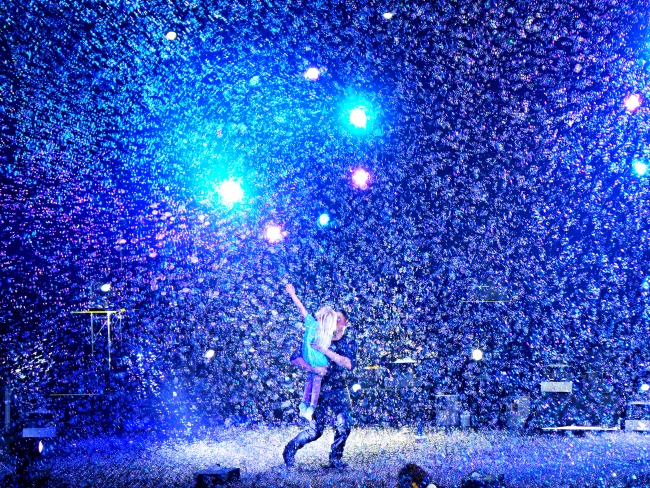 Bubblefest with Deni Yang and Melody Yang at Discovery Cube OC
Bubblefest Pricing
A Bubblefest ticket includes admission into a selected Mega Bubblefest Laser Show and The Bubble Festival: access to the Bubble Courtyard and to the Bubble Zone which has the water spheres, bubble wall, bubble art studio and more!
Mega Bubblefest Laser Show Showtimes
The Mega Bubblefest Laser Show is included in your Bubblefest ticket. Guests will be required to select a show time when purchasing their Bubblefest tickets. The Mega Bubblefest Laser Show runs 4 times a day during Bubblefest, 11:00AM, 12:30PM, 2:00PM, and 3:30PM.
Bubblefest VIP admission at $15 also requires general admission and allows for early entry and preferred seating during the Mega Bubblefest Laser Show. General admission prices are as follows: adult ($19.95), senior ($16.95), and children 3-14 ($14.95).
Visit Discovery Cube at 2500 N. Main St., Santa Ana, California and pop some bubbles at Bubblefest from now until April 21, 2019. For more information, visit https://oc.discoverycube.org/event/bubblefest/.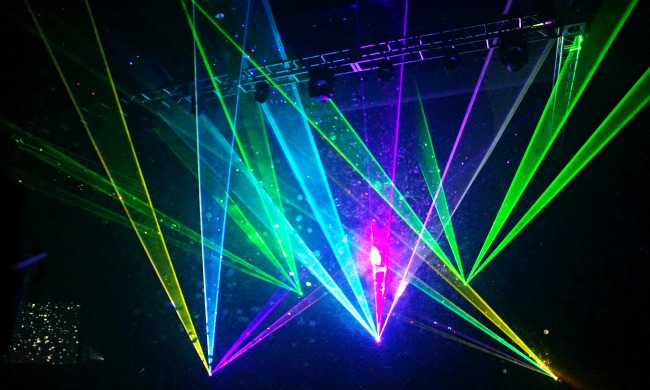 Contributors of LivingMiVidaLoca.com receive products, compensation and/or complimentary/discounted services to facilitate posts. All thoughts and ideas remain the reviewer's own.