One week ago I had the immense pleasure of over-indulging at Knott's Berry Farm. And let me tell you, I'm vegetarian and I had more than just funnel cake and pie.
It all started with an invitation to bring along the hubster to the Wilderness Dance Hall to sample their new menu. My ears perked up with the mention of food, but I was skeptical. I mean, if they invited me they knew I was vegetarian, right? And that I am completely transparent in my reviews. I hoped they knew what they were in for.
I've been to Knott's Berry Farm a lot in the past year and I gotta tell you, I wasn't going there for the food. Sure, their funnel cakes are to die for. Their boysenberry cake? ¡Delicioso! But aside from a few other items, food wasn't their forte… UNTIL NOW!
We walked in and this was waiting for us.
Table after table full of food. They called it a sampling, but to me it was like an all-you-can-eat buffet served in small pieces.
Before we started ravaging the tables I took a second to talk to Russ Knibbs, VP of Food and Beverage aka The Guy With All The Answers. My first issue? Vegetarian food. Why is it so hard to get something other than sweets to nibble on while I'm waiting for a ride? It appears that my question wasn't so unique because he immediately told me about their new bean burgers (picture later in the post), bruschetta and veggie wraps. He took it a step further and told me that they also have gluten-free pizza! Um, hello… awesomesauce! While I don't search for gluten-free foods on a daily basis, I'm happy to see that they have their ear to the ground and are listening to what the public wants. I let him go to get to the food, but not before we talked about the alcohol that they're serving.
Apparently, even that has gotten a makeover! They chucked their old stuff and replaced it with locally brewed beer and California wines. In fact, one of their beers (pictured above) is brewed in Anaheim! Can't get any closer than that.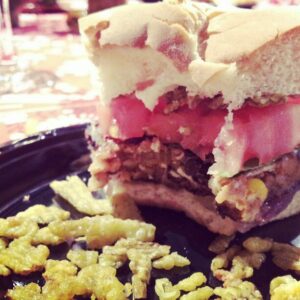 Black Bean Burger – Ghost Town Grill – $13.49 (w/side)
The first table that I stopped at featured their black bean burger. This burger is handmade, features fresh veggies and it was pretty darn good. I've had my share of bean burgers and this was honestly my fav. Why? Because it didn't crumble. It was moist, seasoned well and the texture wasn't grainy. I asked them to top off my little bit of burger with some of their fried jalapeños (think jalapeño chips) and that took it up a notch.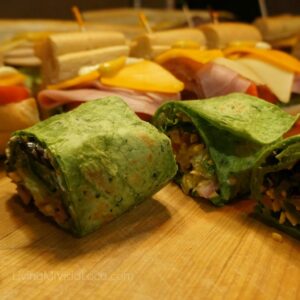 Veggie Wrap Sandwiches – Soak City – $7.99
Next up was their veggie wrap sandwiches. This wrap consists of fresh vegetables stuffed full of bell peppers, tomato, cucumber and cheese. I like it… except that I think it needs salt. Which is no big deal. I added it and it was delicious. I wouldn't recommend you buy this wrap and walk around the park with it though. Like all wraps, they'll get soggy with time and then it won't taste as good.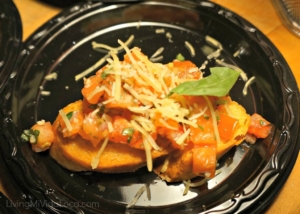 Bruschetta – Spurs – $7.99
Then there's the bruschetta. It's not something you would expect at a theme park, but their new menu isn't what you would expect either so I guess it fits in just fine. This bruschetta is as good as anywhere else. The tomatoes are marinated to perfection and topped with fresh parmigiano reggiano on this beautifully baked focaccia. You can find this at Spurs (across from GhostRider) where you can also find this: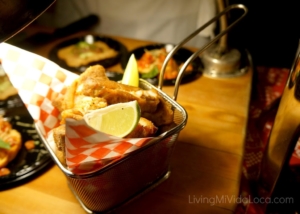 Cajun Lime Salt Riblets – Spurs – $9.99
Those are Cajun Lime Salt Riblets and what I love is that it is served just as you see it. Isn't that the cutest thing ever? Don't ask me how it taste though. I have no idea.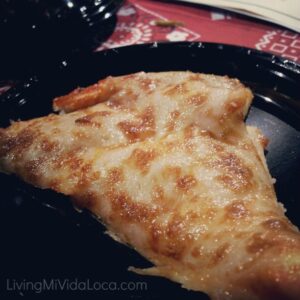 Gluten Free Pizza – Soak City – $7.99 (individual size)
Then I walked over to the gluten-free cheese pizza. At first glance, I wouldn't be able to tell that it was gluten-free. It looked like a regular cheese pizza. As it turns out, this one is made with corn flour and then topped off with fresh mozzarella cheese. I gotta tell you though… I LOVE that they have addressed the need for gluten-free foods, but I don't think a cheese pizza can ever be improved. It's dough topped with loads of cheese. It was good and I'm sure my kids will love it. But I would rather buy the wrap.
At this point, I have basically exhausted all the new vegetarian options and I sit back and enjoy the entertainment while the hubster goes on to eat: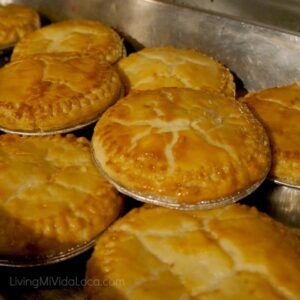 Chicken Pot Pie – Mrs. Knott's Chicken Dinner – $16.90 (full meal)
Their chicken pot pie. This one I am dying to try – just a veggie version. I've yet to have a chicken pot pie and this one looked like it was so good. The hubster put it up there along with their Hawaiian Ahi Poke and this: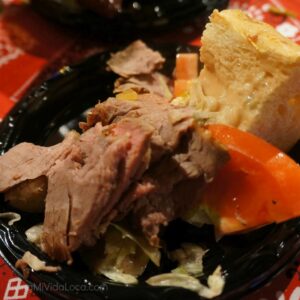 Flank Steak Sandwich – Fireman's Brigade BBQ – $13.99 (w/ chips and drink)
Their flank steak sandwich. This meat was marinated for over 24 hours and then served on their homemade jalapeño and cheddar roll.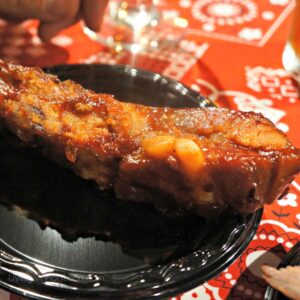 Slow Cooked Ribs – Fireman's Brigade BBQ – $11.99 (w/ garlic toast & baked potato)
They also have these slow cooked ribs which were seasoned with Knott's special rub, smoked for 11 hours and then basted with their homemade BBQ sauce. I'm telling you, Knott's is not messing around. They are bound and determined to make you eat there. And you will not be disappointed if you do.
Of course, they are also bringing in new desserts. You know you can't leave Knott's without having their funnel cake, but now you need to add their cookiewich to the list too.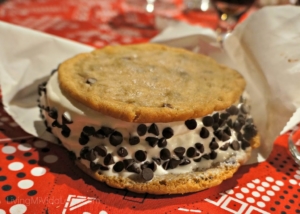 Cookiewich – Chowhouse – $5.49
This cookiewich is pretty darn big. Because they bake their own chocolate chip cookies, they are able to make them bigger than store-purchased cookies. They then filled it with their creamy vanilla soft serve ice cream and roll it in chocolate chips. Russ swears that it will stay firm and not melt for at least 30 minutes. Give it a try and let me know. Mine didn't last more than 5 minutes.
Then there's the fresh fruit cups and boysenberry pie. If you've been to Knott's, then I'm sure you've had the pie. If you've been alive for more than two years then you know what a fruit cup is. I won't bore you with my thoughts on it. I will, however, show you just how delicious they look.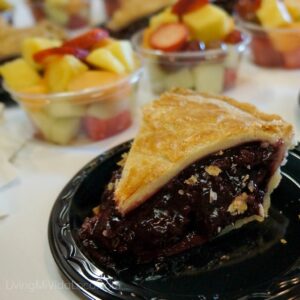 Knott's Boysenberry Pie – Mrs. Knott's Chicken Dinner – $3.95 (slice) $11.65 (whole)
Here's a fun fact about boysenberries – they can ALL trace their roots back to Knott's Berry Farm!
I was honestly bowled over by their ridiculously good food that they are putting out over there. I'm talking about fresh, locally grown foods that you would expect from restaurants. Less fast foodish, a lot more homemade.
Of course, Snoopy stopped by for a visit and kept trying to take the hubster's food. Good times.
Believe it or not. I took a lot more pictures. Want to spend a few minutes salivating? Hop on over to the Google+ album.
For more information on all Knott's has to offer you can visit them on their website: www.knotts.com.
And of course, being the social savvy theme park that they are, they are also available on:
Facebook: Facebook.com/KnottsBerryFarm
Twitter: Twitter.com/Knotts
Instagram: @KnottsBerryFarm
I was invited by Knott's Berry Farm to partake in this sinfully delicious event and stuff myself until I felt like I was going to explode. All thoughts and opinions remain my own.
Originally published on July 28, 2012. Last Updated on September 1, 2016 by Pattie Cordova