We kicked off our weekend visiting Discovery Cube in Santa Ana for the opening of MythBusters: The Explosive Exhibition. The exhibit is based on Discovery Channel's series that thrives on uncovering truths behind popular myths.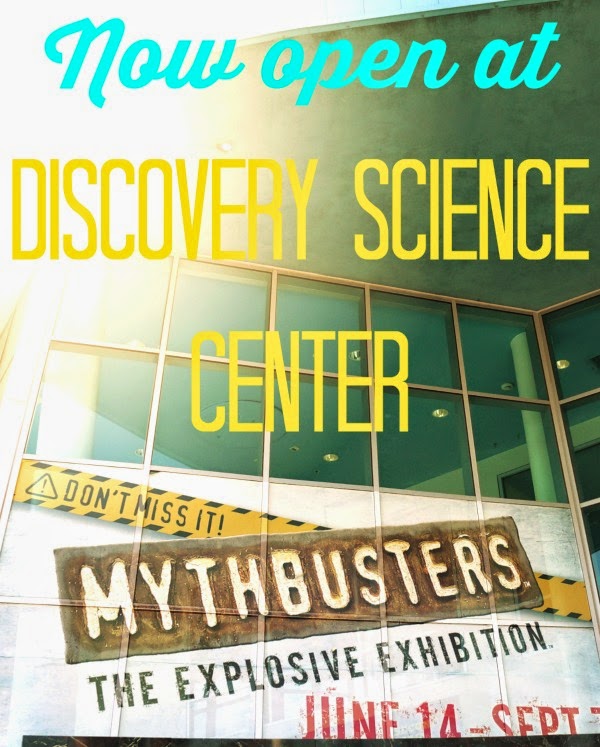 The exhibition creates hands-on, interactive experiences for guests of all ages by combining popular scientific facts with innovative, family-friendly displays. In MythBusters, co-hosts Adam Savage, Jamie Hyneman, Tory Belleci, Kari Byron and Grant Imahara take scientific investigation to exciting new levels by proving or exploding myths using their highly experimental approach and extensive backgrounds in special effects. Savage and Hyneman were heavily involved throughout the development of the exhibition to ensure guests experience a true MythBusting encounter.
Blueprint Room 
Based on the real-life operations room of the MythBusters' iconic set, this room acts as an introduction to MythBusting and is filled with gadgets, props, video and, of course, blueprints used by the hosts to explore myths on the show.
Workshop
This is the place where guests turn into investigators and use real science to test myths. Guest discover whether they get more wet running versus walking in the rain and find out if toast really does always land buttered-side down.
Live MythBusters Demonstration Stage

Here guests have the opportunity to view and participate in live science demonstrations that dissect myths with the help of a team of energetic MythBusting facilitators.

The kids had such a great time! And in true kid vlogger fashion, my six year old asked to have his experience recorded:


Visiting Discovery Science Center now through September 7, 2014 and get involved in hands-on fun and bust the myths!
Discovery Science Center
2500 N. Main St.
Santa Ana, Ca.,
HOURS OF OPERATION
Daily
10am to 5pm
Discovery Science Center is open daily except for Thanksgiving Day and Christmas Day.
ADMISSION PRICES
General Admission
Children (ages 3-14): $12.95
Adults (ages 15+): $16.95
Seniors (ages 62+): $12.95
Parking: $4.00
MythBusters: The Explosive Exhibition
Members: $5.00
Non-Members: $10.00 | Online pre-sale price: $5.00
This is not a sponsored post. My family and I were invited to a media event to facilitate this post. All thoughts and opinions remain my own.


Originally published on June 15, 2014. Last Updated on September 14, 2014 by Pattie Cordova