The baby turned 2 last month. We started off his birthday weekend celebration at Medieval Times (the one in Buena Park, CA) and it was such a fun experience!
It was my first time attending this dinner and tournament show and I wasn't quite sure what to expect. Hubster had been there before and all he could tell me was that it was fun. Well… I found out for myself that it IS fun!
The Pre-Show
You get there and you're lead to the Hall of Arms where you can grab a pre-dinner drink, buy souvenirs and see some of the horses that will be used in the show. It's a huge hall and everyone is kind of just socializing. A man will come up to a podium and then you'll be led into the arena based on the color of your paper crown.
There are six different colors and each group is seated together. We were given the black/white color combo and that put us on the right hand side of the arena, and thankfully, we were also given front row seats. They do offer booster seats so it was perfect for the little birthday boy as he got to see the entire show without anyone's head in the way.
The Food
As you know, the kids and I are vegetarian and I did remember reading something about them offering vegetarian items. I thought for sure it would be some type of pasta and some kind of salad as the appetizer. I was happy to see that my pre-conceived menu wasn't the case for this event.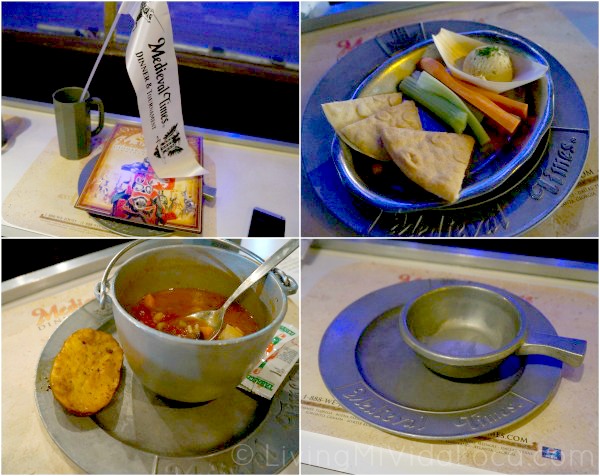 Vegetarian dinner at Medieval Times
We were each served a hummus, pita bread and crudite plate which my kids and I devoured. Given the option of soda, water or tea, the kids went for the water and I stuck with tea. They refill a couple of times during the show and they don't make a mess – even though they're serving in the dark.
The main course was a delicious rice and vegetable soup. They also served us a scrumptious herb-roasted potato on the side. I loved that they included Tabasco sauce as well! The kids didn't finish their soup, but that was okay because they gave us some plastic containers to take our food home in. No waste!
Hubser had the traditional Bill of Fare which consisted of ribs and chicken (or "dragon", as they called it). There were no leftovers on his part though.
Dessert was an apple pie turnover with coffee. The turnover was absolutely delicious, but I wasn't crazy about the coffee. It was a bit too watered down. Then again, the guests don't come for the coffee so it was okay.
The Show
The entertainment portion of the show was a lot of fun. It's not just jousting. They start off with a horse routine and he showed us a bunch of different tricks that his horse can do. I'm happy to report that there are no whips involved during the entire show.
After the horse tricks, we were given a falconry show (another first for me). The gal has the bird fly around the stadium and then catches it, only to feed it its treats and then goes on her way. I didn't know what to expect when the bird was flying around and I crossed my fingers that she wouldn't shoot it down. Thankfully, she didn't.
Shortly after the falconry, we are given the storyline for the remainder of the show and the knights begin to compete.
The knights all compete in mini-challenges before heading into the jousting competition. Depending on which section you're sitting in, you cheer for that knight. We gave our entire support to the black/white knight, but unfortunately, he didn't end up being the victor.
During the actual jousting competition, there are curtains that come down that protect the audience from any swords, lances or other weapons that may be flown out into the audience.
I did love it when the knights got off their horses and battled man-to-man. It was like watching an action movie! You could hear the clink in the swords and though it's all choreographed, it's done in an organic matter so you really get pulled into the fight.
The entire show is almost two hours and well worth the visit. It's fun, exciting and the food is pretty delicious too. You can click here to see if there is a location near you. And if you're celebrating a birthday, they have a couple deals that you can use during your visit:
Birthday Free. Complimentary admission ticket for your birthday! Please visit http://www.medievaltimes.com/buenapark/birthdays.aspx to sign up for the Birthday Fellowship and your complimentary birthday ticket.
$7 Birthday Package. For birthday parties of 10 or more guests, Medieval Times offers their Medieval Birthday Party Package. For $7 (plus tax) per person you receive a birthday announcement and group photo, and a slice of cake, frozen strawberry slushy in souvenir castle cup and a cheering banner for each guest. Please call their Group Sales Office at (714) 521-2342 for more details.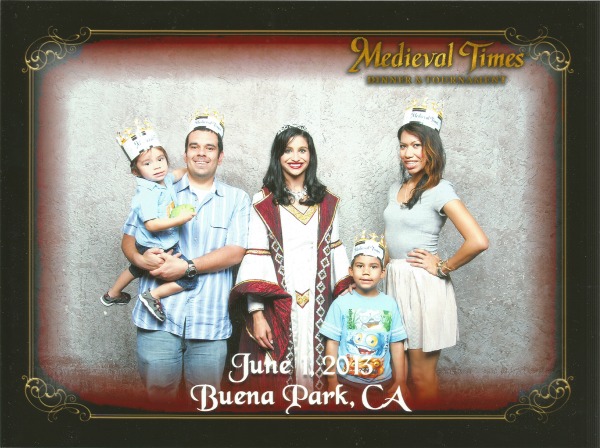 Medieval Times Souvenir Photo ($20)
This is not a sponsored post. I received complimentary admission to facilitate this review. All thoughts and opinions remain my own.
Originally published on July 10, 2013. Last Updated on August 1, 2017 by Pattie Cordova