I gotta say – I love my fritos preparados! My first taste of these was in my childhood at my mom's motherland – Magdalena de Kino, Sonora. Every year we'd make the 8 hour bus drive over there and once we'd get settled in, we'd hit the town and get some bacon-wrapped hot dogs (which I no longer eat 'cause I'm vegetarian) and some fritos preparados from the street vendors.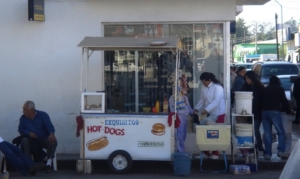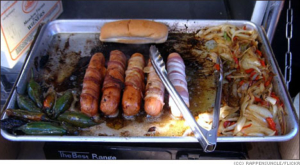 Now that I'm married and with a bebe, we like to share things we used to eat as kids and this is (thankfully) something that I used to eat that the hubster likes. The ingredients for fritos preparados are as follows:
Fritos, mayo, yellow mustard, salt, diced tomato, and diced onion (we don't put any since the Mr. doesn't like them).
I usually mix in all of the ingredients minus the Fritos and then fold in the Fritos at the end so they don't get soggy. The picture below is kinda u-g-l-y… but I hope it gives you the basic image. It's a must try… I know it sounds kinda gross, but they really are delish.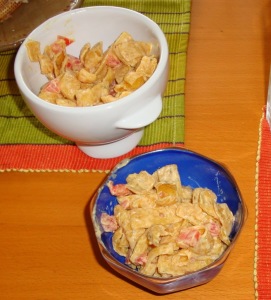 Originally published on January 26, 2009. Last Updated on February 14, 2016 by Pattie Cordova