I love my coffee. Hubster and I share a cup at night after the kids have gone to bed. A visit from my sister-in-law always garners a special cup too. And when I visit my mom, we enjoy a cup of instant coffee, made extra delicious with some creamer.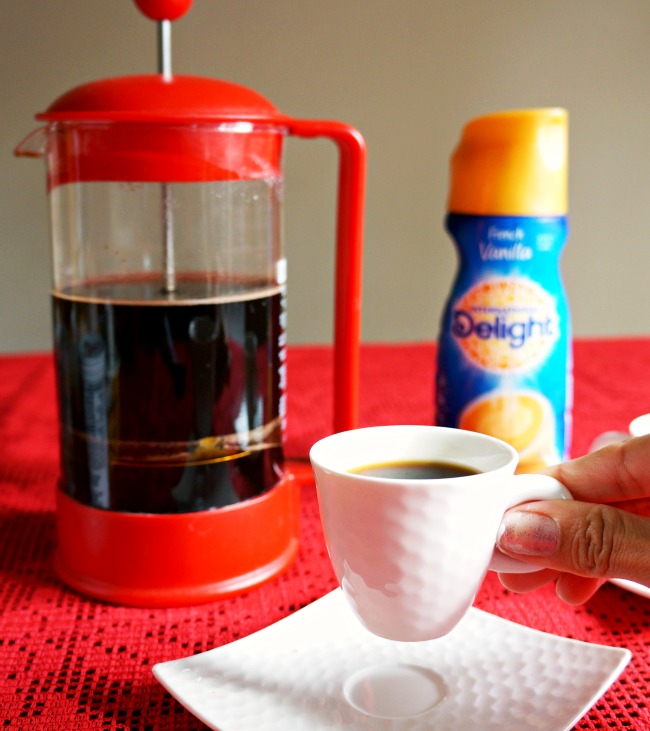 And although a delicious cup of black coffee is always welcomed, it's a treat to give our coffees a touch of flavored cream. My current favorite is any of the Coffee-mate natural flavors. Flavored creamers make it easy to attempt to make delicious coffeehouse-like drinks. Give it a try – perhaps a Mexican mocha coffee?
Exploring new recipes also means exploring new ways of making coffee. I have my coffee maker, I make some instant coffee when I'm out of coffee beans, then of course, there's the French press. It doesn't take too long to make and the flavor is robust. I've since added this little contraption to my coffee making line-up next to my coffee maker and espresso machine. Want to see how to use a french press? Check it out!
How to use a French press
From Bialetti.com:
Place pot on a dry, flat, non-slip surface. Hold handle firmly, then pull the plunger unit straight up and out of the pot. Put course ground coffee or loose tea into the pot.

Pour hot (not boiling) water into the pot. Leave a minimum of 1-inch space at the top.

Stir the brew with a plastic or wooden spoon.

Place the plunger unit on top of the pot. Turn lid to close off the pour spout opening. Do not press down for at least 4 minutes.

Hold the pot handle firmly with the spout turned away from you. Then using the weight of your hand, apply slight pressure on top of the knob to slowly lower the plunger straight down into the pot. Minimum pressure produces the best results.

Turn the lid to open the pour spout and pour coffee into a cup.
Note that you'll have to drink the coffee right away because there is no warmer setting. Also, if you let the coffee sit for too long in the French press, it'll get kind of bitter. Don't be surprised if you the last bit of coffee contains sediment too. I usually can't drink that bit because I don't want the coffee to stain my teeth.
Originally published on February 14, 2016. Last Updated on January 3, 2018 by Pattie Cordova