One of the most traditional dishes that I eat during the holiday season are tamales. Tamales are delicious  morsels of masa with different fillings. The most popular fillings are meats and cheese and jalapeño, but sometimes sweet tamales are made, and those are a new fun twist to a traditional meal.
While at Disney California Adventure recently, I got the opportunity to meet with Chef Nubia and have her walk me through her sweet tamale recipe – Pineapple and Golden Raisin Tamales. It was the first time that I had heard of this combo, but definitely not the last time I ate them. They were absolutely delicious. Moist, flavorful, and it felt like I was eating at my mom's home, not Paradise Garden Grill.
The traditional tamales are served at Paradise Garden Grill at Disney California Adventure as part of the ¡Viva Navidad! festivities. Best of all, the tamales they serve are made with shortening, not lard, so they are healthy enough to have more than one! While you're there, check out the other foods they offer including the buñuelos. You know how much I love the buñuelos my mom makes, well these definitely give hers a run for their money. In fact, everything they serve at Paradise Garden Grill is spot-on. It gives you the feeling of eating at a really good Mexican restaurant, or even at a traditional Latino household. I could definitely taste the authenticity.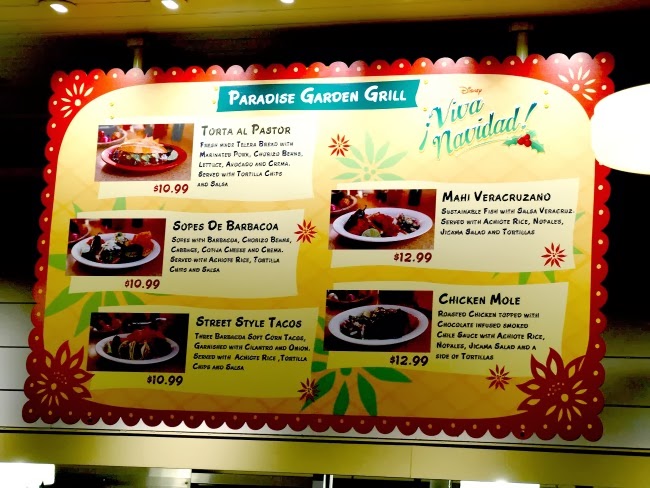 Paradise Garden Grill Menu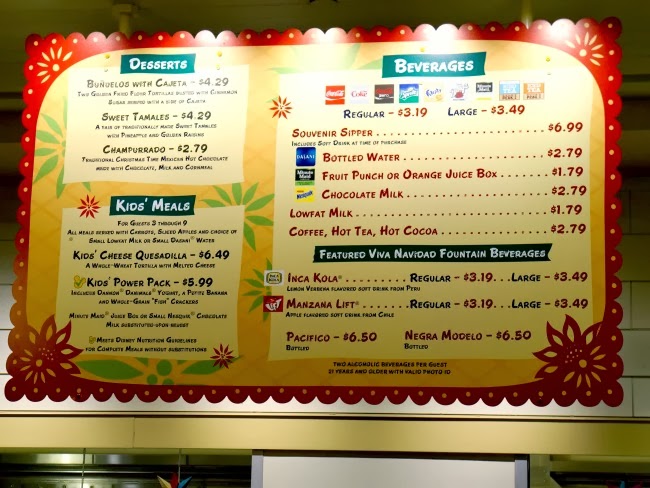 Paradise Garden Grill Menu
If you're at Disneyland Resort this holiday season, I highly encourage you to have lunch or dinner at Paradise Garden Grill and take advantage of this limited-time menu while you can. Like everything with the holiday spirit at Disneyland Resort, it will be gone after January 6, 2014.
Learn how to make the Pineapple and Golden Raisin Tamales at home with the recipe below. For more of a walk-through, check out the video below.
Pineapple and Golden Raisin Tamales 
Recipe courtesy of Disneyland® Resort
Makes 22 tamales
Ingredients
1 1/2 cups warm water
1 1/2 cups pineapple juice
1 cup honey
3 1/2 cups masa harina
2 teaspoons baking powder
1 teaspoon coarse salt
3/4 cup vegetable shortening
1 1/2 cups golden raisins
1 1/2 cups finely diced fresh pineapple
3/4 cup vegetable oil or a cooking spray
22 dried cornhusks, soaked in boiling-hot water for 2 hours
Instructions
1. Combine pineapple juice, water, and honey in a large bowl, whisking until completely combined; set aside.
2. Combine masa, baking powder, and salt in the bowl of an electric mixer fitted with the paddle attachment. Blend until combined. Add shortening; blend until shortening is evenly distributed through masa.
3. Add the salt and the baking powder. Using a whisk combine all ingredients.
4. Add pineapple juice mixture, a cup at a time, until mixture resembles the consistency of mashed potatoes. (You may not use all of pineapple juice mixture.)
5. Gently fold in raisins and pineapple. Set aside for 1 hour.
6. Remove cornhusks from the water and drain. Spray insides of cornhusks with nonstick spray.
7. Scoop out 1/3 cup of tamale dough and place inside a cornhusk. Using your hands, shape dough into a rectangle in the lower, wider part of the husk. Fold right side, then left side over tamale dough. Fold up bottom edge. Repeat with remaining tamale dough and cornhusks.
8. Add a few inches water to a large stockpot, and place a steamer basket inside. Place tamales in steamer, stacking no more than 2 high. Place pot over high heat to bring water to a boil, then lower heat to medium-low.
9. Steam tamales about 1 hour, or until the tamales start to separate from the cornhusks. Check water level periodically, and add more water if needed.
10. Remove pan from the heat and allow the tamales to rest 15 to 20 minutes while still covered. Serve warm.
This recipe has been converted from a larger quantity in the restaurant kitchens. The flavor profile may vary from the restaurant's version. This recipe is the property of Walt Disney Parks and Resorts U.S., Inc.

This is not a sponsored post. I received entrance into the park as a member of the press. All thoughts and ideas remain my own.
Originally published on November 19, 2013. Last Updated on May 5, 2015 by Pattie Cordova