Mr. Peabody & Sherman is out in theaters and it's my must-see movie for families this month. My kids have been watching the trailers and the special DreamWorks Presents: "Mr. Peabody & Sherman – A Journey WABAC" on Netflix as they anxiously await the matinee showing this weekend. Meanwhile, I've set up my 6 year old with this cool "How to Draw Mr. Peabody in 10 Easy-to-Follow Steps" diagram that I received on a recent trip to the Dreamworks Studio. Give it a try and let me know how your Mr. Peabody translates onto paper. Mine? It was horrible. Hope you have better luck at it!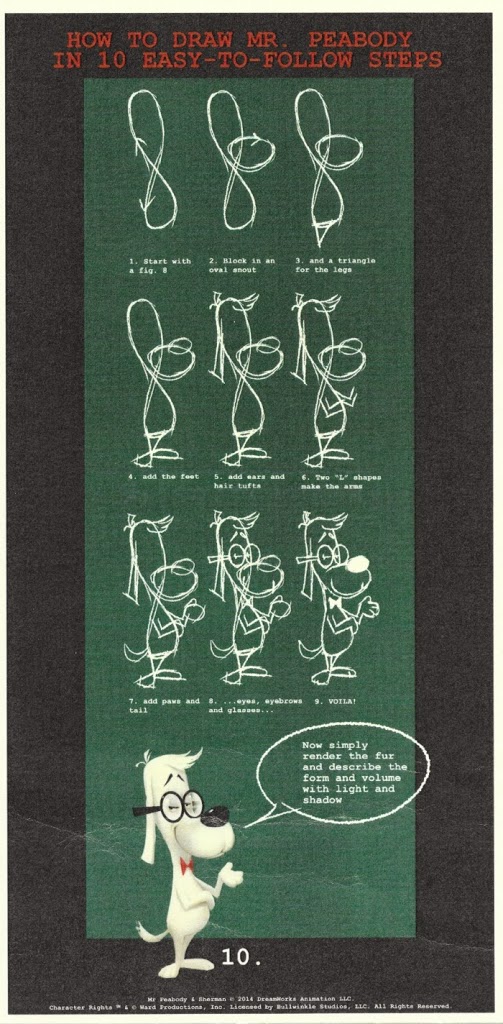 About Mr. Peabody & Sherman
Mr. Peabody (voiced by Ty Burrell, Emmy Award® Winner -Modern Family), the most accomplished dog in the world, and his mischievous boy Sherman (Max Charles -The Amazing Spiderman), use their time machine—the WABAC—to go on the most outrageous adventures known to man or dog. But when Sherman takes The WABAC out for a joyride to impress his friend Penny, they accidently rip a hole in the universe, wreaking havoc on the most important events in world history. Before they forever alter the past, present and future, Mr. Peabody must come to their rescue, ultimately facing the most daunting challenge of any era: figuring out how to be a parent. Together, the time traveling trio will make their mark on history.
[disclaim]This is not a sponsored post. I was invited on a press trip as a courtesy of DreamWorks Animation and 20th Century Fox. All thoughts and ideas remain my own.[/disclaim]
Originally published on March 8, 2014. Last Updated on January 2, 2019 by Pattie Cordova