We can't pass by a churro stand and not purchase one or two… or a few. So what better way to celebrate Valentine's Day than with these homemade heart shaped churros?!! They're the perfect kid-friendly treat too and make a cute after-school snack.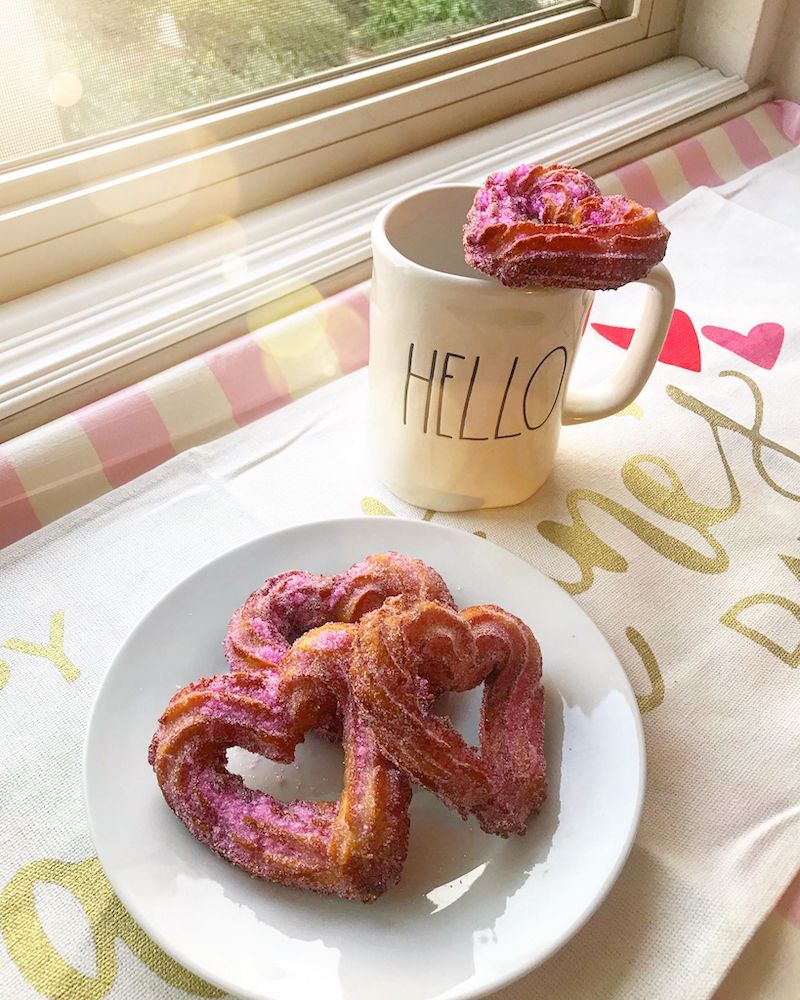 We purchased the churro mix "Tres Estrellas Flour Mix Churros" locally at Northgate, but it's also available on Amazon. The box comes with its own pipping bag and pipping tip to form your hearts. However, if you have a piping set at home, we recommend you use that one instead. It'll be easier to work with.
Homemade Heart Shaped Churros
Ingredients
1/2 cup Sugar
1 tablespoon Cinnamon
Pink Sugar Sprinkles (optional)
Corn oil
Instructions
Follow the instructions on the box to make the churro mix.
After making the mix, set out a tray with parchment paper and pipe out the churro hearts onto the tray. Freeze for 20 minutes.
In a bowl, mix the sugar and cinnamon and toss until blended. Add pink sugar sprinkles and blend.
Add corn oil in a sauce pan (enough to fill it up 1.5 inches deep).
Take out churros from freezer. Gently place churros in oil and fry until golden brown.
Remove churros from pan and shake off excess oil. Toss your heart shaped churros in the cinnamon sugar mix.
We recommend serving these homemade heart shaped churros immediately, as they tend to get a little chewy if left out for a while. We love them served alongside some Abuelita hot chocolate. It's the perfect treat!
Originally published on January 31, 2019. Last Updated on January 31, 2019 by Pattie Cordova