One of the best things about the different holidays are the fun foods that surround it. Often times, eateries will come up with a special menu just for the holiday! Case in point: Farrell's Ice Cream Parlour Restaurants and their fun Halloween foods.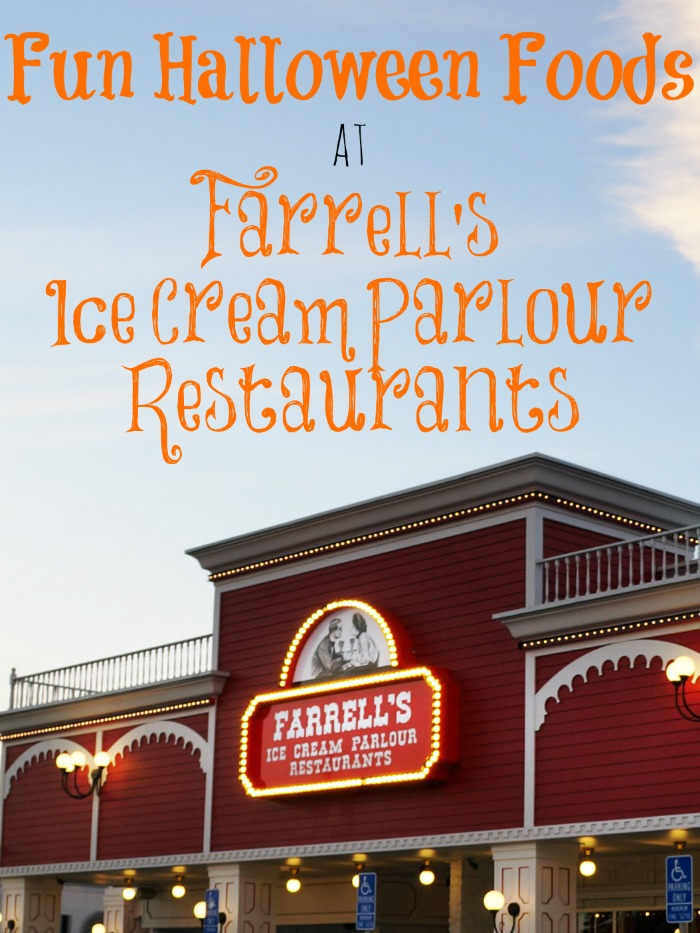 Last time we visited Farrell's, we were treated to the most amazing Ice Cream Soda, sundaes and sandwiches. This time, we headed into Farrell's to enjoy their two very special Halloween foods during the month of October.
First up: the non-vegetarian friendly Frank 'n' Burger.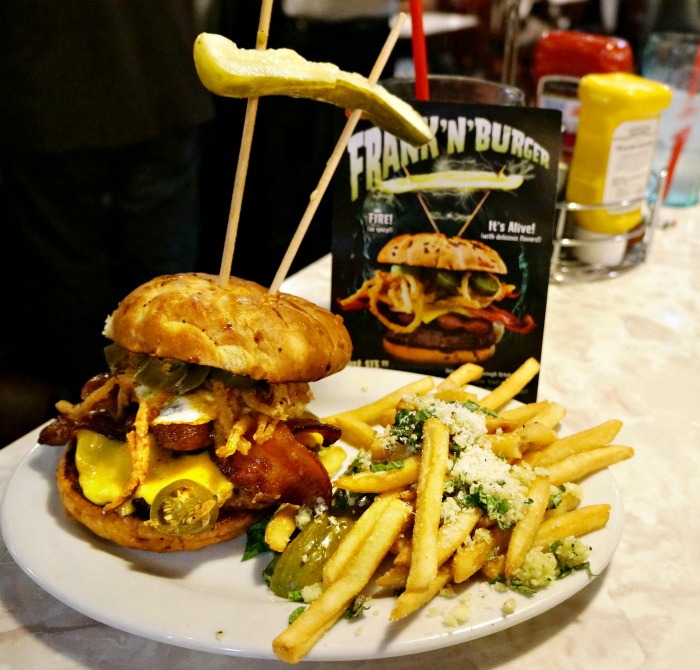 It's a culinary monstrosity thought up and stitched together by a demented scientist. This monster burger packs a 1/2 lb. fresh Angus patty, 2 beef franks, 2 strips of bacon, American cheese, a fried egg, onion strings, jalapeños, Farrell's sauce and the coolest pickle Jacobs ladder you'll ever see atop a burger!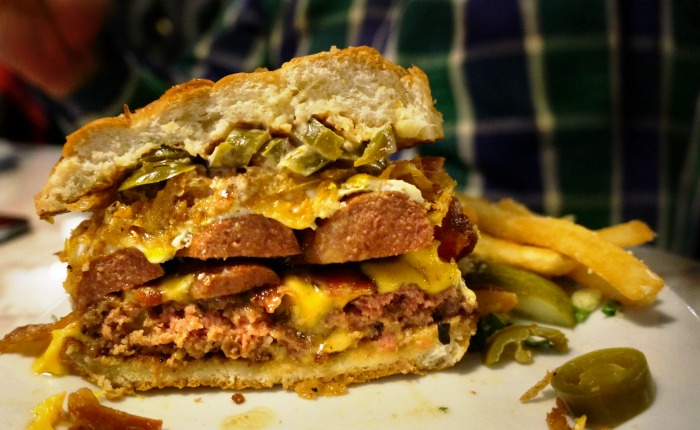 The Hubster ordered this monstrosity. The pics don't lie. It is just as huge as they said it would be! It was his first time giving it a go and he said that it was the best burger that he has ever had. It's too bad it only comes around once a year!
On the vegetarian side, I had the most delish Portabello mushroom burger. I usually just nosh on whatever the kids are eating, but this time I went for a burger because I was starving.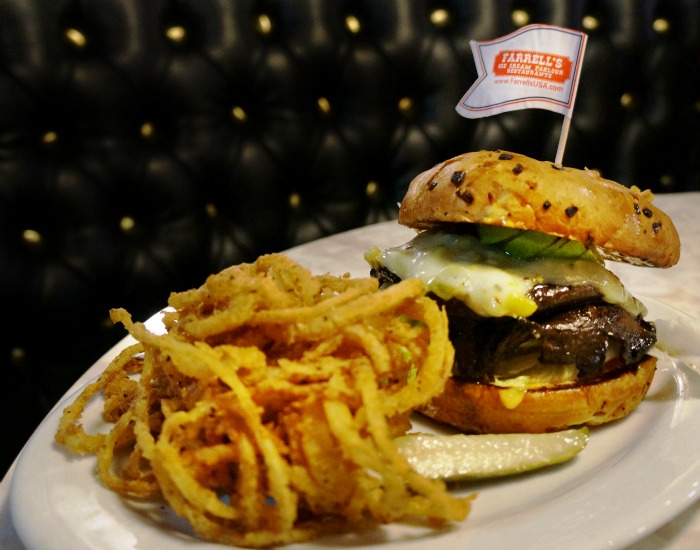 The burger had a super juicy marinated and grilled Portabella mushroom with mixed greens, tomato, avocado, and pesto dressing on a whole wheat bun. At one point, I had to take off the wedding ring because the juices from the burger kept running down my fingers. I topped off my meal with their onion strings and waited for dessert to come.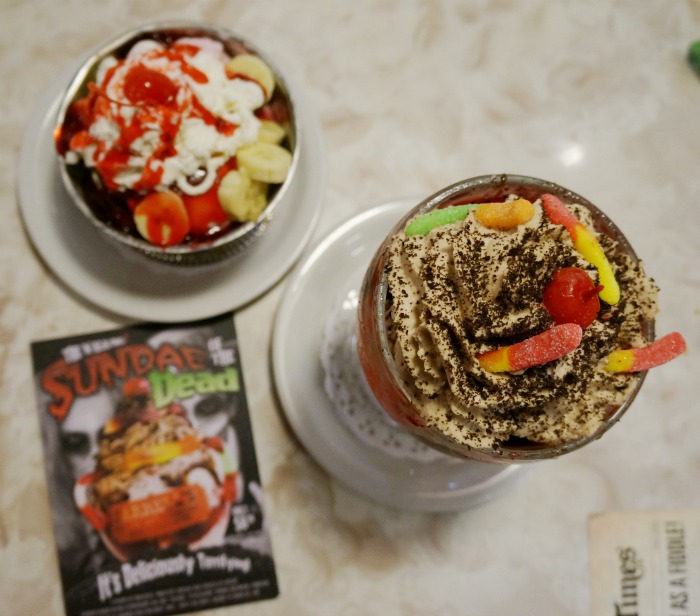 Yes, I was full, but c'mon – how can you go into Farrell's Ice Cream Parlour and not enjoy a sundae? Especially when one of those sundaes is a SPECIAL Halloween time sundae?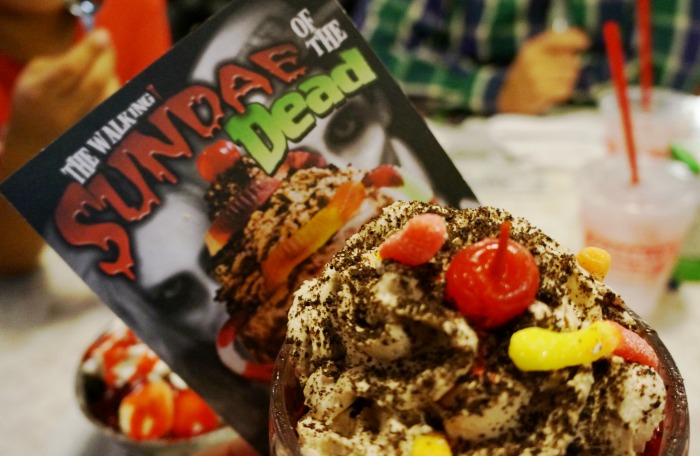 Even the dead are making their way back to Farrell's again this year to get their decaying hands on The Walking Sundae of the Dead! Chocolate "Haunted" crunch and vanilla ice cream buried under oozing strawberry goo and hot "sludge" – with gummy worms squirming through a mound of whipped mud and Oreo® dirt… topped with a big shiny cherry of doom!!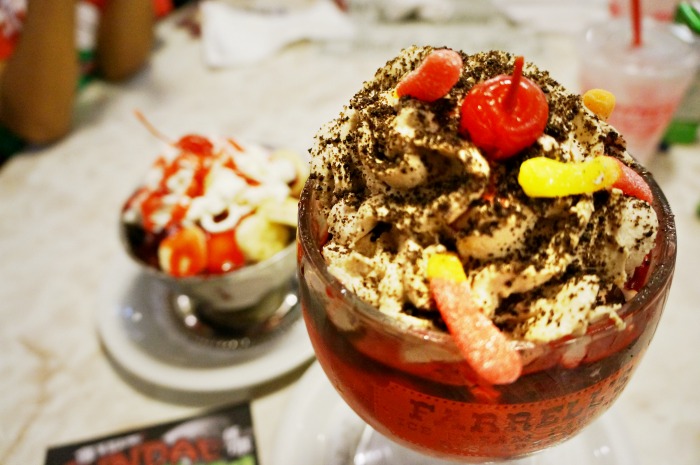 The whole family dug into these sundaes that offered something chocolate-y and something fruity. It was such a great way to end our meal and kick off the Halloween weekend that lay ahead of us.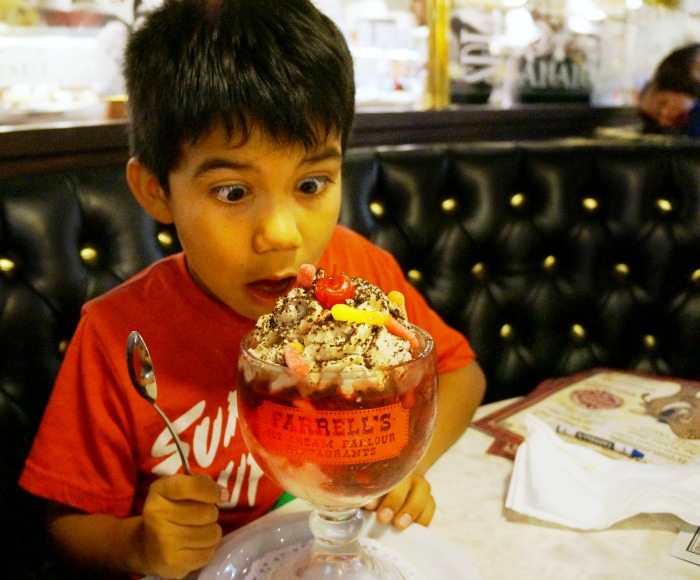 I invite you to stop by your local Farrell's Ice Cream Parlour Restaurants and enjoy at least one of these Halloween favorites. They won't disappoint, and they'll give you something to look forward to next year!

Find your nearest Farrell's here: http://farrellsusa.com/locations-and-menus.shtml.

And if you're wondering what other foods they have, check out our video below (warning: video has music) and start planning your next Farrell's trip!

[disclaim]This is not a sponsored post. We were invited to Farrell's as their guest and to facilitate this post. All thoughts and ideas remain our own. [/disclaim]

Originally published on October 26, 2014. Last Updated on August 1, 2017 by Pattie Cordova