We've become regular Farrell's visitors thanks to their loud and fun atmosphere, their delicious food and special offerings that only come once a year. Last month, we celebrated my son's birthday with A Christmas Sundae and in October, we checked out their Halloween specials. This weekend, we were back to check out their football-themed foods!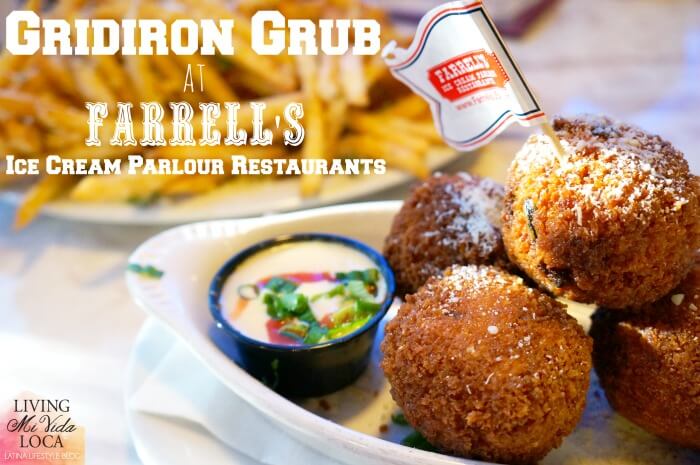 Farrell's Ice Cream Parlour is celebrating everything delicious about football by introducing, for a limited time, a new burger and fry combo and a football themed sundae! Plus, you'll also be able to enter-to-win for Farrell's to come out and cater your "Big Game" party on February 1, 2015. Who knows… the next winner may be you!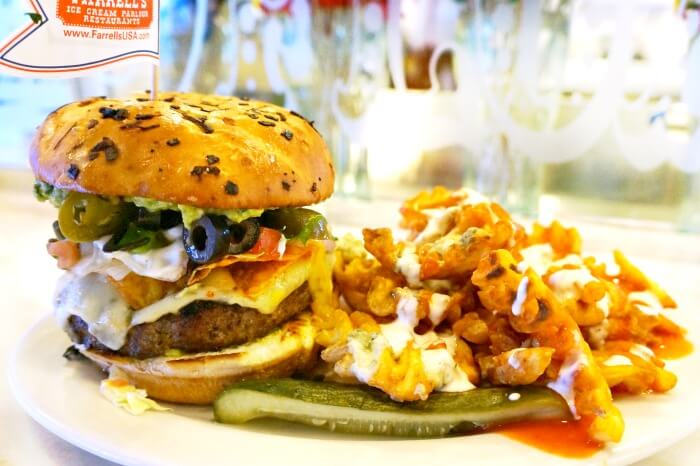 Not being a meat-eater, the hubster had to take one for the team with Farrell's Tailgate Burger.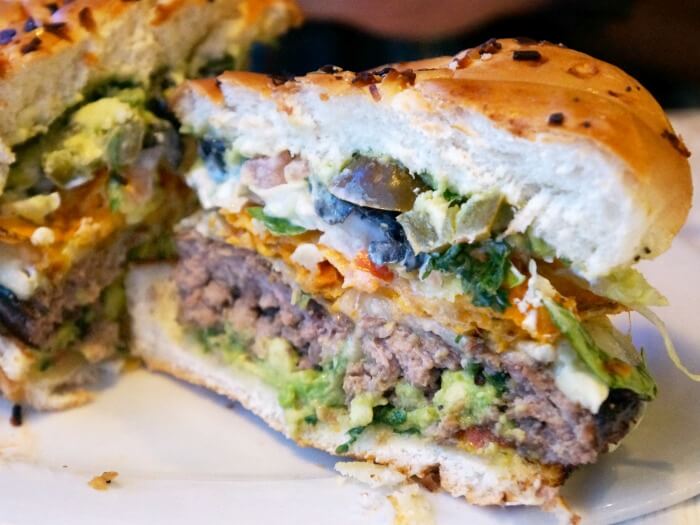 The Tailgate burger is an action packed burger that slams two stadium favorites together into one hardy burger. A delicious cheeseburger and nachos in one! It all starts with a fresh 1/2 lb. Angus patty with melty Pepper Jack cheese, and crisp lettuce, then, thrown on top of that, a pile of nachos built with a crisp heaping helping of Doritos® nacho chips, melted cheddar cheese, sour cream, black olives, fresh guacamole and house-made salsa.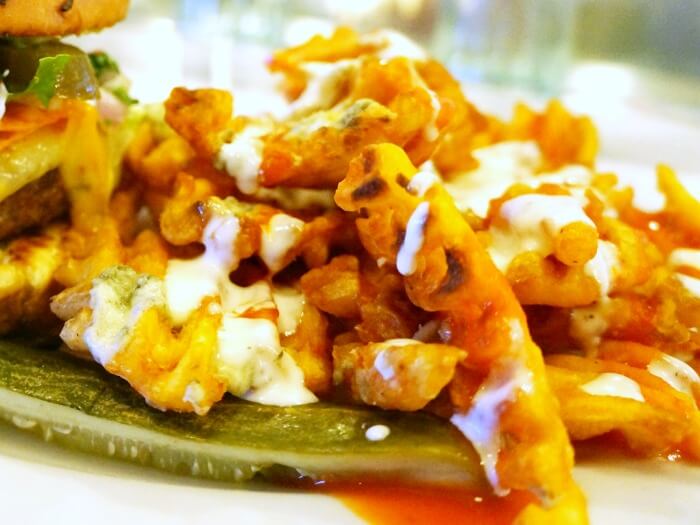 This beast is served with Bleu Buffalo waffle fries on the side. (Farrell's waffle fries drizzled with zesty buffalo sauce and tangy bleu cheese.)
I was able to steal a few of the waffle fries and I gotta tell you – get them. We heard from a few of the Farrell's crew members that they're a huge hit. Huge enough for them to be considered as a potential side item! However, at this time they're not so you'll want to ask for them specifically.
We finished our meal with their limited-time only sundae – the 4th and Goal Sundae.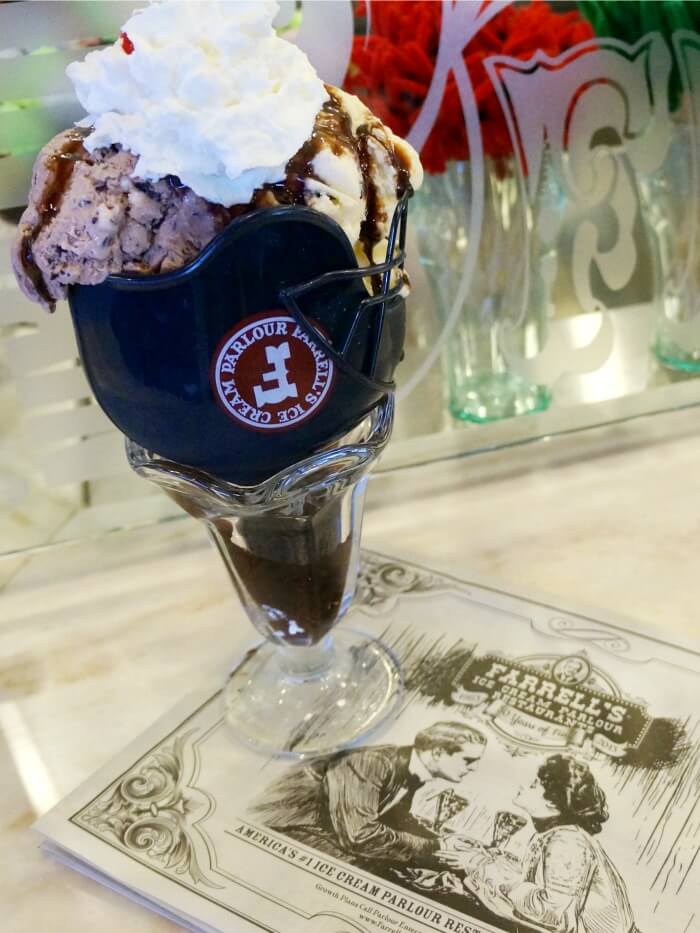 A 4-scoop sundae fit for a linebacker heaps up two scoops of Vanilla, a scoop of Chocolate Malted Crunch and a scoop of Cookie Dough ice cream dripping with warm caramel and chocolate topping, a mound of fresh whipped cream and a cherry on top.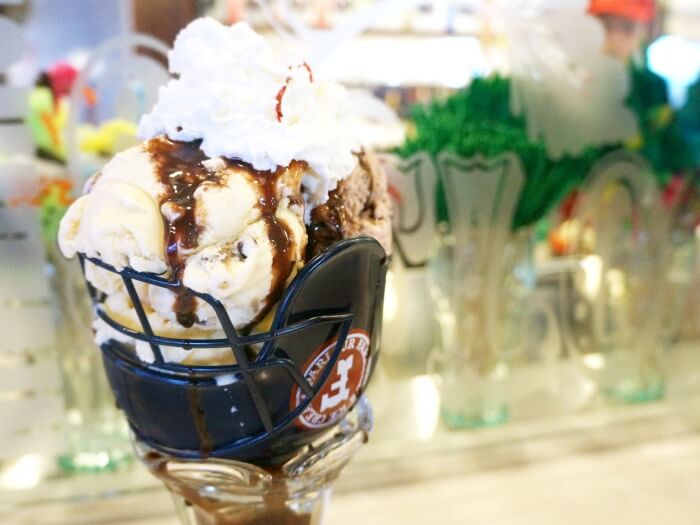 Under your souvenir, take-home Farrell's helmet, you'll find a pile of Oreo® crumbs to top that sundae off just right.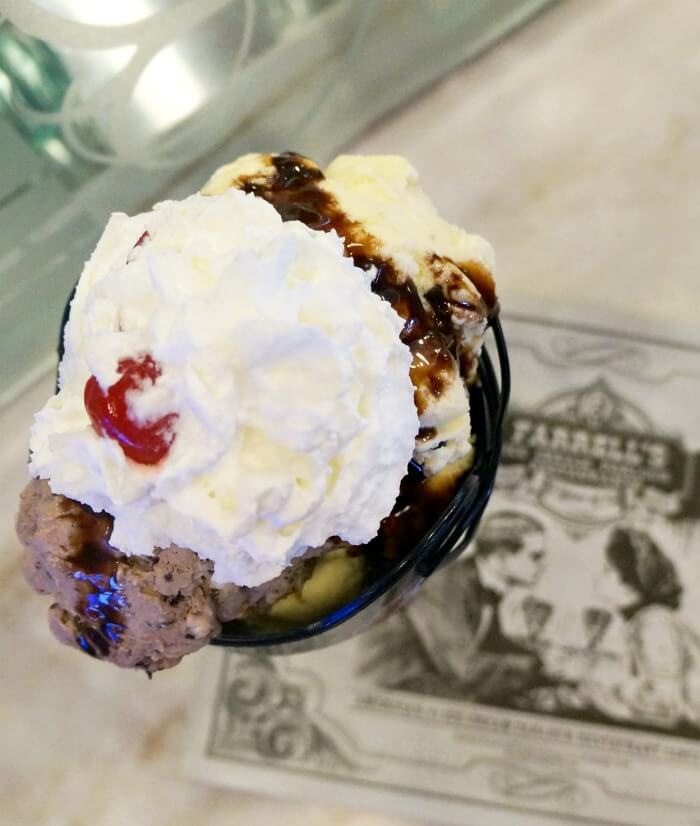 The trick to eating this huge sundae is to take the helmet off of the sundae cup and then drizzle the additional toppings inside the cup onto the ice cream. It's ooey gooey yumminess! Once you finish off the sundae, you'll find that the helmet is super sticky, so ask for a bag to take it with you.

January's promotion is so delicious and though we're just in the beginning stages of the month, has me already looking forward to February's promotion. I'm sure it'll be lovely!

Visit your local Farrell's Ice Cream Parlour Restaurants and try out these specials with your family. They'll also split the burger for two at no additional cost! Trust me – it's plenty enough for two people.

While you're there, don't forget to enter for a chance to win Farrell's catering at your own personal "Big Game" party on February 1, 2014. All you need to do is fill out the enter-to-win card when dining at any participating Farrell's location. For more information, please visit FarrellsUSA.com.

Farrell's Tailgate Burger and Bleu Buffalo waffle fries combo is $13.99 and the 4th and Goal sundae with take home helmet is $11.99.

And if you're wondering what other foods they have, check out our video below (warning: video has music) and start planning your next Farrell's trip!


[disclaim]This is not a sponsored post. We were invited to Farrell's as their guest and to facilitate this post. All thoughts and ideas remain our own. [/disclaim]

Originally published on January 4, 2015. Last Updated on August 1, 2017 by Pattie Cordova