Ghost the Musical is currently playing at Segerstrom Center for the Arts in Costa Mesa, California. I had the opportunity to go backstage before the second night's performance and get a glimpse of where the magic happens. Watch the videos below (broken up into part 1 and part 2) and keep reading for more fun facts about this spectacular musical. I'm also sharing a few photos that I took while backstage. It was so cool to get a glimpse of what happens backstage while the show is going on. By the way – did you know that the actors aren't the only ones on stage? Yup – there are more, less noticeable, "cast" members hiding in the darkness.
Ghost the Musical by the Numbers
20 cast members
7 musicians
15 traveling crew
2 stage managers
1 company manager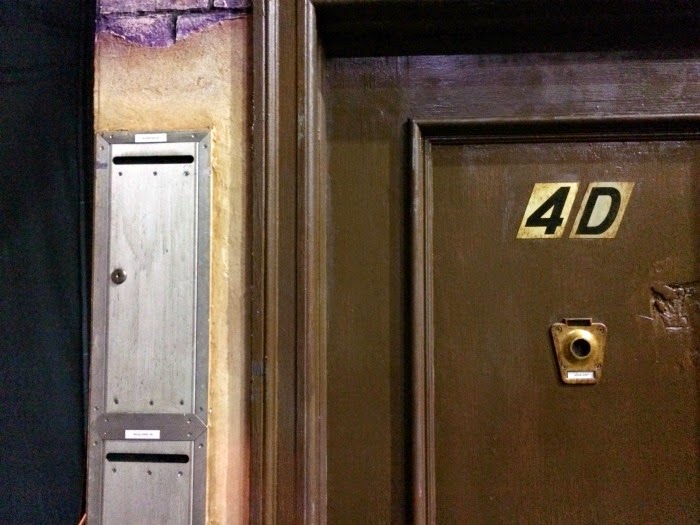 Willie Lopez's apartment door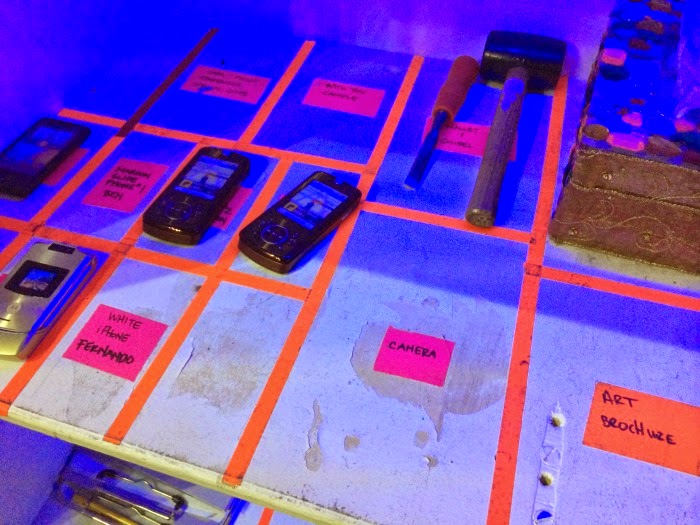 Prop organizer
Amount of local crew in each city
57 load in
29 show call
61 loud out
Sound
550 batteries used a week
64 speakers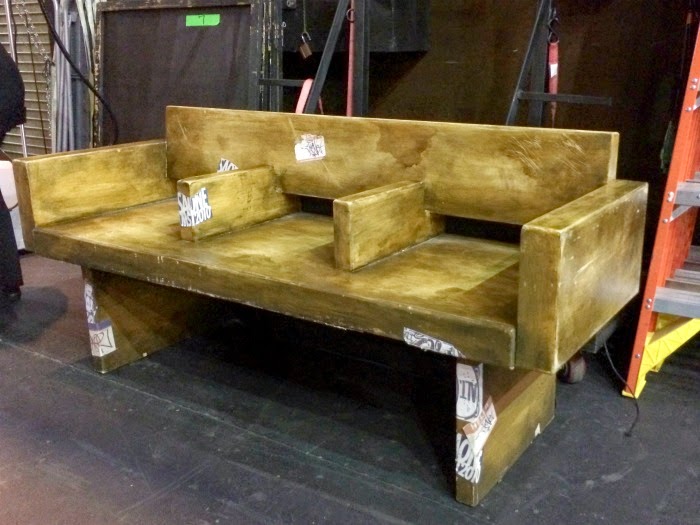 LED screens
2 LED screens, 25 feet wide, 11 feet high
6,000 pounds each screen
87,040 pixels combined
Lights
350 Lights
27 miles of cable
Over 130 strobe lights
6 projectors
9 fog/haze machines
6 battery operated fixtures with wireless DMX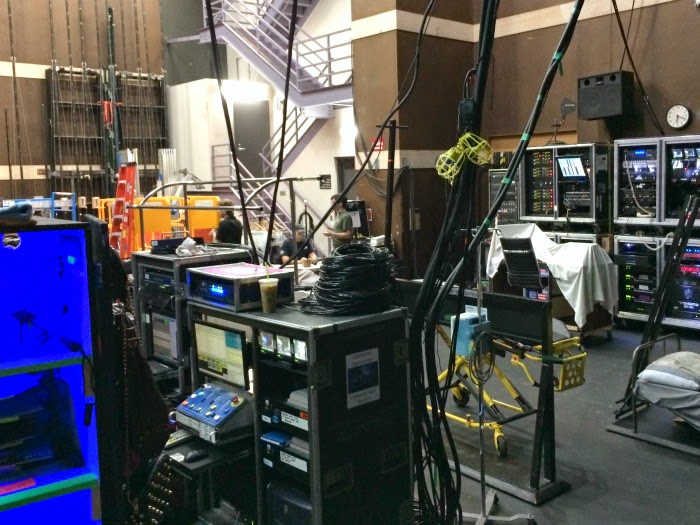 Stage Right
Wardrobe
46 wigs
over 300 costumes
75 quick changes
Score
69,000 musical notes in the vocal score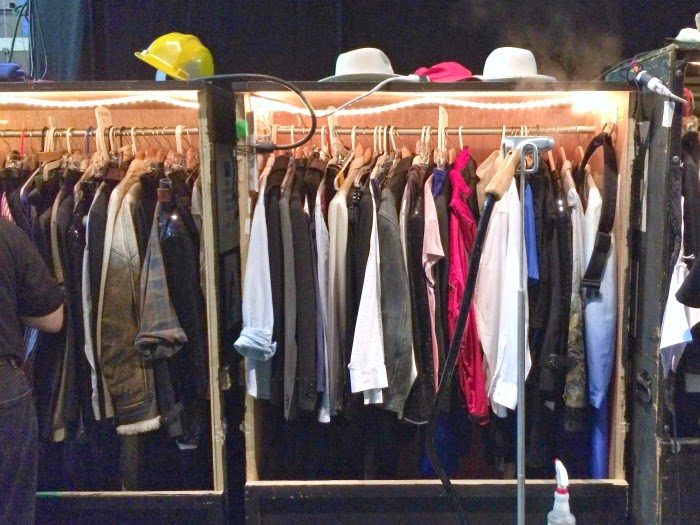 Costumes
Pottery Scene
Katie Postotnik, who plays Molly, and the two Molly understudies, Beth Laird and Andrea Rouch, were taught to throw pots by professional potters so that they can realistically reenact the iconic pottery scene.
Writer Bruce Joel Rubin's wife is a real life potter; the inspiration for Molly in Ghost.
2 pounds of clay used per show
1 pot made on stage per show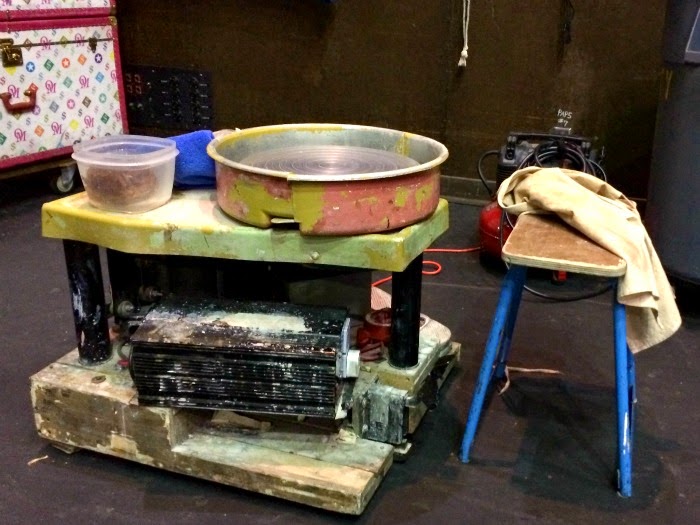 Pottery Wheel (1 of 2 available)
Illusions
One of the illusions in the show was originally created in 1898, the blueprints for which were lost until recently and it has only been recreated once before in America.
For more information on Ghost the Musical, visit http://www.ghostontour.com.
Ghost the Musical
SHOW DATES AND TIMES
July 29-August 10, 2014
Tuesday-Friday at 7:30 p.m.
Saturday at 2 and 7:30 p.m.
Sunday at 1 and 6:30 p.m.
WHERE
Segerstrom Center for the Arts – Segerstrom Hall
600 Town Center Drive
Costa Mesa, CA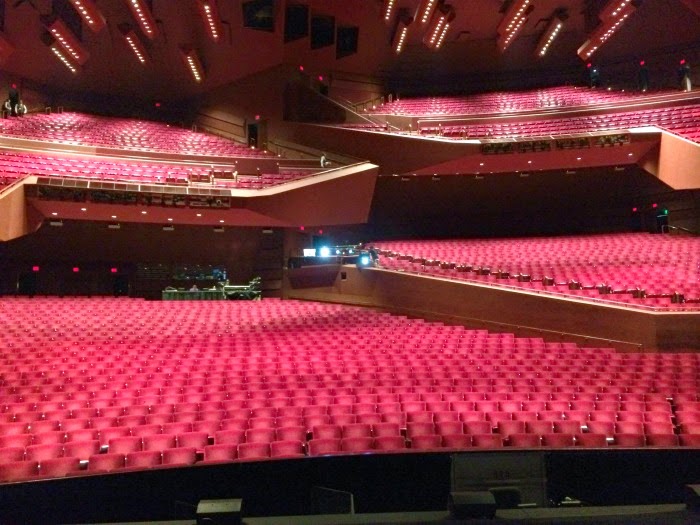 Originally published on July 31, 2014. Last Updated on January 2, 2019 by Pattie Cordova