I've been fooling around with makeup lately. Back in the old days I wanted to be a makeup artist, but I lost touch with that side of me once I finished high school. Now that crafty momma is contained because of hectic work/life schedule, my everyday makeup and outfit has become sort of a way to express my creativity. I tried the smoky-eye look last month and loved it… today I tried this new foiling makeup technique.
I mixed a four drops of Bare Escentuals' Weather Everything Liner Sealer (water can be substituted) with a little bit of Bare Escentuals' Peach Puff powder eyeshadow using a shadow brush. Once it was nice and milky I glided the shadow on my eyelids, and for a fun effect I brought it down the arch of my eyes. I enhanced the look by brushing on Bare Escentuals' Soft Focus Explore using an eye defining brush and a little bit more Peach Puff (sans sealer) under my eyebrows for accent. Finally (yes, there's more), I used a black pencil eyeliner and waterproof CoverGirl LashBlast mascara ('cause it's the only one that'll keep my eyelashes curled). It may be a bit much for work… but I love the way it looks. Plus, it'll last all day and not smudge.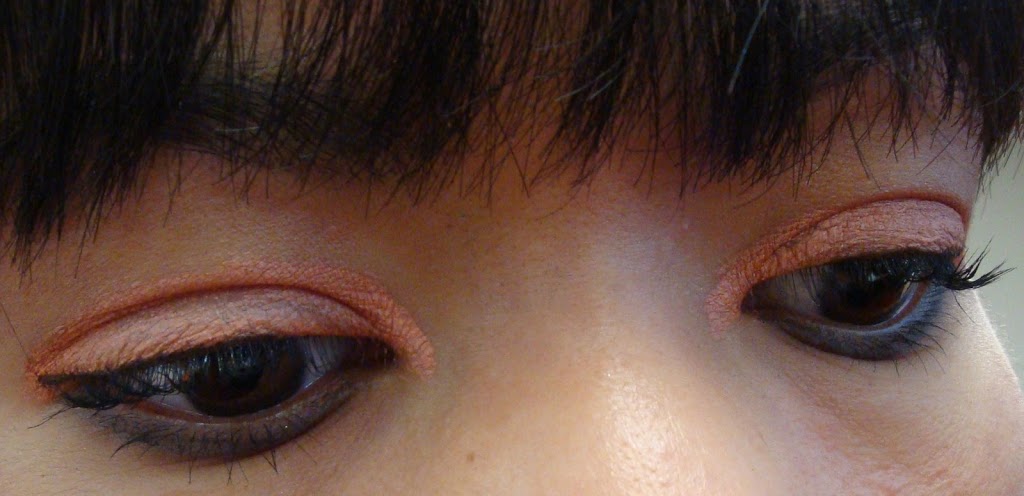 p.s. I LOVE Bare Escentuals and the reason I buy that mascara is because Drew Barrymore advertised it… yes – I'm a total sucker but whatever.
Originally published on February 26, 2009. Last Updated on August 9, 2017 by Pattie Cordova