This is a sponsored post.

Each season brings forth skin challenges. In my case, it's dry skin. Southern California weather gives me the driest skin. Thankfully, I saved some great tips shared by Dr. Barba via @ViveMejor during the Twitter party on achieving luminous skin. Get winter skin ready with these tips.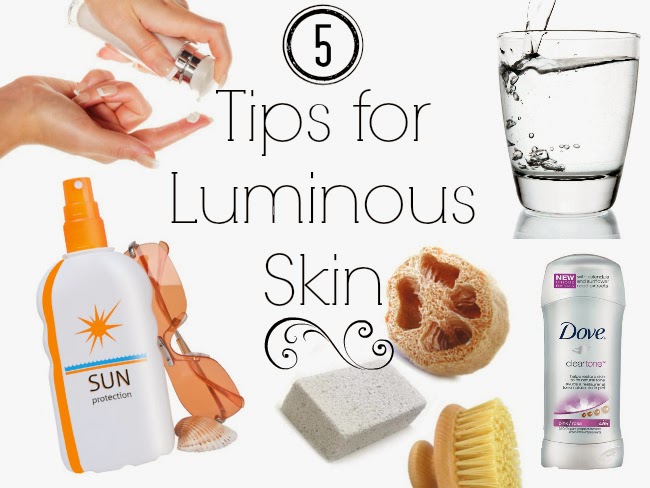 1. Sunscreen. Continue using sunscreen, even if it's a cloudy day. Sunscreen will keep wrinkles at bay and prevent sun spots, not to mention, significantly reduce your chances of getting skin cancer. Minimum SPF 15 is recommended.
2. Hydrate. Water, and lots of it. I'm the first to say that I'm horrible at meeting my water minimum every day. It's recommended that you drink at least eight glasses of water a day, or at least 2.2 liters. I should probably be drinking more because I consume so much coffee during the day.
3. Exfoliate. Did you know that your body can often carry dry skin cells? Therefore, it's important for your skin to be exfoliated to resolve certain skin problems as well as to achieve healthy and glowing skin. Whether its a physical or a chemical exfoliation, put it on your to-do list.
4. Moisturize. Unlike exfoliation, moisturizing must be done every day, at least twice a day. Once in the morning, and again before heading to bed. Doing so will help to promote hydration, skin cell regeneration and heal your skin. It'll also aid in preventing damaging effects from external forces and weather conditions that may lead to premature wrinkles, fine lines, and in extreme cases, skin cancer.
5. Repair. Regardless of the season, we still need to shave. Avoid being a part of the 32 million women in the U.S. who experience underarm red and dark marks resulting from shaving irritation by using products that help you, like Dove Clear Tone deodorant. It'll get you a head start on Summer too! Other products you can use to repair skin are oils and specialized lotions.
The five tips above should pretty much live in your day-to-day routine. And take note, it doesn't matter if your a male or female, we all have skin that needs to be taken care of.
What do you do to keep your skin feeling and looking luminous?
This is a compensated campaign in collaboration with Latina Bloggers Connect and Dove. All opinions expressed are my own.
Originally published on November 16, 2013. Last Updated on August 9, 2017 by Pattie Cordova