I discovered the six products to use to achieve a five minute makeup routine!
I partnered with Latina Bloggers Connect and Neutrogena once again to try out some of their hot new (and established) products. I am always open to trying out new products, and when this package came in the mail, I couldn't wait to give them a try.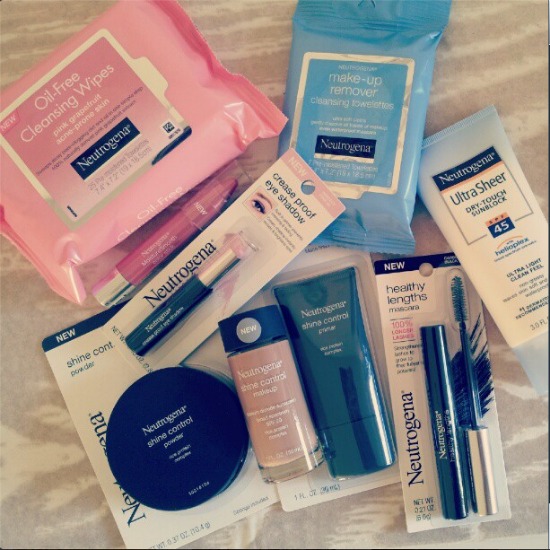 I have used the Neutrogena Oil-Free Cleansing Wipes and Make-Up Remover Wipes before and I was happy to see them again in my drawer. The Ultra Sheer Dry-Touch Sunblock is a family favorite and with the Cali weather being what it is, it's always a must for both me and the kids. The rest of the products, however, were completely new to me, but I was ready for the challenge.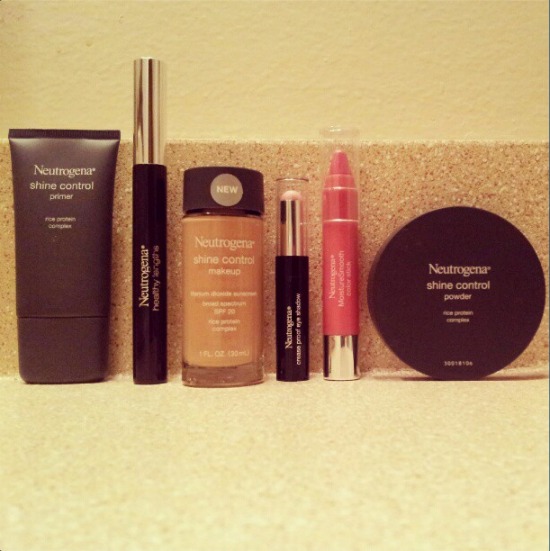 My ultimate objective was to create a look that I could use for an everyday look. I needed a routine that I could do in five minutes or less. I also needed something that would keep all day (especially after the hubster got home) and would control the shine as well.
I started with the Neutrogena shine control primer as a base before applying the shine control makeup. The primer has a very fresh scent and it has the texture of a moisturizer. It's a milky white color but when absorbed by the skin, it goes on clean and clear.
My shine control makeup of choice was fresh beige. It has a titanium dioxide sunscreen built into it with an SPF 20 as well. I chose my color based off of their color chart online and I held my breath when I applied it because I was really hoping that I had chosen the right one – I did!!! The makeup blended perfectly into my skin and seriously, you can't tell that I have foundation on. I promptly dumped my old foundation (forget the fact that I spent $40 on it!). I'm still in shock when I apply it and it blends in so well.
Next up, I added some shine control powder. The back of my powder compact says Invisible 10. If you look at the color inside, it might intimidate you because the color is so light. I took my chances and put it on anyway. It gave the appearance of a translucent powder, so like the makeup, it blended in really nicely too.
I finished my look with the MoistureSmooth Color Stick in Sweet Watermelon, the Crease Proof Eye Shadow in Perfect Pink 30 and a couple of coats of Healthy Lengths Mascara in Black.
I LOVE the color stick. It's my first crayon-like lip color that I have owned and I love the ease in applying it. It goes on very smooth and it even smells of watermelon!  It's a lot of fun to apply it.
The eye shadow made it very convenient to apply as it is already in a stick and all I did was swipe it across my eyelids. The back of the packaging gives you tips on using it to make your eyes brighter or more dramatic. I went for a brighter look.
The mascara definitely added volume, but I can't say that it will replace my other mascara. I did like the long length of the wand though.
My final look was one that I could do in under five minutes. It's perfect because I do like to wear makeup every day, even when I don't go anywhere. I like the hubster to come home to some fresh lip color on my lips. My favorite feature of these new products was definitely the shine control. I have major issues with being too shiny, and these products have helped to either eliminate or control the problem.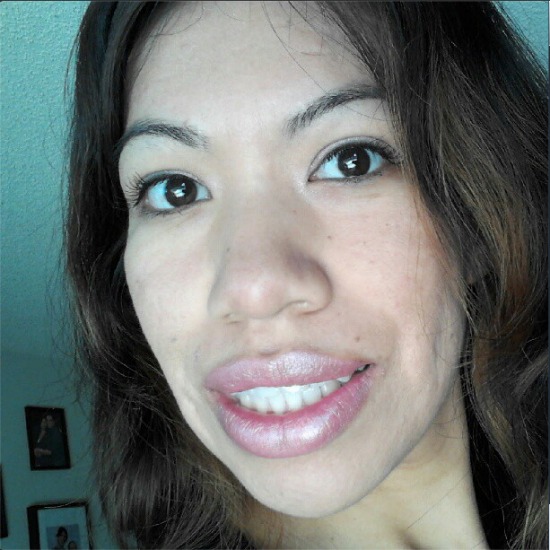 The picture above is one I bravely sent out via Instagram – untouched. I am totally digging the line for Spring and next time you see me, you'll know my secret for a more matte looking skin.

[disclaim]This is a sponsored post in collaboration with Latina Bloggers Connect and Neutrogena. All thoughts and opinions remain my own.[/disclaim]
Originally published on April 3, 2013. Last Updated on September 10, 2015 by Pattie Cordova