My favorite "Have You Tried This?" P&G Products
This is a sponsored post. I received products and compensation in exchange for my honest thoughts and review. All thoughts and opinions remain my own.

I had the opportunity to attend a luncheon hosted by P&G where celeb stylist and ambassador, Irma Martinez, talked to us about the latest fashion trends, how to dress so as to best flatter our bodies and how to best use a few featured P&G products (part of the Have You Tried This Yet? line).
One of my favorite trends happening right now are jackets – and the black/white combination. I love how jackets can completely change an outfit, and the tuxedo jacket combo gave us a great starting off point. Add some stilettos, bold jewelry and you have an outfit that will have people turning heads.

Irma also gave us some great tips on how to use a few of her favorite P&G products. For example, she suggested that we use the Downy Infusions™ Honey Flower and Shimmer Unstopables in places other than the laundry. Add it to a cute little silk or organza bag and hang it in your closet for always-fresh smells. I would even go as far as dumping a few of these bags in the hamper, the vehicle and drawers. Seriously. Just have your entire home smelling like flowers!
My favorite P&G product is the Gillette® Venus & Olay™ razor. I've been traveling with it everywhere and I religiously use it at home.
My number one reason for digging this razor? It saves me time. It has five smoothing blades and the Olay moisture bars on the top and bottom part of the razor conditions my skin as I shave, and allows for a long-lasting shave. Girl, my legs are so soft I have a hard time keeping my hands to myself! It comes with a little shower holder so that it's not soaked in water during the shower (making the razor last longer).
So it's pretty obvious that I totally love P&G products. They are seriously everywhere in my home. From the shower to the bedroom, their products help me run my home smoothly.
Oh, and at the end of the very fun and informative luncheon we were given a gift card to Target. Never one to hold on to a gift card for too long, I headed to Target the same week I got home and purchased the cutest Prabal Gurung For Target dress… on clearance!
It has the black and white trend that is so popular right now, and the floral print makes it great for spring. I paired it with my L.A.M.B. stilettos and wore it for a night on the town. It's one of my favorite outfits this season because it's just so easy to wear!
I invite you to visit http://www.PGTryIt.com to learn more about Have You Tried This Yet?
As part of this fabulous campaign (and seriously, one of my favorites thus far), I get to give away $400 worth of P&G products!!! I'm super excited because I know you love their products as much as I do. To enter, simply use the Rafflecopter widget below and tell me which Have You Tried This Yet? product is your favorite (from the image below). ¡Buena suerte!


P&G Products Giveaway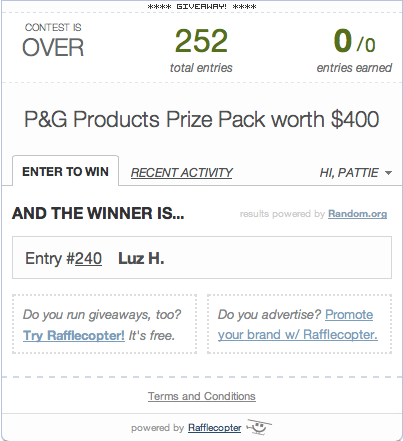 This is part of a compensated campaign with Latina Mom Bloggers and Procter & Gamble. However, all opinions expressed are my own.
Originally published on May 4, 2013. Last Updated on September 12, 2014 by Pattie Cordova