[disclaim]Guest post by Justine Burgess[/disclaim]
One of the best ways to save money is to make food at home. Home-baked goods are one of my favorites, and I love to whip up something delicious that makes the house smell wonderful. My favorite thing to bake? Banana bread.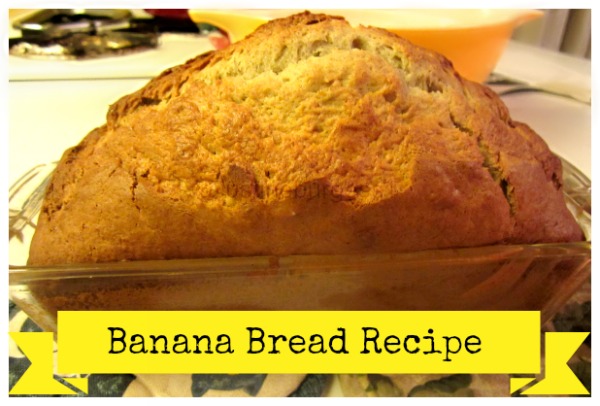 It's a "quick" bread, meaning it doesn't require any yeast or rising time, and there's no messy punching and kneading of the dough- or flour flying all over the kitchen (unless you accidentally turn the mixer speed up too much). With the abundance of the fruit in stores right now, you can find bananas at a great price. My favorite basic recipe is one from a 1965 edition of Better Homes and Gardens New Cookbook I inherited. I've changed the recipe up to suit my tastes-and my weird oven- and today I'm sharing it with you. After all, nothing says lovin' like something from the oven. Hopefully, this recipe will work for you as well as it does for me. Happy baking!
Banana Bread (modified recipe)
Preheat oven to 350 degrees
Ingredients
1 ¾ c. all-purpose flour
½ c. granulated sugar
2/3 c. brown sugar, packed
2 teaspoons baking powder
½ teaspoon baking soda
¼ teaspoon salt
about 1 cup mashed ripe bananas (2-3 medium ones, but I usually add more)
1/3 cup butter or shortening
2 tablespoons milk
2 teaspoons vanilla extract
2 eggs
optional: ¼ cup of chopped nuts, or ¼ to ½ cup of chocolate chips. You can also add in a teaspoon of cinnamon or nutmeg when mixing the dry ingredients. Or, just be creative- add in something fun.
Directions
Mix all dry ingredients in one bowl- set aside.
Using an electric mixer, cream together butter and sugars on low speed in a separate large bowl until light and fluffy.
Add in the bananas and milk and mix on low or medium until blended, then on high speed for a minute or two. Blend in the eggs one at a time, mixing thoroughly after each addition.
Add the dry ingredients slowly, mixing until blended. Add any optional ingredients, stir or mix well.
Pour the batter into a greased (I use butter) 8x4x2 inch loaf pan. Bake at 350 for 55 to 65 minutes, or until a toothpick inserted near the center comes out clean (no sticky batter). Cool, wrap, and store overnight* before slicing.
*Letting it sit overnight helps the bread to set, but you can eat it warm if you choose to. It might be a little mushy- but it will still taste great!
Originally published on August 9, 2013. Last Updated on March 7, 2016 by Pattie Cordova