Did you catch Camila Alves at the Golden Globes? She looked stunning, and I have the scoop to recreating her hair style using John Frieda Hair Care products! The same kind that you can buy at your local major retailer. Now all we gotta do is figure out how to get her makeup look, and if we're being really ambitious, that toned upper body.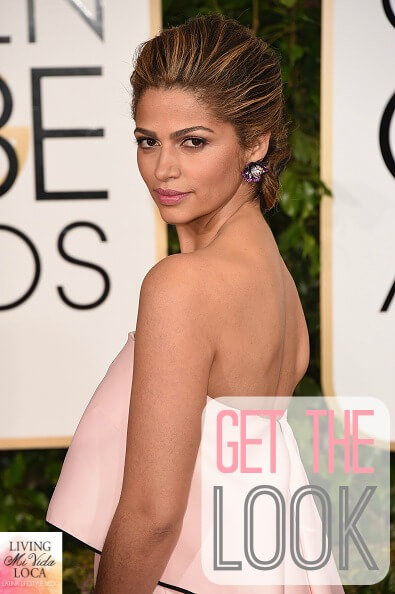 Celebrity hairstylist Kristin Heitkotter gave Camila a glamorous deconstructed French braid chignon for the 2015 Golden Globe Awards tonight. "Camila has really curly hair and with the humidity in Los Angeles today, we wanted to make sure her hair stayed frizz-free," said Heitkotter.
Get the Look: Camila Alves
First, Heitkotter layered damp hair with new John Frieda Frizz Ease Beyond Smooth Frizz Immunity Primer and John Frieda Frizz Ease Straight Fixation Styling Crème to ensure her hair looked as smooth and silky as possible. Using a paddle brush, she dried her hair to remove moisture and gave her a voluminous blow out.
Then, Heitkotter parted hair into 4 sections and applied John Frieda Heat Defeat Protecting Spray before flat ironing each section to smoothen her mane. She applied a bit of the John Frieda Frizz Ease Nourishing Oil Elixir on her hair line to assure there were no flyaways.
Next, Heitkotter applied a few drops of John Frieda Frizz Ease Original Six Effects Serum and ran it through her ends to keep it frizz free. She divided the hair into four sections and twisted each section, loosely creating a deconstructed French braid chignon. With hair pins, she tucked the ends under, securing them in place.
To lock the look in place, Heitkotter sprayed new John Frieda Frizz Ease Kerafirm Firm Hold Hairspray.
Find all the products at https://www.johnfrieda.com/en-US/Home.
photo credit // John Frieda.
Originally published on January 11, 2015. Last Updated on January 26, 2015 by Pattie Cordova