Holidays
Bubblefest 2014 at Discovery Cube
The 18th Annual Bubblefest is now open at Discovery Science Center. Each year during spring break they bring out the white tarp and the bubble wands. If you are like me, for the past 2 weeks I have been passing by on my way home and watching the tent and huge Bubblefest sign on top of the building. Every time I passed by, my four kids would scream, "bubbles, bubbles, bubbles!" They knew what was coming.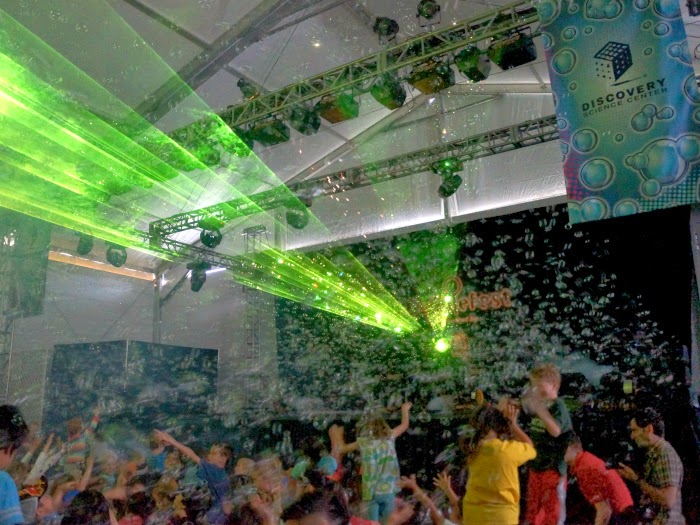 This year I thought Bubblefest did an amazing job at pleasing the entire family, and more specifically, kids of all ages. My kids range in ages from 8 to 2, and they each had something age appropriate to do. They had a Junior Bubble area for kids 5 and under. For the tots, a jungle themed jumping playhouse. My older kids had fun sliding down two giant slides and a bubble area suited for their ages. There was also the Bubble Lab where you can learn about bubbles and get to do some cool stuff with them – like build a bubble wall or find out what CO2 does to bubbles!  All these activities are included in your general admission ticket to Discovery Science Center and Bubblefest.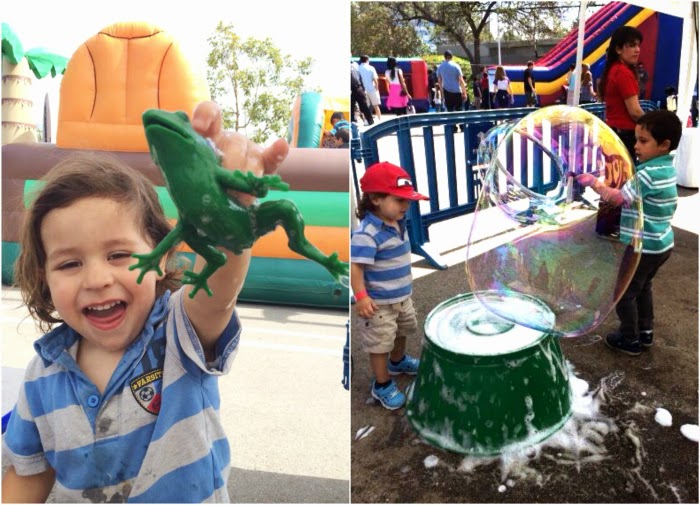 The headlining attraction is the amazing Mega Laser Bubble Show (that is what is hiding inside the white tent). The artist behind this show, yes he is a bubble artist, is Deni Yang who has been doing bubble shows for twenty years. He does mind blowing things with bubbles. Throughout the entire show I couldn't stop wooing and aweing at his bubble tricks. The funny part of the show was watching the kid's reactions to his tricks and you knew they were thinking, "I want to do that." A cool bonus for the show is that the kids get to ride the Water Spheres, as part of the ticket price. Another feature of the show is that for a fee you can take a picture inside a bubble.
RELATED POST: BUBBLEFEST 2015 AT DISCOVERY CUBE
The Discovery Science Center definitely knows how to put on a great Bubblefest. And this year, it looks like they outdid themselves with all of the activities for the different age groups, various inflatable slides, and more bubbles, bubbles, bubbles.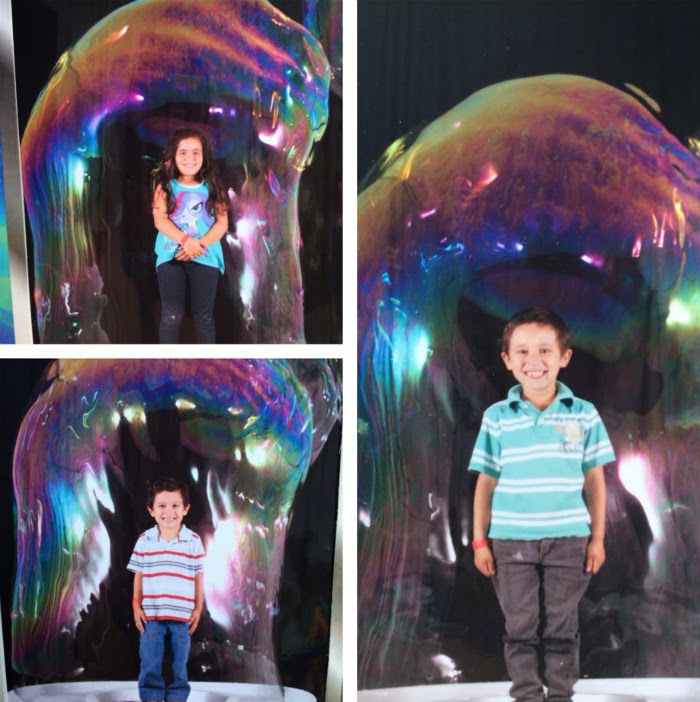 If you're heading out to check out Bubblefest during Spring Break, here are a few useful tips:
Bring sun protection since many of the activities are outdoors.
The show allows nacks and water – great for little ones.
Make sure to wash hands often since kids will be touching soapy water.
Get there early to beat the crowds and lines.
Do the Water Sphere before watching the Mega Laser Bubble Show. It gets really busy right after show.
Be patient!!! There are long lines for the games on the weekends.
Parking is located at Westfield Mainplace Mall parking lot.
Last year, Pattie covered Bubblefest 2013 and interviewed the talented Deni Yang on his spectacular show. It's always fun to get some behind-the-scenes information! Check it out:


Visit Discovery Cube at 2500 N. Main St., Santa Ana, California. For more information, visit http://www.discoverycube.org/.

[disclaim]Contributors of LivingMiVidaLoca.com receive products, compensation and/or complimentary/discounted services to facilitate posts. All thoughts and ideas remain the reviewer's own.[/disclaim]

Originally published on March 31, 2014. Last Updated on October 25, 2022 by Pattie Cordova