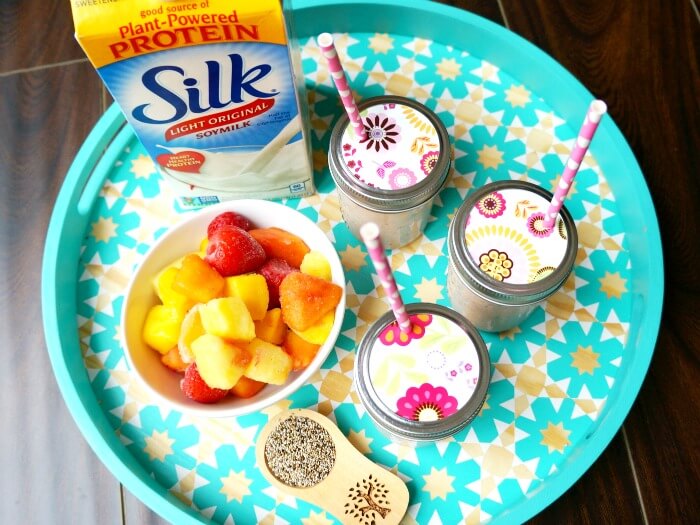 I became vegetarian over ten years ago. Since then, I have also stopped drinking cow milk and switched over to milk alternatives, including soy milk. My first experience drinking soy milk was very surprising. I found that I liked the sweet smooth taste and it gave my go-to smoothies and shakes an extra punch without me having to add sugar. Better yet, it has 50% more calcium than dairy milk AND Silk Soymilk gives you 8 grams of heart-healthy, plant-powered protein. As a vegetarian and mom of two vegetarian boys, I'll take protein anywhere I can get it.
Because we're forever running late to school, I have a few breakfast to-go ideas that I keep at the back of my mind. I use them a lot more than I should, so I've come up with a way to make it look like I put in effort into their breakfast, when in fact it took me about five minutes.
One of my favorite smoothies to make for the kids is this breakfast to-go smoothie. I love that the kids get a lot of protein in the morning and it keeps them full until lunch time. I also add these handmade (hand-cut) mason jar covers so the kids can drink them in the car.
To make this breakfast to-go smoothie, all you need is:
Ingredients
2 cups Silk Soymilk (any flavor)
2 cups frozen fruit
1 tbsp chia seeds
1 cup soy yogurt
It's super easy to make, and the chia seeds rounds out this protein-packed smoothie with Omega 3 and fiber. It's a delicious and super nutrient smoothie that kids love.
I love mason jars for smoothies. I cover the mason jars with a hand-cut card stock lid because my kids have been known to drop their drinks in the car. To make, all you need is thick card stock, scissors, hole puncher and a regular mason jar lid.
Place the lid on the paper stock and use as a template to cut as many circles as you need. Use the hole puncher to add a hole for the straw and hand over to the kids. It's a cute idea, and you could even use it for parties by coordinating the paper with the party theme. It also makes it look like you put in some effort into their breakfast. Consider making them ahead of time and just having them in the drawer for last-minute smoothies.
Give Silk Soymilk a try next time you're in the grocery store. The kids will love it, and you'll love Silk because it's plant-based, naturally low in saturated fat and has no cholesterol! win-win-win.
Originally published on May 22, 2015. Last Updated on January 4, 2022 by Pattie Cordova