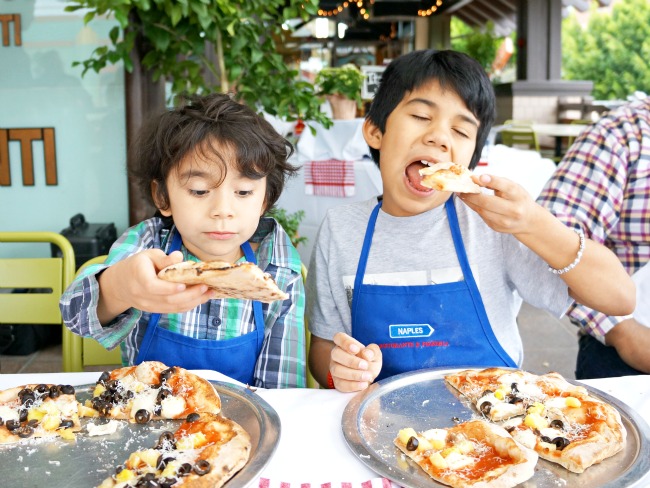 Who doesn't love pizza? Get ready to show that love on Pizza Day happening this year on Thursday, February 9, 2023! Our Instagram community has shared their best pizza places in Orange County to celebrate and grab a slice. They are organized by city.
Pizza Places in Aliso Viejo
Tony Pepperoni Pizzeria | 27822 Aliso Creek Rd Ste C-100
This is rated as the best place in Aliso Viejo, they have beer on draft to compliment the pizza. It's a large location that is family friendly with arcade games and television screens for sports.
Pizza Places in Anaheim
Brewery X | 3191 E La Palma
This is a brewery, but the pizza has a great reputation. Lines can get long for the pizza, but it's worth the wait!
Out Of The Park Pizza | 5638 E. La Palma
Serving pizza since 2010, Out Of The Ball Park Pizza serves creative and tasty pies with the best craft beer selection in Orange County.
Cortina's Italian Market | 2175 W Orange Ave
Pizza is great, but this place can get busy, and parking can be an issue. Bonus: try the sandwiches or cannoli.
Pepz Pizza | Various Locations in Anaheim
We love the Anaheim Hills location because it is very spacious, they have arcade games, televisions for sports, and their pizza is so thick and delicious. They offer a pretty extensive menu, it's great for the entire family.
Pizza Places in Fullerton
Larry's Pizza | 926 W Orangethorpe Ave #F
We love visiting this location because it is family friendly, has arcade games, it's big enough to celebrate a special occasion and the OC Raiders Boosters Club meets there during Raiders games which is always fun if you're a Raiders fan. The pizza is also fresh and hot and ready to eat. Very delicious!
Two Saucy Broads | 108 S Highland Ave
We like that they offer pizza by the slices during lunch time, and they also offer beer on tap. We like their specialty pizzas and you can get a 10″ for $12 and try all sorts of flavors. Pizza has a thin crust.
Fuoco's Pizzeria | 101 N Harbor Blvd
We love this pizza place, it's perfect for date night. They cook the pizza in a wood fired brick oven pizza. It is a little pricey, but the ambiance is so romantic, and the service is great.
Pizza Places in Garden Grove
Perry's Pizza and Italian Restaurant | 6937 Chapman Ave
Pizza is great and this place is family friendly, they have arcade games and televisions for sports games.
Vegan Pizza | 12022 Chapman Ave 
People drive long distances to try this pizza. They have a variety of flavors with lots of veggie toppings and more.
Pizza Places in Huntington Beach
Stoney Pizza | 17210 Pacific Coast Hwy
They have very unique flavors, sell by the slice and the customer service is excellent.
Pizza Places in Irvine
Northwood Pizza | 4900 Irvine Blvd Ste 105
This place has been around for a very long time, and it's a favorite for locals. Their pizza is delicious, and the price is great.
Ameci Pizza Kitchen | Two Irvine locations
Everyone loves the pizza and pasta at this establishment which has been around for a long time.
Pizza Places in Laguna Hills
Pizza 900 Wood Fired Pizzeria | 23020 Lake Forest Dr Ste 170
This place has woodfired pizza, which is cooked at a higher heat level in a special oven. People rave about the dough. It is family friendly, and you order up at the counter.
Pizza Places in Newport Beach
Laventina's Big Cheese Pizza | 2819 Newport Blvd Ste B
Locals love this place that has been around for a very long time. You get great tasting pizza for a reasonable price. They also offer gluten free and dairy free options.
Pizza Places in Mission Viejo
Ball Park Pizza Team | 28813 Los Alisos Blvd
People love this place because the pizza is delicious, it is family friendly and can serve large parties and it is also a great place to watch sports with your buddies. As a matter of fact, the walls are covered with sports team logos.
Pizza Places in Orange
Brava Cucina | 8414 E. Chapman Ave.
Brava Cucina is a quick Italian restaurant by the owners of Conca D' Oro restaurant.
Pizza Project | 3436 E. Chapman Ave
Make pizza just the way you want it at Pizza Project. You have free range of lots of different ingredients to make your pizza, yours.
Big Al's Pizzeria | 396 W Chapman Ave
We love this pizza that just opened at the Orange Circle vicinity. They have the most unique flavors that include brisket pizza, carne asada pizza and more. We also hear people drive long distances just to try their desserts.
Pasta Party | 124 E Lincoln Ave
We love this place so much, it hasn't been around that long, but the pizza and pasta taste homemade, like mom made it. It's delicious!
Pizza Places in San Clemente
Gibroni's Pizza | 215 S El Camino Real 
We have tried this pizza on a weekend getaway to San Clemente and it did not disappoint. They serve Detroit style pizza and it's delicious.
Pizza Places in Santa Ana
Loosies Pizza | 300 E. Fourth St. #103
This is New York style pizza, and they have unique flavors such as their White Ferrari pizza. It's also open late at night on weekends. It is located in downtown Santa Ana, so the place is perfect after a night of bar hopping.
Buccaneer Pizza | 2757 N Grand Ave
This is one of our favorite pizza places, and also very popular in our online community. The crust is the secret, it's so good! And the pizza is so cheesy! Bonus: try their turkey sandwich also, you won't regret it.
Rafael's Pizza | 128 W MacArthur Blvd
The pizza is great, the service is wonderful and plenty of room inside to sit and eat your pizza.
Bari Pasta & Pizza | 1640 E 1st St Ste #A
We love their skull garlic bread, it's so cute!
Pizza Places in Stanton
Steel Pan Pizza | 12885 Beach Blvd Ste 113
Steel Pan Pizza offers an assortment of different pizzas, but specializes in deep dish pizza. They offer some interesting dishes such as breakfast pizza, the Nuts and Bolts, and all sorts of creative pies. We like their Detroit style pizza.
Pizza Places in Tustin
Pizza Shack | 14201 Red Hill Ave
They have great lunch specials, and the price is great overall.
Pizza Places in Westminster
Magic Mike's | 6152 Garden Grove Blvd
We hear that this place is delicious not only for the pizza, but the quality of all the food is great.
Various Locations in Orange County
Blaze Pizza
Blaze Pizza lets you customize your pie to your hearts' content. If you're indecisive, they also offer the classics that you can never go wrong with including some interesting combinations.
First Class Pizza
They have a variety of specialty flavors available at this chain, and you can add several toppings on the specialty pizzas. They also offer great lunch specials.
Fresh Brothers Pizza
If you're looking for a healthier option, Fresh Brothers Pizza is for you. They do offer traditional pizza as well. We love their cauliflower crust when we're feeling the low-carb diet. Bonus: they have vegan options too!
Lamppost Pizza
We love this place because it's family friendly and famous for little league meet ups, right? The locations in Placentia and Fountain Valley are popular and we'll throw in Orange, too, because that's the location we frequently visit, and we love it!
Pieology
Health meets customization at Pieology. Along with traditional pies, they offer cauliflower crust pizzas as well so you can make the healthy pizza of your dreams. This year, Pieology is taking a bold step toward expanding pizza further into the healthy category by introducing three new "meat" toppings made of high-quality plant proteins that taste and look just like the real deal.
Whata Lotta Pizza
Started by a delivery boy who couldn't find a pizza he liked, Whata Lotta Pizza is sure to satisfy your hunger for pizza.
Porky's Pizza
We have tried the Anaheim Hills location and we love going here because they always have a hot pizza ready to go.
Sgt. Pepperoni's
Try the pepperoni pinwheels at this place, they're very popular.
Wise Guys Pizzeria
This place has great pizza and beer on tap, looks like a lot of fun!
Zito's New York Style Pizza
Zito's is a go to for a delicious tasting slice of New York. You will never find a large pepperoni pizza at Zito's with less than 50 pepperoni slices. This is one of our community's most popular choice!
ZPizza
They have very unique flavors at a very good price.
Bonus: We love Naples Ristorante at Downtown Disney … they have awesome pizza parties!!!
Originally published on February 7, 2019. Last Updated on January 10, 2023 by Belinda Espinoza Simon