I had the pleasure of lunching at the wonderful Bayside Restaurant earlier this month. Right off the bat, it's the type of restaurant that I would LOVE to visit with the hubster. It's classy, friendly, super clean and each morsel of food was absolutely scrumptious.
Situated near the waterfront, it captures the cool ocean breeze making it a premier spot for a long lunch with friends, or a fun evening out with family (including the kids). Bayside Restaurant also offers complimentary valet and self-parking, which in my book is a big plus.
I was invited to sample their special two course prix-fixe Summer menu created by Executive Chef Paul Gstrein. Chef Paul Gstrein attended culinary school in Austria before coming over to the US and working with fine-dining masters such as Wolfgang Puck. He brought his experience and artistic creations to Bayside Restaurant and now goes around creating deliciousness such as the ones below.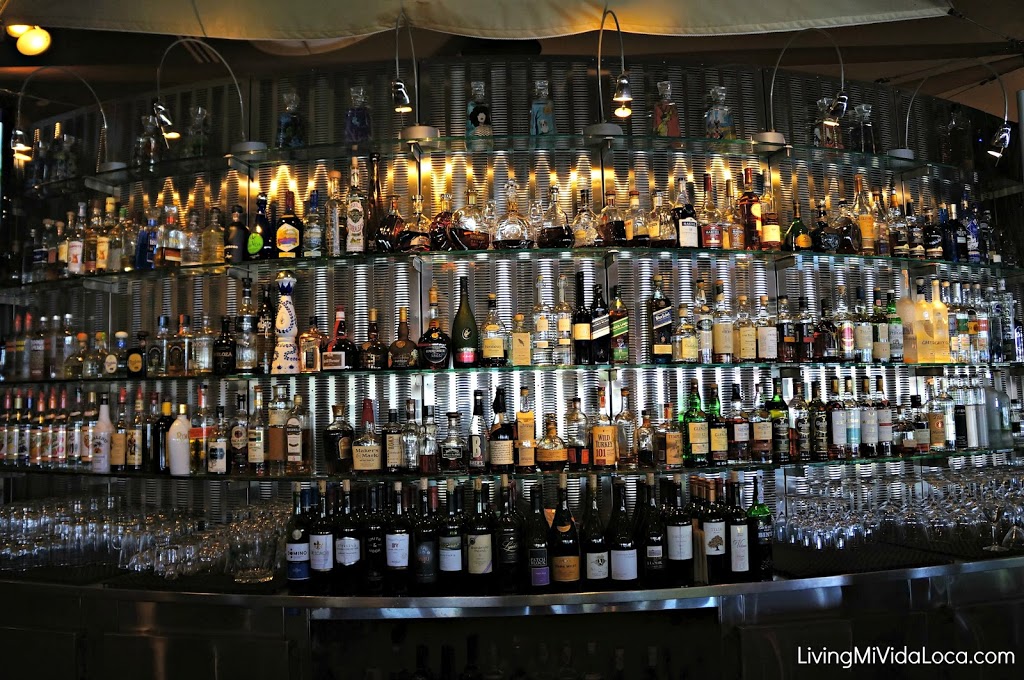 Bayside Restaurant is a Dining as Art restaurant. They host a rotating modern art exhibit that features works which enhance the ambiance. The art displayed is also available for purchase. Their happy hour, from 5 p.m. until close, is enhanced with jazz entertainment. A wonderful place to meet up after work! Now… on to the food.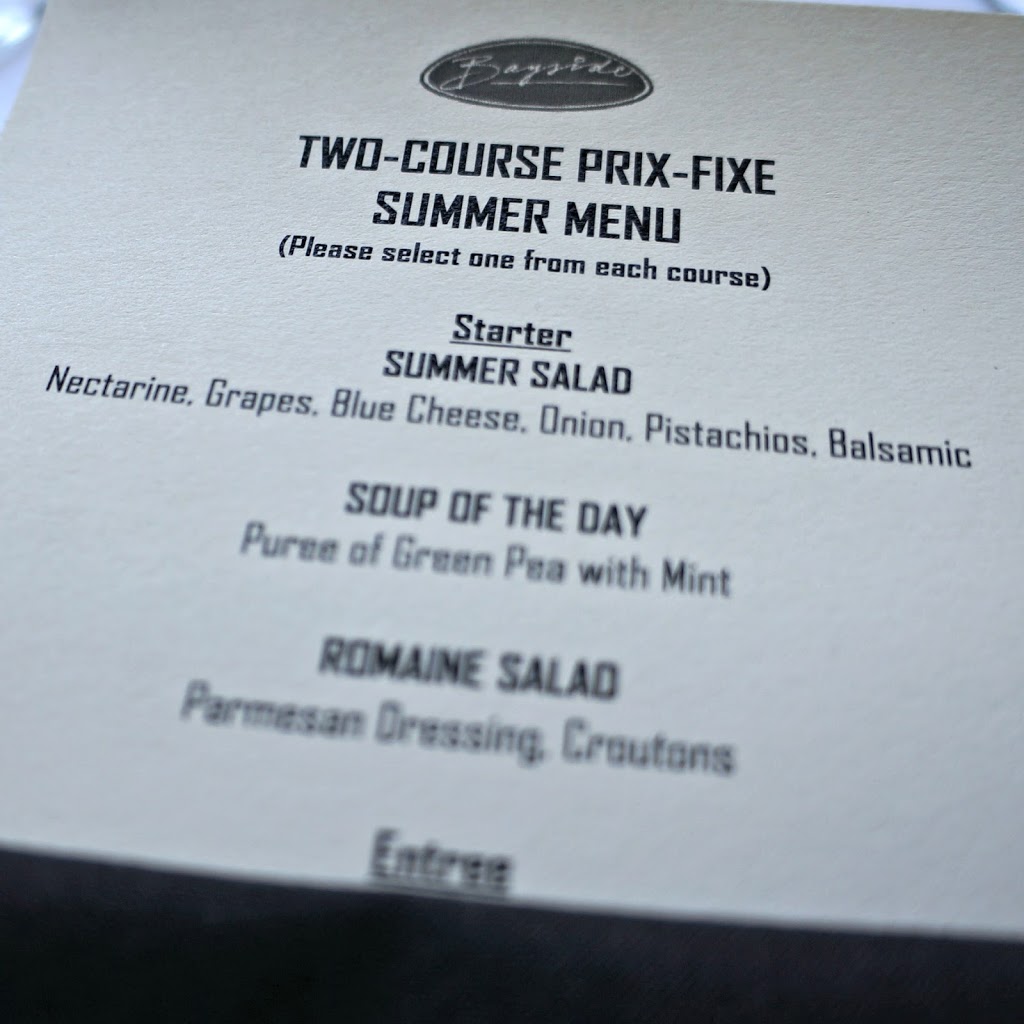 At first glance, it was apparent that vegetarians are not Bayside's target market. Every entree on their menu had a type of meat in it. I began my meal with the Puree of Green Pea with Mint Soup at the suggestion of our server. I almost went with the Summer Salad, but I'm so glad I stuck with the soup. It was absolutely delicious. The mint was not overwhelming and it went great with the little rolls they served. It was thick, but not overly so.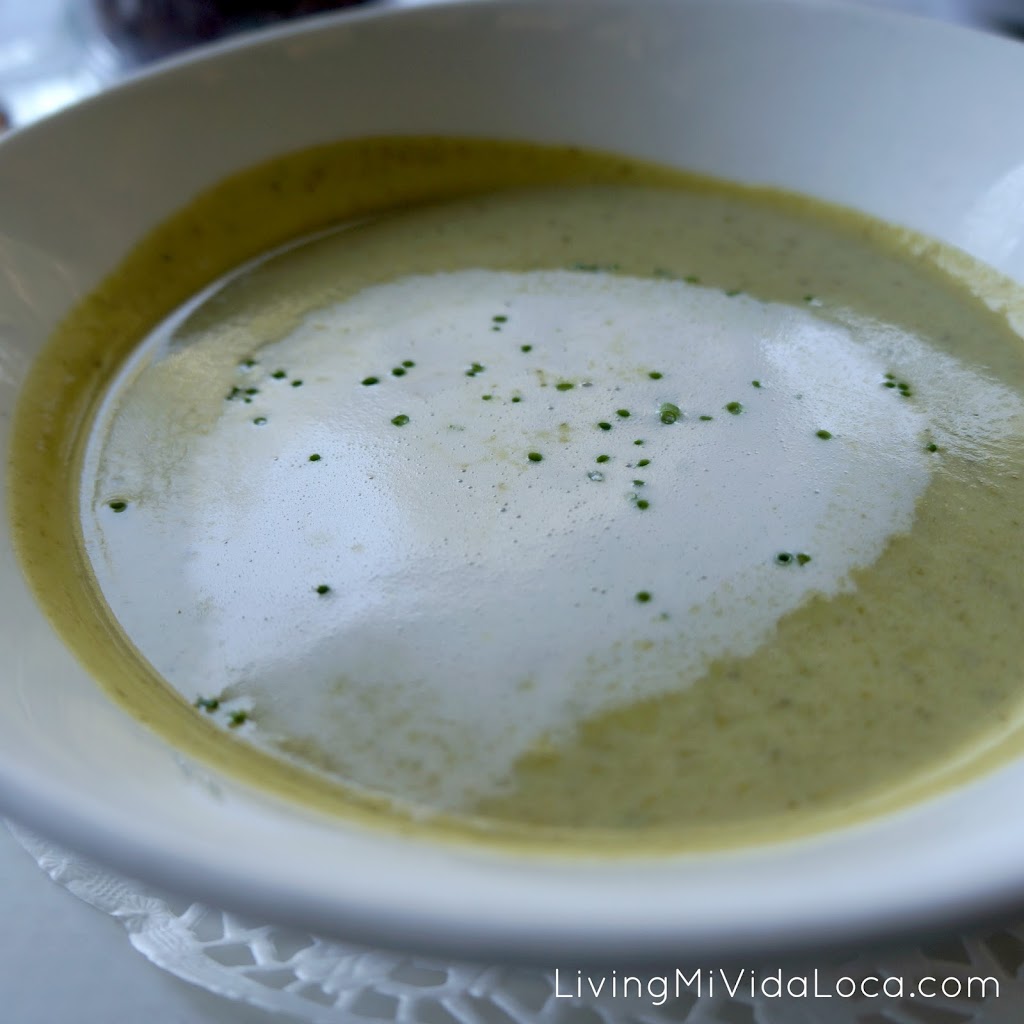 Because they did not offer a vegetarian item on their entree list, our server offered to have a fusilli pasta dish made. She brought out pasta with parsley, olives and other veggies. It looked delicious, it tasted fresh, but I didn't finish it all. I had just finished reading the desert menu and I wanted to make sure that I would have room for it. So I finished off all the veggies in my bowl (they were seasoned and cooked fabulously) and ordered some black coffee.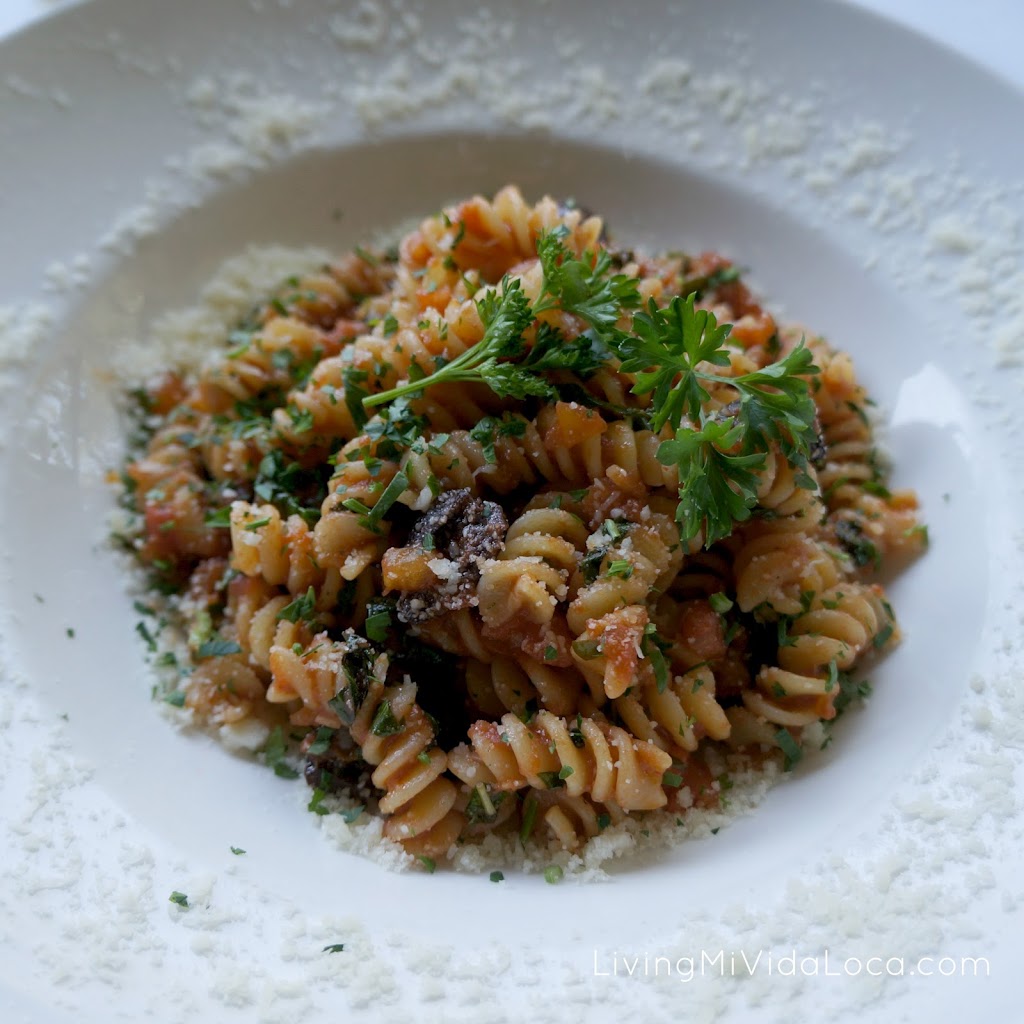 I was given the dessert menu to glance over and order from. Every item on the menu sounded delicious. My favorite items to devour next to bread and butter are desserts. I LOVE every type of dessert (but not really crazy about chocolate) and I have been known to go out for dinner and just have coffee and cake. So my eyes run down the menu and then I see that they have a dessert trio. I swear, if I was eating alone I so would have ordered it. I didn't then because I would have felt greedy and that is the last impression that I want to give. I finally decided on the bread pudding. I figure that if a restaurant can pull off a classic dish, then everything else will taste just as good. That's also why I tend to favor vanilla ice cream. I love classic dishes and I couldn't think of anything more classic than bread pudding.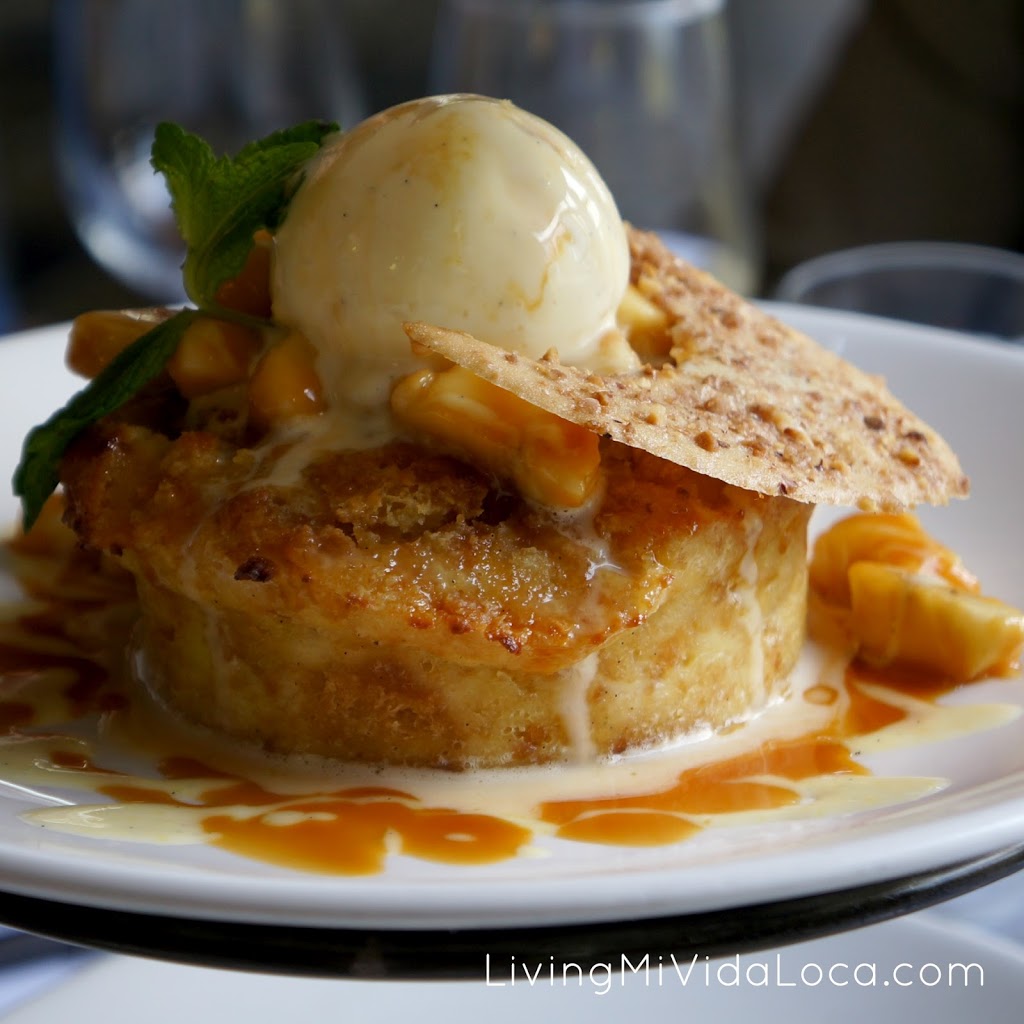 What you see above is what I devoured. Their bread pudding is the most decadent dessert that I have ever consumed. It is not overly sweet, perfectly moist and the vanilla ice cream appears to be house made because it was super creamy. I've made plans to go back just for the desert. Next time, I plan on taking the hubster and having him try their tiramisu. It's his favorite dessert and I have no doubt that Bayside's version will be just as good as my bread pudding.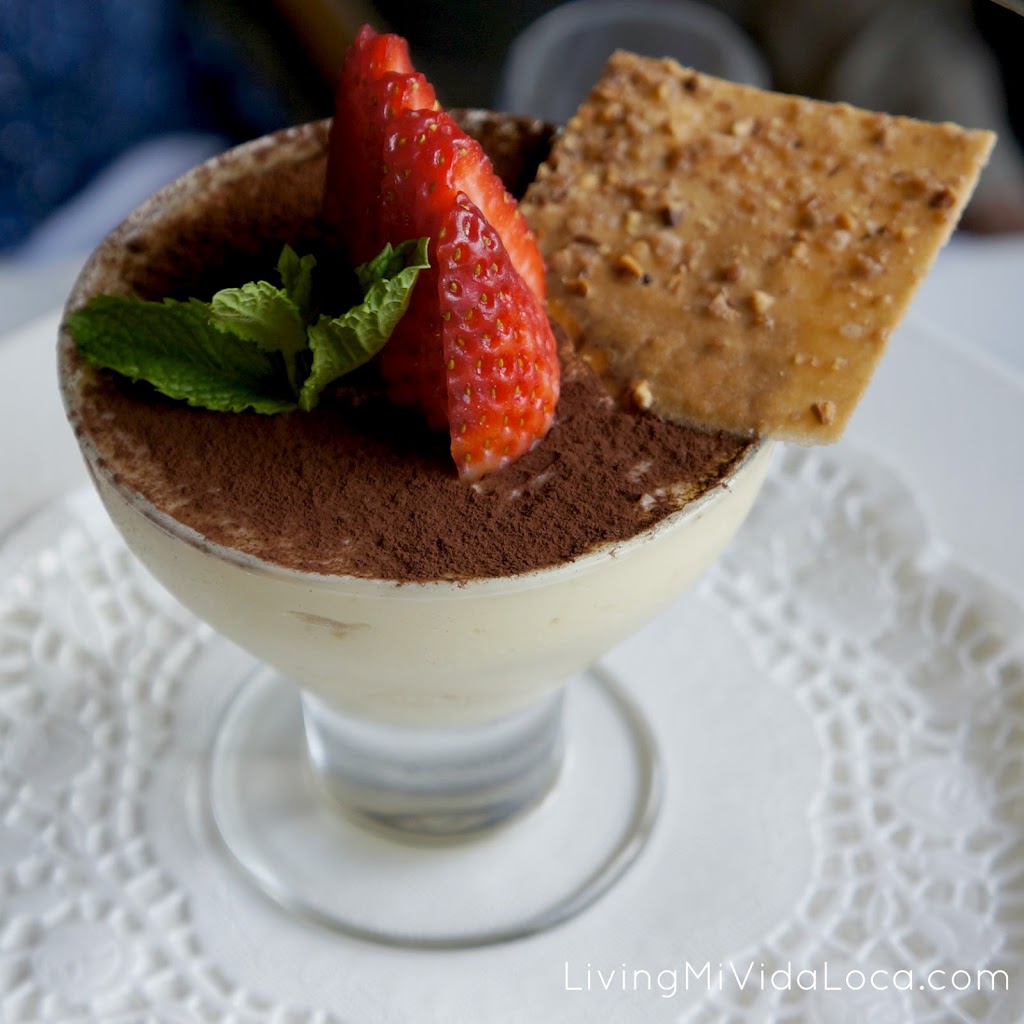 I took pictures of other dishes that my companions had (some of the meat dishes) and compiled them into this Google+ album. Hop on over and feel free to drool over Bayside's beautiful and delicious dishes.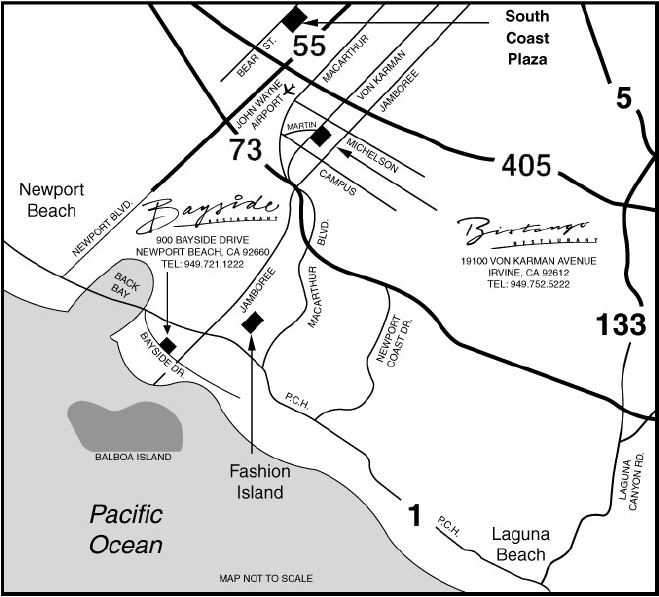 Their two course prix-fixe Summer lunch menu includes a starter and an entree for only $19.95. They also offer a three course prix-fixe Summer dinner menu that includes desert for only $39.75. I would highly recommend you make plans to visit Bayside Restaurant and try their Summer menu items before they are replaced with Oktoberfest items in September. It's a perfect place (and price) for a date night or a lunch date. Above all, please save room for coffee and dessert. Share if you must, but promise me that you will have some of their desserts.
Bayside Restaurant
900 Bayside Drive
Newport Beach, CA
949-721-1222
BaysideRestaurant.com
I was invited to sample the two course prix-fixe Summer menu as a member of the press. All thoughts and opinions remain my own.
Originally published on August 24, 2012. Last Updated on July 26, 2017 by Pattie Cordova