We welcomed our new partnership with ALDI just last week and since then, I've been telling everyone about it. A visit to my nearest ALDI was about a thirty minute drive out to Moreno Valley, and one that led to a new grocery shopping experience.
We've had eight new ALDI openings in Southern California and I thought it would be a great opportunity for you to get a glimpse of what makes ALDI so different… and just a hint, it goes beyond the low prices.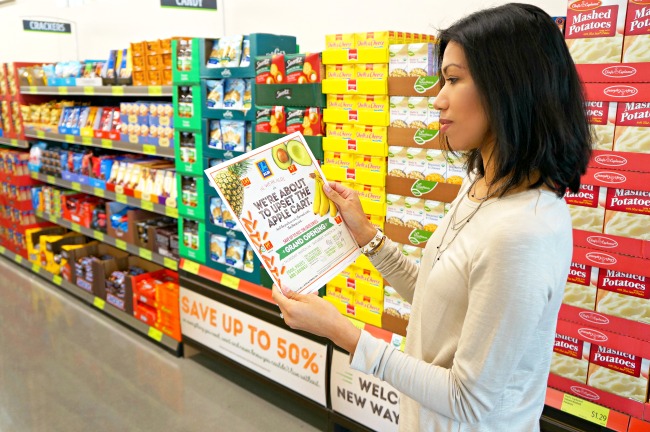 Store layout
I noticed big differences as soon as I stepped through the sliding doors at ALDI. First and foremost – the wide aisles. Wide enough for two shopping carts to pass next to each other without getting fingers squished between the carts. The store is bright and clearly labeled. The Moreno Valley location is 12,000 square feet with their featured items at the front of the store; deli and frozen cases lining the walls.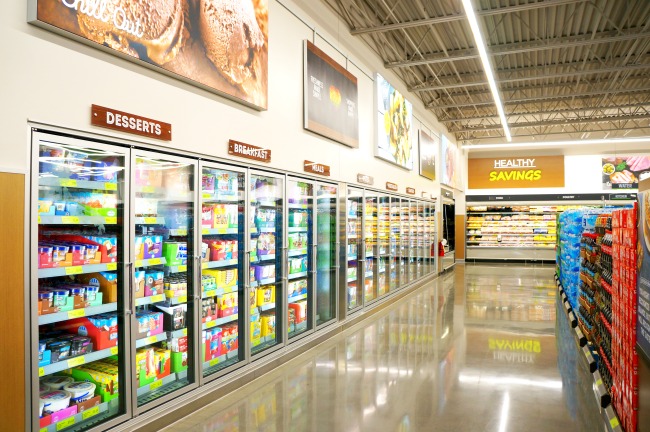 Another big difference you'll notice is the lack of shelves. Instead, ALDI focuses on efficiency with their easy display cases. Most cases are mixed so you'll still get different varieties of the product, but you won't be paying the overhead of someone stocking shelves. Also, pay attention to the price tags. A red price tag will tell shoppers that it is a limited-time offering. On-trend items, such as nuts and banana chips, are also located towards the front of the store.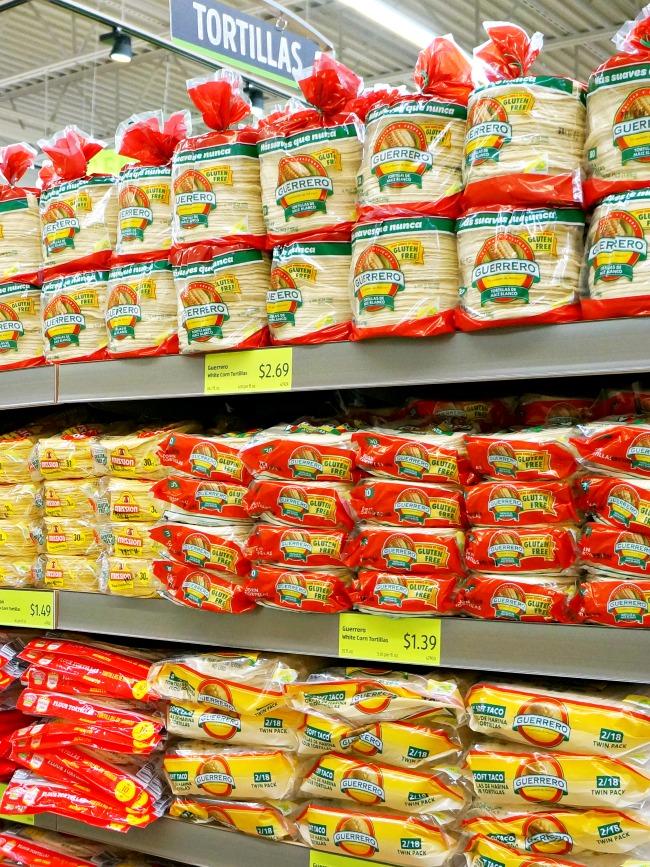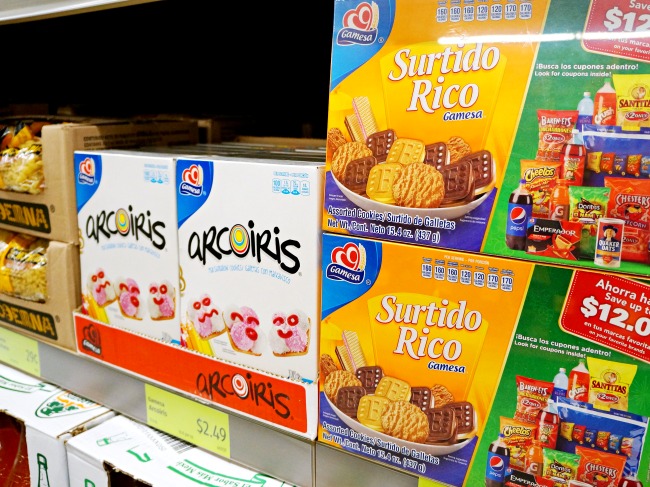 Cost-Saving Measures
ALDI has refined its processes throughout the years to save its customers the most money. You'll notice this when you go to pick out your food because instead of seeing 20 versions of everything, ALDI only offers the best of customers' weekly must-haves like fresh produce and organics, dairy, gluten-free foods, USDA Choice beef and bakery items. This helps customers save on their grocery bill.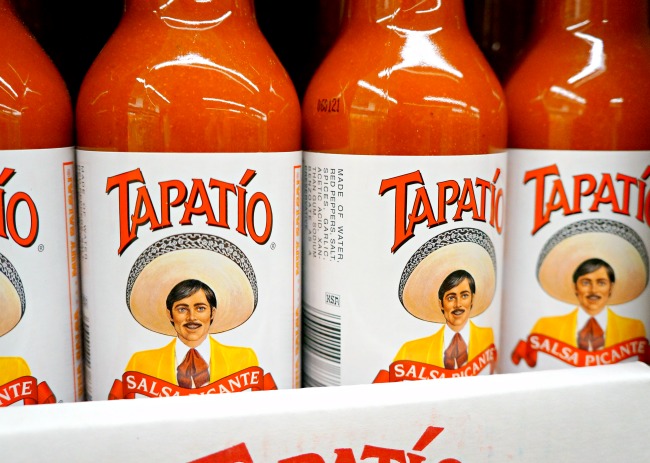 A quarter for a shopping cart
Not only does ALDI offer a lot of parking for its customers, it also offers cart-free parking lots! That's due to their special cart system. When you insert a quarter into the shopping cart, the cart is unlocked from the other shopping carts. When you're done putting your groceries in your car, you bring back the shopping cart, click it into another cart and the quarter is released!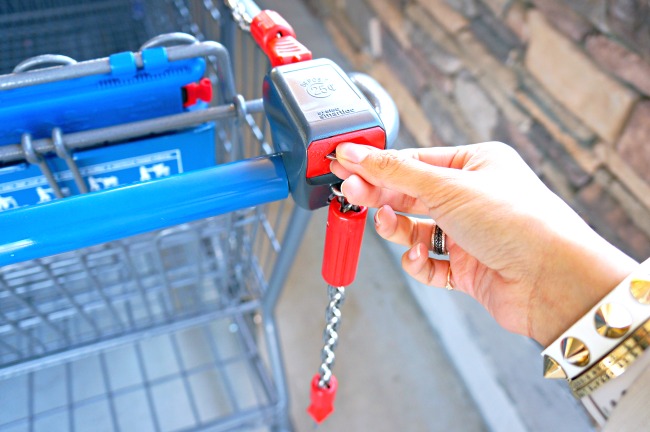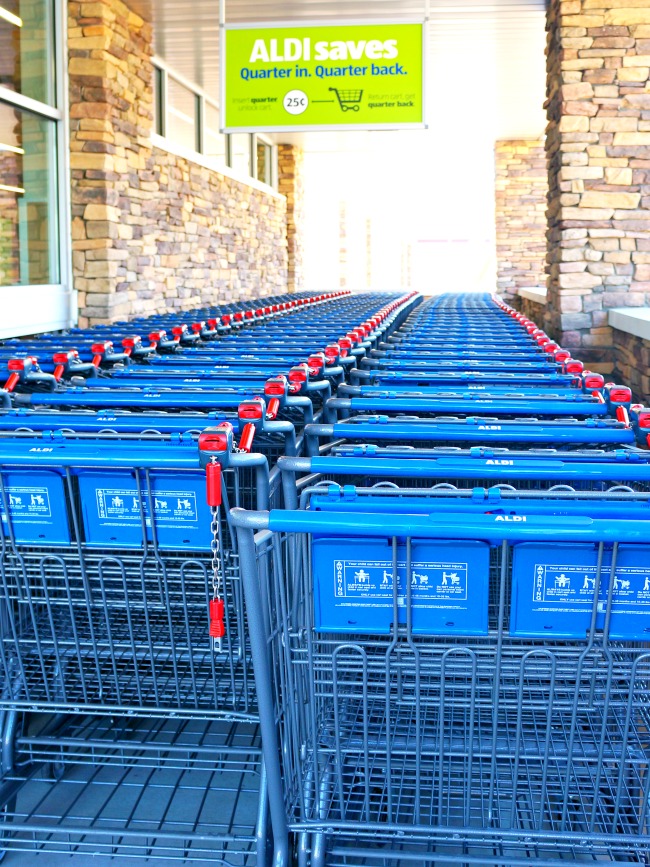 ALDI exclusive brands
More than 90 percent of the groceries sold are under ALDI premium exclusive brands (you'll read more about these below). Each product is regularly tested in the ALDI Test Kitchen (also in Moreno Valley) to make sure the quality and taste is just as good, if not better, than the national brands. While we walked around the store, we had the opportunity to test a popular brand to the ALDI exclusive brand and found that most of the time, it was better! But if you buy an ALDI brand and you don't like it, then take advantage of the ALDI Double Guarantee.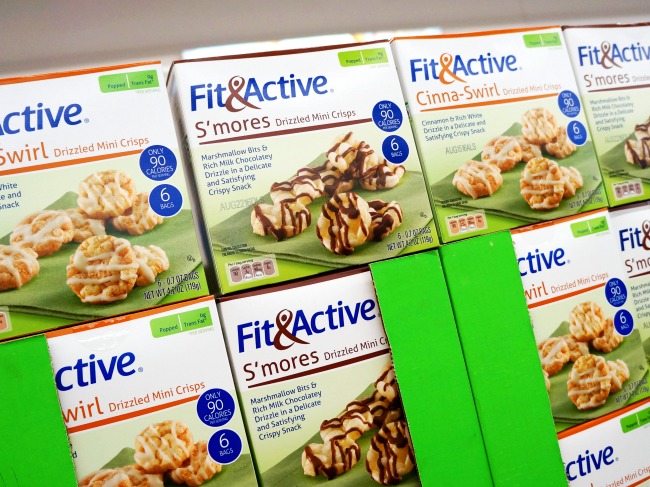 ALDI Double Guarantee
Trying new products at ALDI is risk-free with their ALDI Double Guarantee. If for any reason a customer doesn't like an ALDI exclusive brand food, they'll give them their money back and replace the product.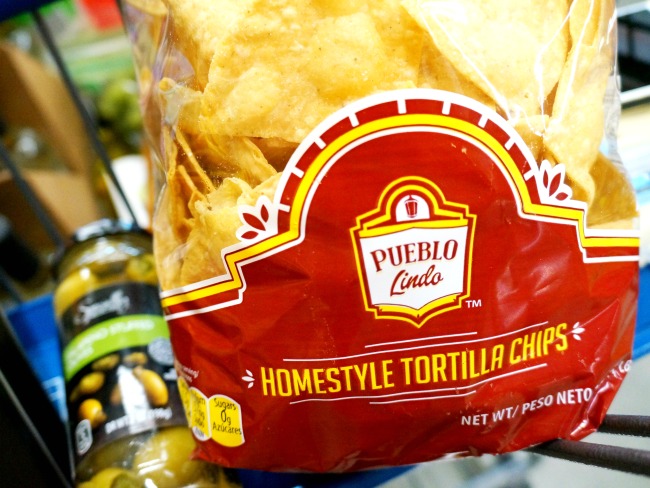 Checkout process and BYOB
Don't forget to bring your own bags on your next ALDI shopping trip. Otherwise, expect to pay ten cents for a paper bag, and fifteen cents for a plastic bag. Once you go to check out, you'll also notice that the checkout lanes don't offer candy and toys like many other stores do. Instead, you'll see healthy snack options like snacks for kids, food pouches, trail mixes, nuts and even household essentials like batteries.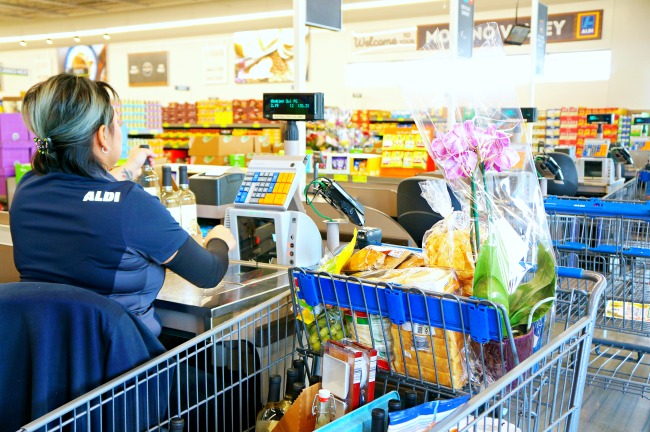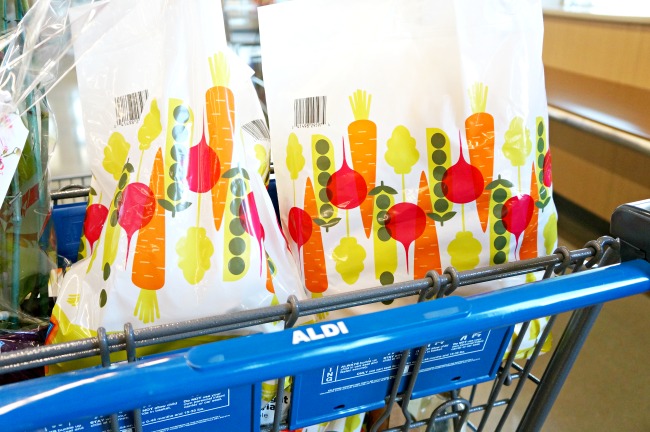 Product offerings
Produce
ALDI offers organic products including bananas, tomatoes, avocados, apples and salad mixes – many of which go on sale along with their other locally grown produce offerings. Thanks to all the awesome farms in Southern California, ALDI offers only the highest quality produce that is shipped to its stores on a daily basis. To top it off, their produce picks of the week will be competitively priced, generally half of what you would pay at other grocery stores.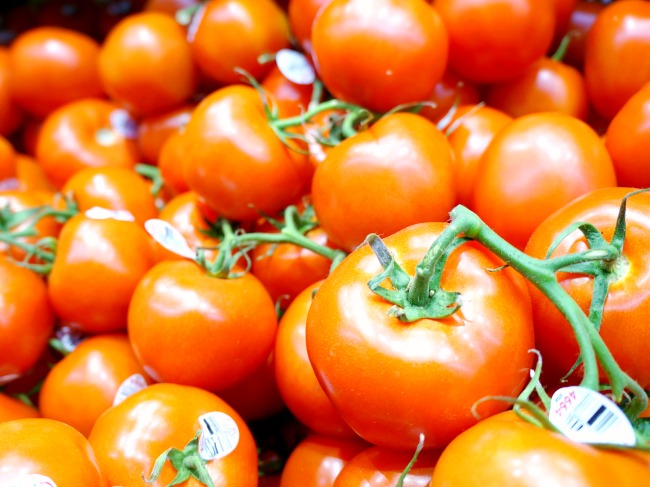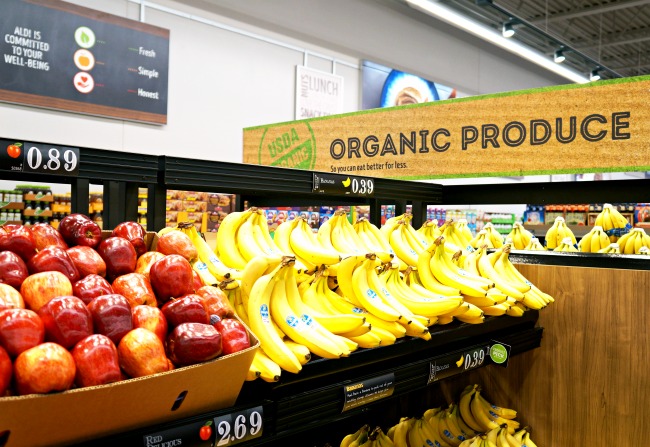 Wine
The wine selection at ALDI takes up about half a lane with super affordable wines. They come from all regions including Napa Valley and Italy. Their budget-wine is the Winking Owl line with different varieties and only $2.19! I picked up some chardonnay and served it during Easter. My guests had no idea that it was a low-priced wine!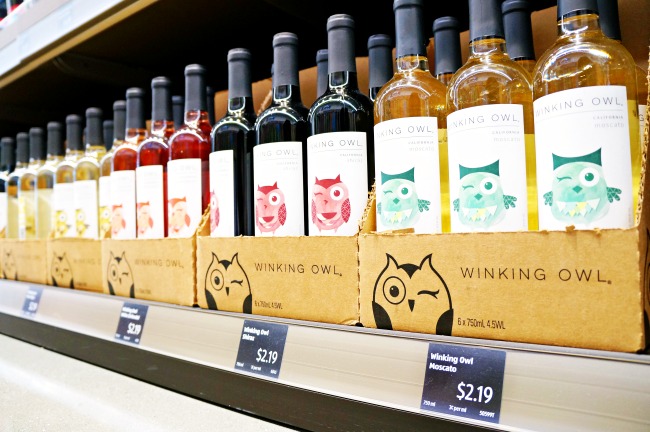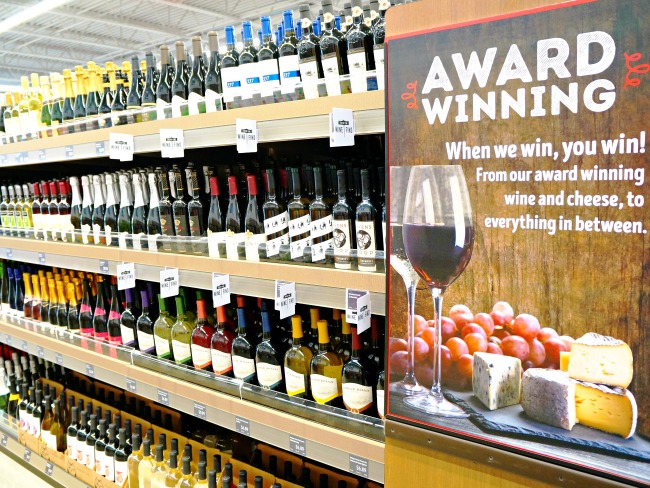 SimplyNature product line
Their private SimplyNature line consists of organic and/or all-natural products such as milk, almond butter and salsa. You'll find that ALDI organic products have an easy-to-spot "organic" seal on the packaging.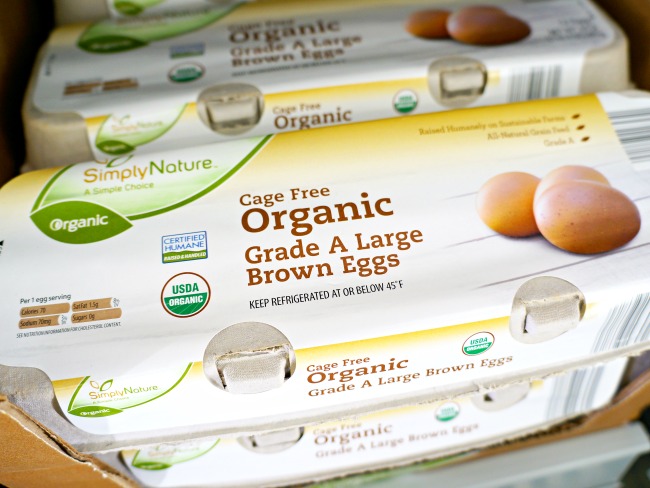 liveGfree product line
ALDI offers a variety of gluten-free foods through its ALDI liveGfree line. It includes everything from baking staples and mixes to breads, crackers, chewy bars, cookies, cereals, pastas, frozen foods and more. 100% of these items, along with all ALDI exclusives products will also be no trans fat added, no MSG added and no certified synthetic colors.
Specially Selected product line
My favorite line at ALDI is the Specially Selected line because it offers premium and unique items. You can easily spot these because they are packaged in sleek containers with black backgrounds on the lettering.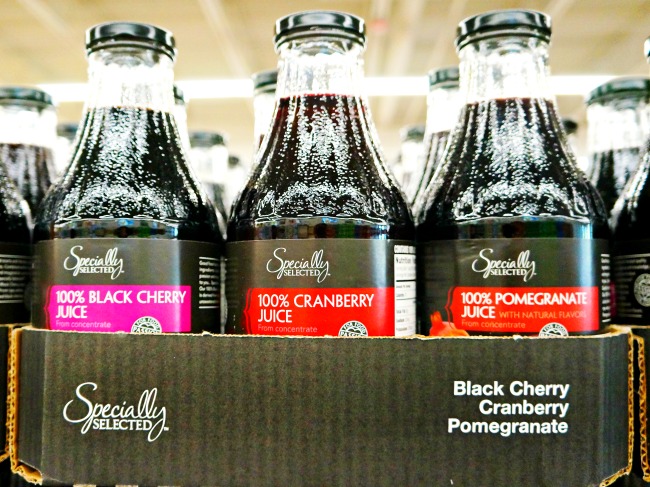 ALDI Finds products
ALDI Finds are premium food and household products that are only in stores for a limited time. The product variety depends on the season, and there's usually a theme for the week's Finds. You can find these specials noted in its weekly ads, online and on the ALDI app. When I shopped, they had a variety of Easter products and toys that went great in Easter baskets like little cars and airplanes.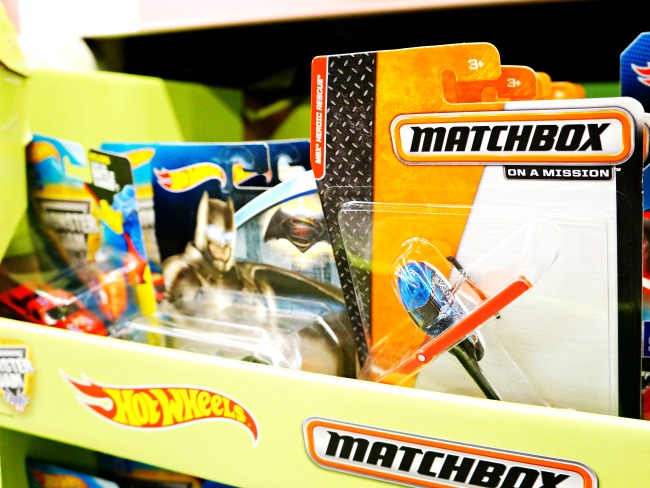 Upcoming ALDI openings in Southern California
ALDI stores in California are open from 9 am. to 9 p.m. for your convenience. And if you don't have an ALDI near you, keep an eye out because by the end of 2016, ALDI will open approximately 45 stores, with nearly 25 of those expected to open by July 2016. ALDI stores will be located in the eight southernmost counties of Southern California (Kern, Ventura, Los Angeles, Orange, Riverside, San Bernardino, San Diego and Imperial counties). Visit them on their blog, Facebook, Instagram, Pinterest and Twitter for recipe ideas, tips and updated news!
p.s. Note that they do accept EBT cards, but not WIC.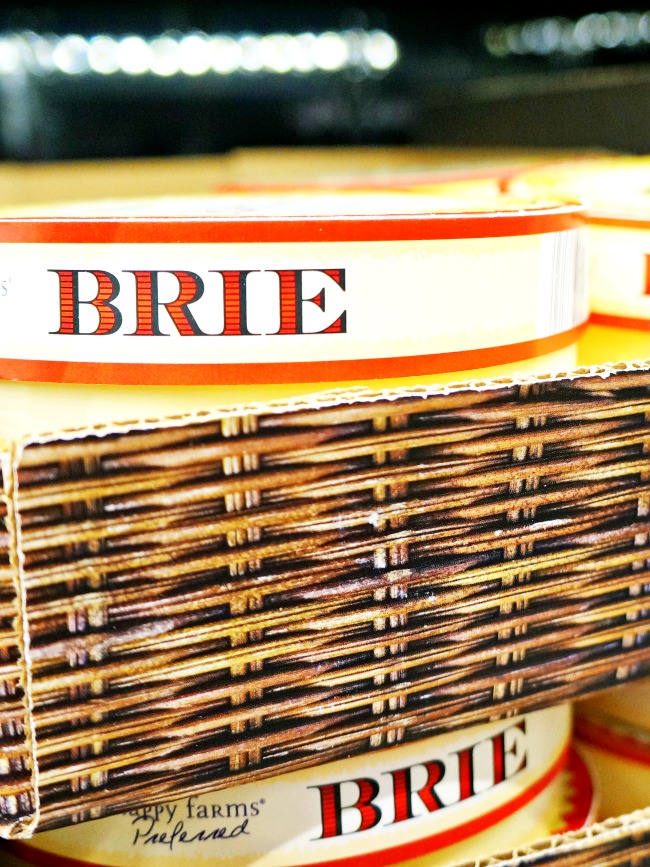 [disclaim]This is a sponsored post in partnership with ALDI. All thoughts and ideas remain my own.[/disclaim]
Originally published on April 7, 2016. Last Updated on April 20, 2016 by Pattie Cordova