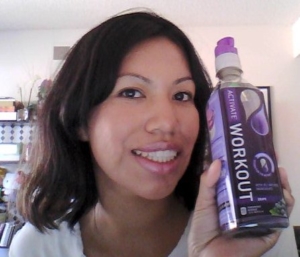 I tried my first ACTIVATE drink last week during and after my workout (that's me right before going into my workout). I was not disappointed. I was crossing my fingers that I wouldn't mess up the directions and somehow not be able to open up the vitamin top and dispense it into the water properly. However, even while on the elliptical machine, I was able to do it correctly and enjoy my freshly mixed drink!
About ACTIVATE
ACTIVATE is naturally sweetened with stevia – making it a guilt-free, 5-calorie drink (soon to be 0-calories!) with surprising flavor and no preservatives or sugar.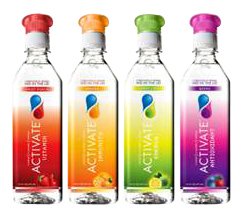 Image via ActivateDrinks.com
Did you know that vitamins and other healthy ingredients lose potency sitting in water? By storing the active ingredients inside the unique cap, separate from the water, ACTIVATE's vitamins stay fresh, potent and offer a convenient way to get a healthy dose of the nutrients your body needs to help you activate your well-being.
ACTIVATE offers a Core Line of drinks for everyday health maintenance – featuring Vitamin, Immunity, Energy and Antioxidant. They also offer a line of Workout drinks, packed with electrolytes and vitamins.
Taste Review
I have tried both the grape (workout) and lulu pear (multi-vitamin) flavors and enjoyed both of them. I thought they would have that "fake sugar" aftertaste but it tasted nothing like that. It had more of a watered down Kool-Aid taste. Something that I would definitely try again. I prefered the lulu pear flavor over the grape flavor, but only because pear seems more of a Summer drink.
ACTIVATE is sold in many major retailers. Go here to find your nearest retailer.
Video Review
This is not a sponsored post. i received complimentary samples to facilitate this review. All thoughts and ideas are my own.
Originally published on August 22, 2011. Last Updated on November 21, 2014 by Pattie Cordova