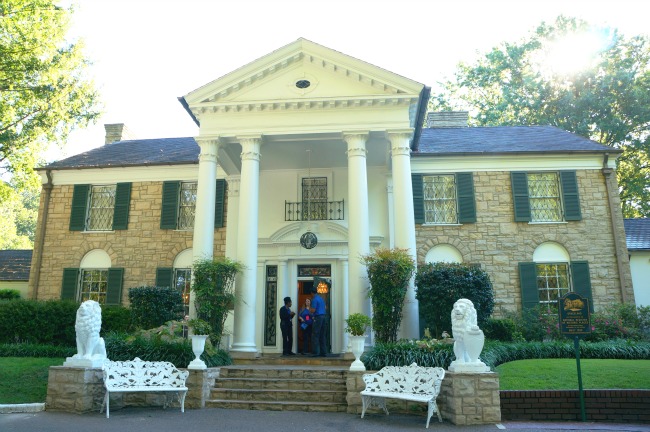 Last time I was in Memphis, Tennessee, I took a couple of hours to visit Elvis' home and do the Graceland tour. I had never been, and although I'm not an Elvis fanatic, I do appreciate his music and his story. So there I was, standing in front of Graceland with an iPad around my neck waiting for the John Stamos narrated self-guided tour to begin.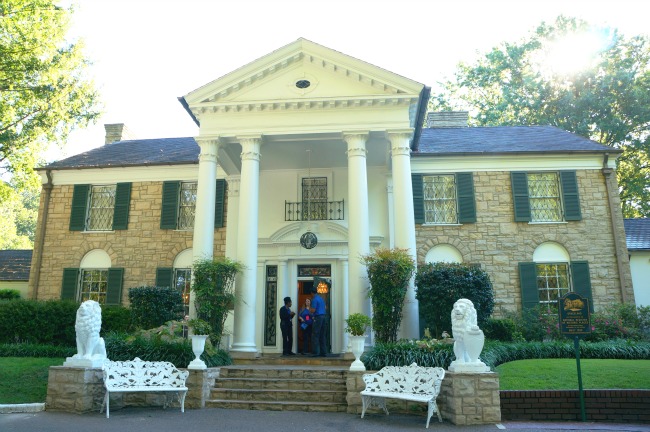 My Graceland visit had started across the street, by the gift shop. There, I purchased the Graceland Platinum Tour for $40. I upgraded from the regular Graceland Mansion Tour ticket because I wanted to catch a glimpse of his car collection. I had allotted two and a half hours to the tour, so I knew that I was going to have to miss out on a couple of exhibits.
Graceland Platinum Tour
Cost: $40
NEW – a multimedia iPad tour of Graceland Mansion and grounds
NEW- Graceland Archives Experience
a self-guided tour of Elvis' Automobile Museum
a self-guided tour of I Shot Elvis: The Exhibit
a self-guided tour of Elvis' Tupelo
a self-guided tour of Elvis' Hawaii: Concerts, Movies and More! Exhibit
Average Tour Time: 3 to 3.5 hours to complete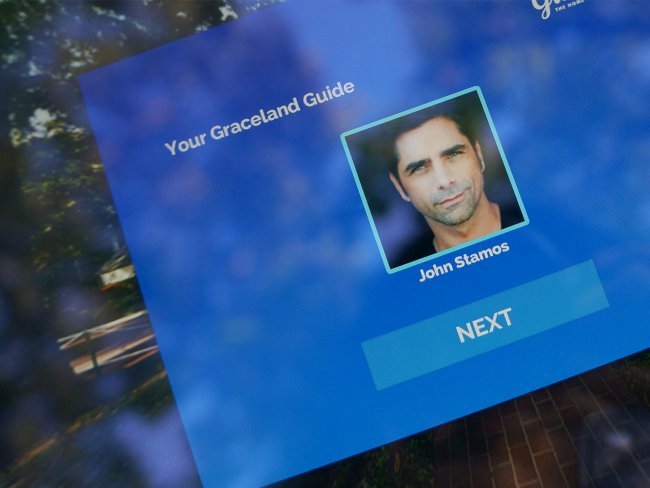 Tours are sold on the hourly basis, and if you take advantage of the free-admission walk-up visits to the Meditation Garden at Graceland, where the grave sites of Elvis and members of his family are located, know that you'll have to return to the shuttle bus pick-up location before your tour begins.
Once you purchase your tour ticket, keep an eye out for the tour loading information displayed by the shuttle bus line. They won't let you get on the bus if your tour group hasn't been called. Once on the bus, the shuttle will drive you across the street to the mansion and they'll drop you off right in front. There, you'll be held as guests are slowly allowed to head in to the mansion and start the tour.
From there, you're on your own and you can go as fast, or as slow as you want through the tour. John Stamos does a great job of narrating and I would have loved to have had more time to do the tour over again. It was fantastic and I came out a bigger Elvis fan than before the tour started.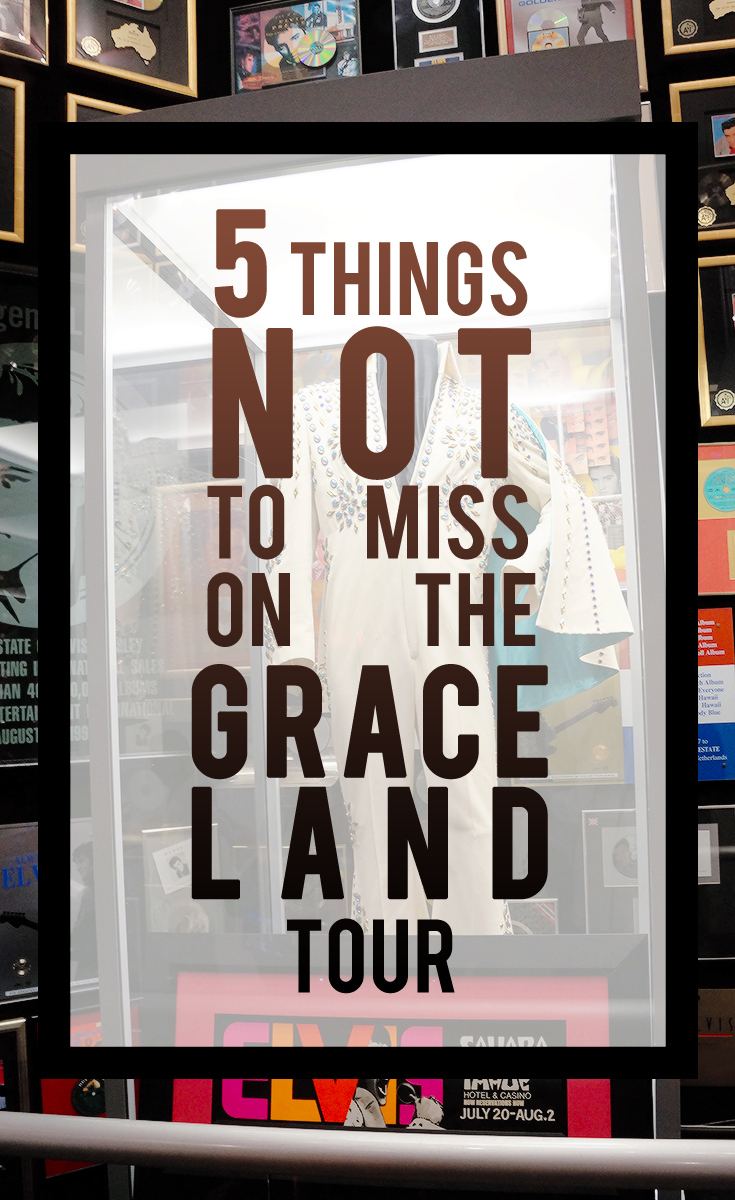 If you're planning on visiting Graceland, make sure you jot down these five things you can't miss on the Graceland Tour in Memphis, Tennessee.
Trophy Building
Have you ever seen a gold or platinum record? I've seen a few here and there, but nothing like this. Nothing like walls down the hallway filled with record after record detailing the success that Elvis had with his music. The building also has memorabilia from the movies that filmed and notes about his donations as a philanthropist. We quickly learned that he didn't hoard his money, he was very devoted to his fans and his country and demonstrated that through his donations.
The Trophy Building also houses popular outfits he wore at different appearances, including his wedding tuxedo and Army uniform.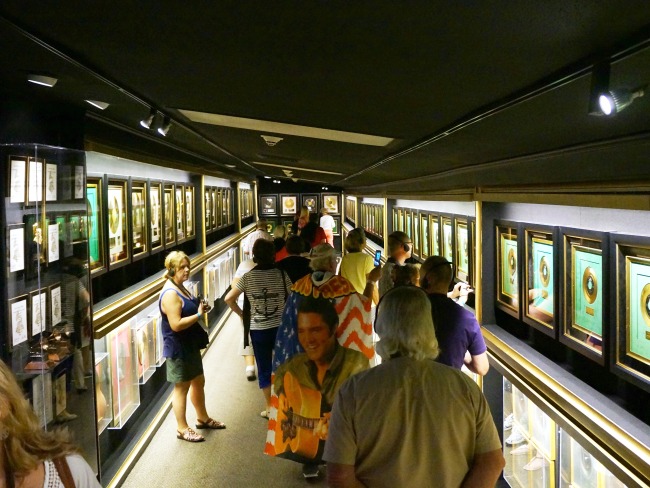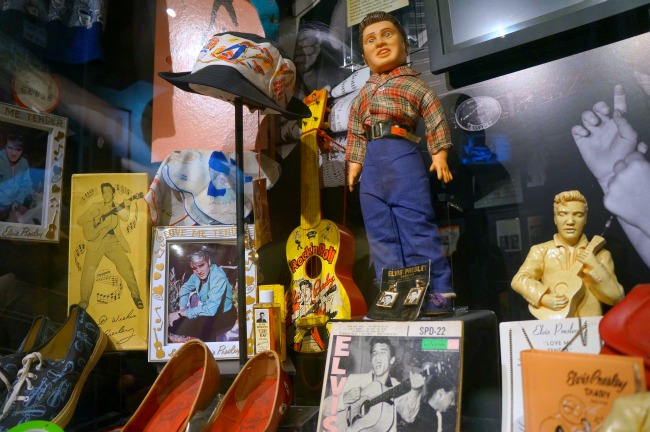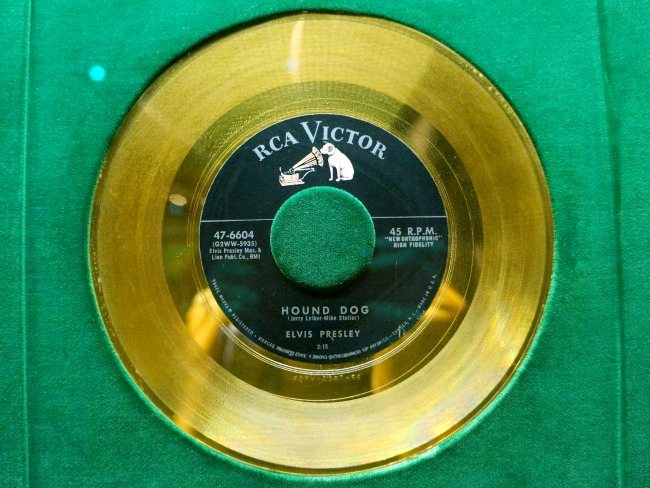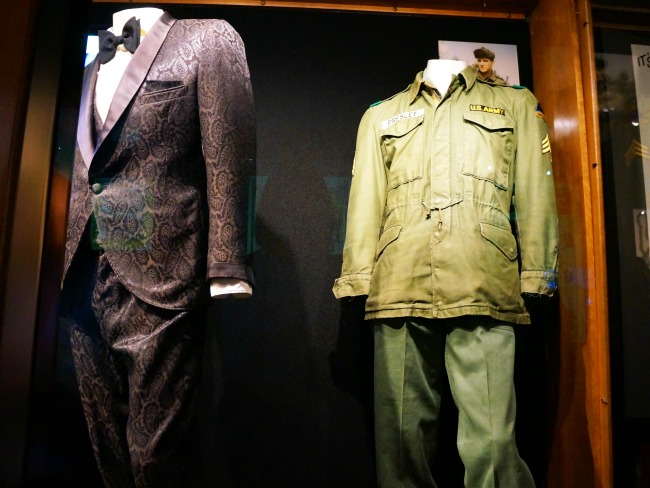 Racquetball Building
Turns out, Elvis loved playing racquetball. He had a court built in the backyard of his mansion and it included a small living room and even a bar. On your tour, you'll see it as the final resting space for amazing and iconic jumpsuits, a tv that shows a video of Elvis wearing the jumpsuits, many, many posthumously received awards and other Vegas memorabilia. It's a stunning room. You'll have one of those moments were you're just struck with awe at everything that he accomplished.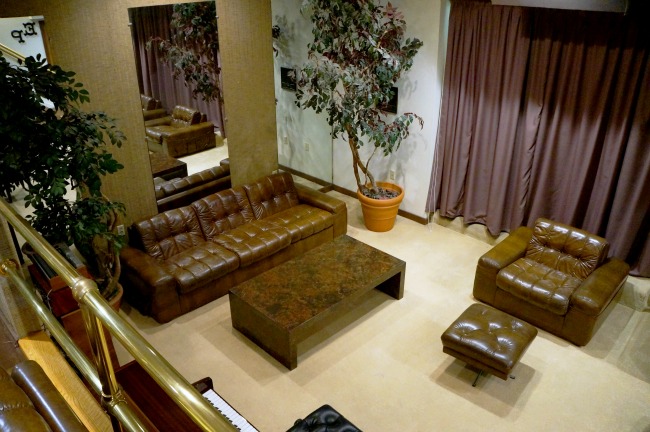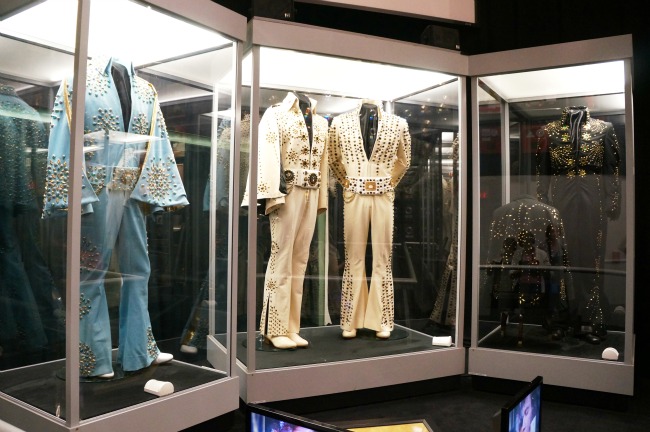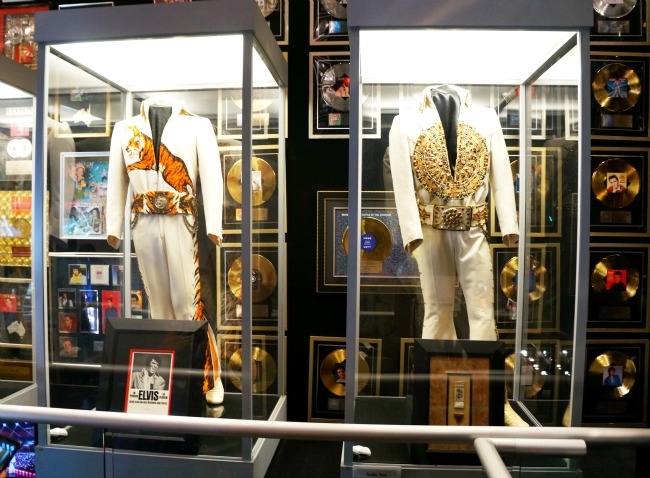 Pool Room
In 1974, three men took 10 days to cut and pleat the 100% cotton fabric and affix to the wall and ceiling. It is hung by tension rods along the walls, and stapled to the ceiling. There was even enough fabric left to upholster the sofas that sit in the room.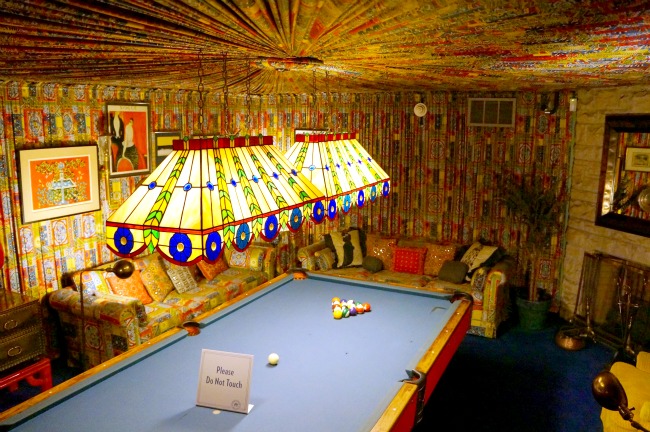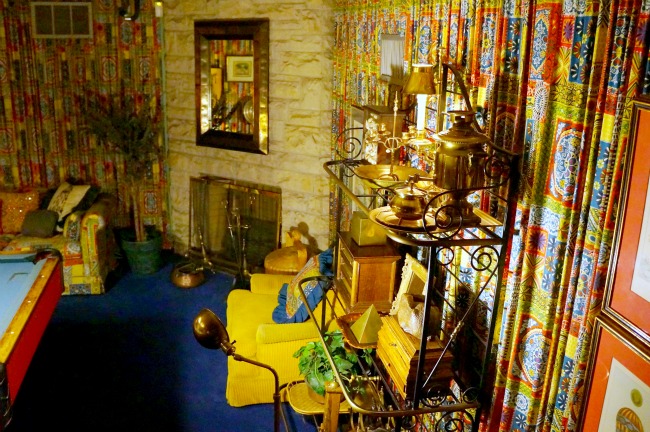 Jungle Room
The famous Jungle Room completed in the mid-70's is a tour stopper. So much detail went into this room with its green shagged carpets, carved wood furnishings and trinkets. It used to be Elvis' favorite room because it reminded him of his time in Hawaii. Notice the green carpet on the ceiling too – it was put there so he could record music and it would absorb the sound.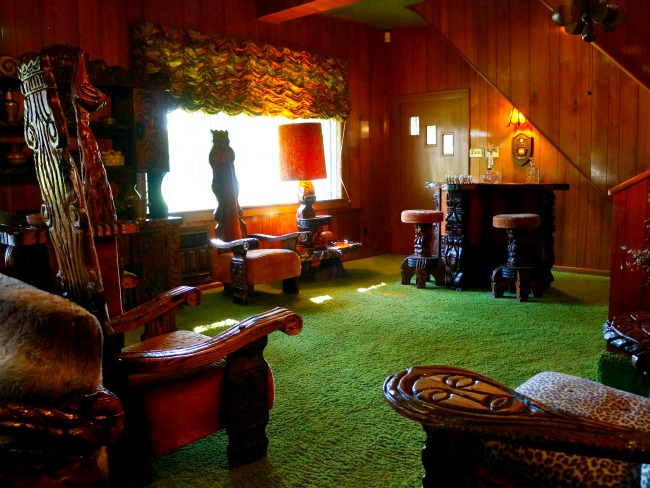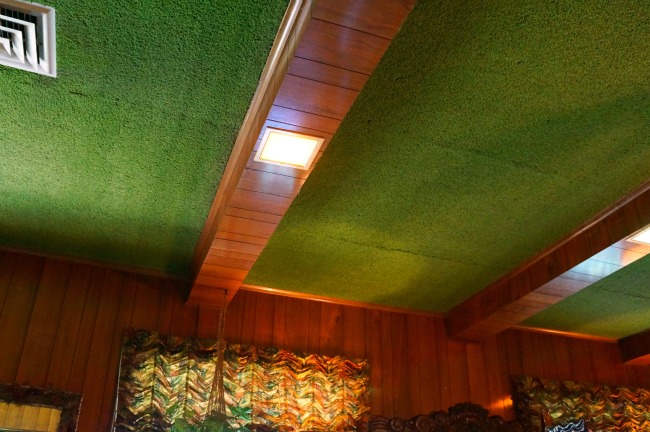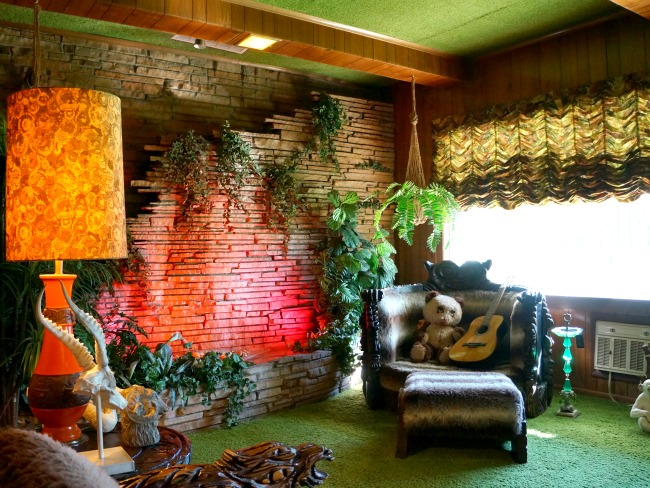 Meditation Garden
The last stop on the Graceland Mansion tour is the Meditation Garden. And yes, it's where Elvis and members of his family have been laid to rest. Tombs are placed in a semi-circle, with the second-to-last tomb being Elvis'. It's heartbreaking to see it. Especially once you've seen his entire life laid our in pictures, memorabilia and video during the tour. You can take as much as time you want here in the garden and you can bring gifts to lay on his tomb. There is also seating available. And if you want to do this before the tour, you can visit the garden between 7:30 a.m. and 8:30 a.m., free of charge.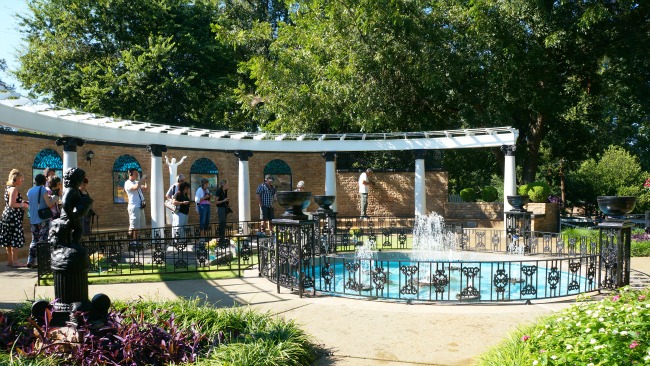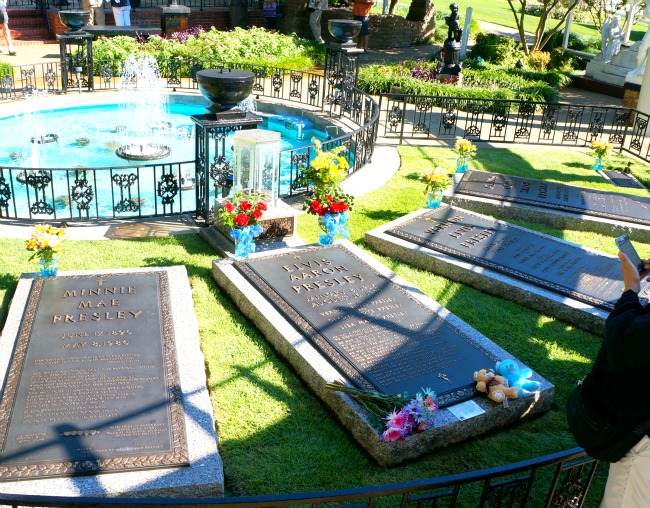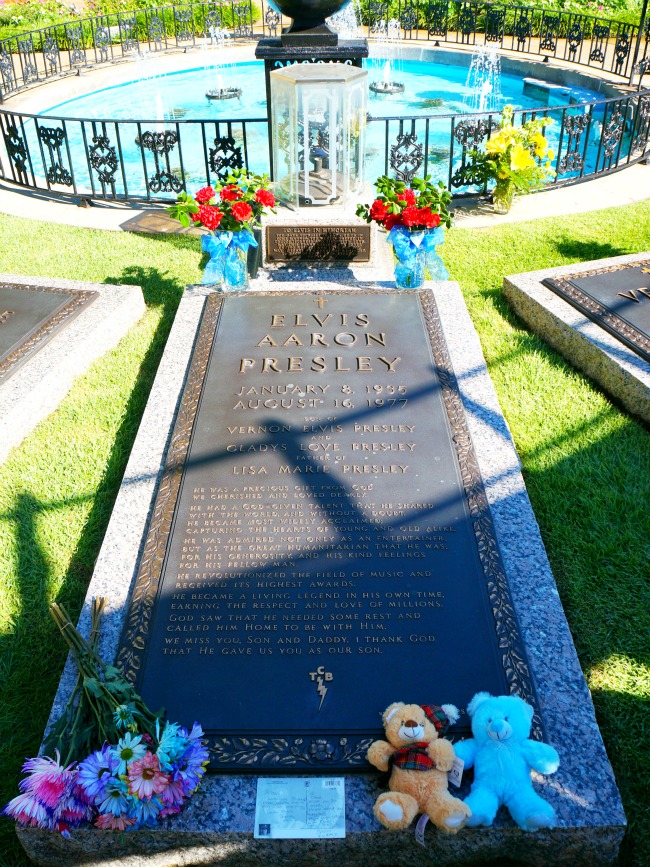 Bonus! I had two add two more "must-sees"
Elvis Presley Automobile Museum
This museum is located across the street from Graceland. Inside the building you'll see some of Elvis' favorite vehicles, including the Pink Cadillac! Unfortunately, it was on loan to another museum in Europe when I visited so I missed it.
However, I did get a chance to check out his Rolls Royce, the pink Jeep from "Blue Hawaii," the 1973 Stutz Blackhawk, as well as his other favorite motorized toys.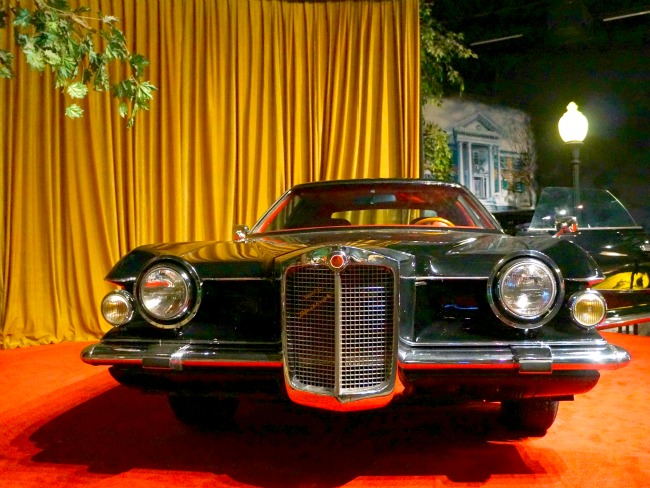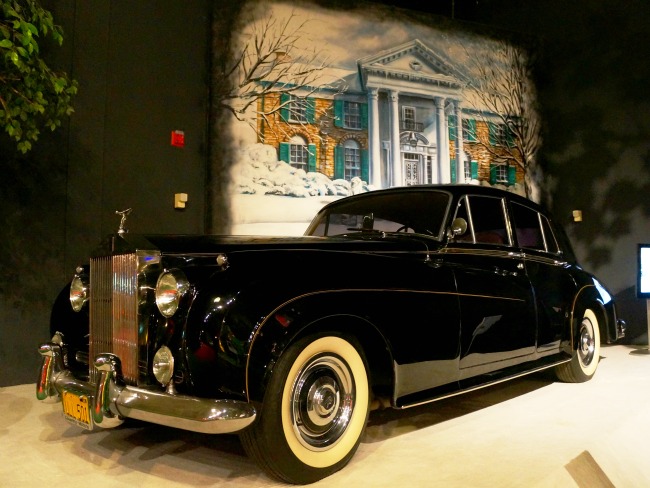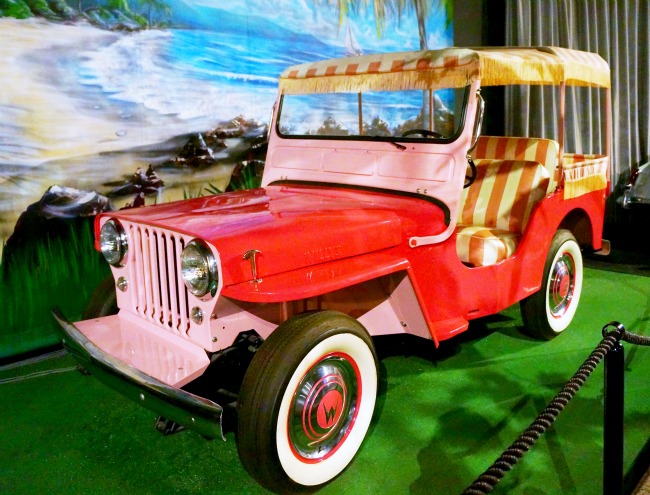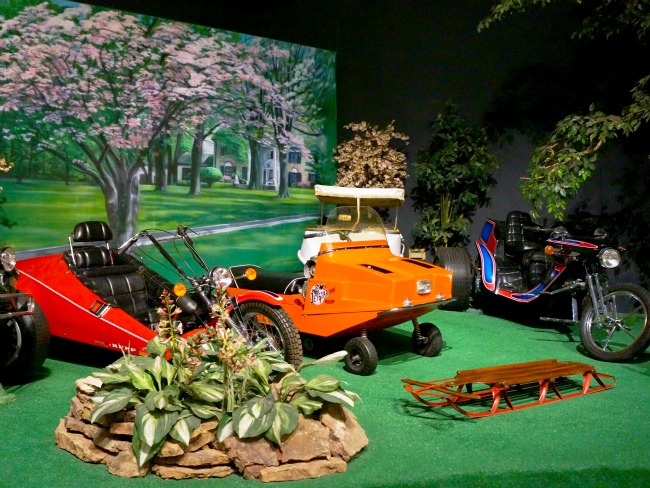 Wallpaper
It seems like such an insignificant part of the house, but the wallpaper was chosen by such care by Elvis to appease the style of the house and his mom. A lot of it was imported, and even now, looks as stunning as it must have looked while he lived there.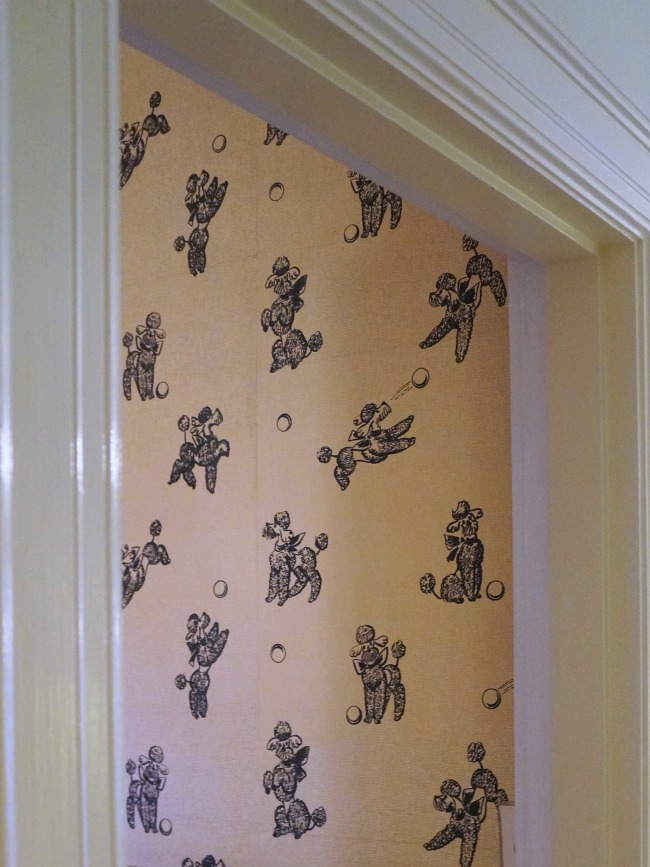 A visit to Graceland is one of those things that has to go on your bucket list, whether or not you're his #1 fan. Memphis is full of rich musical history, and Graceland is at the top of that history. It's a gorgeous setting and you'll leave with a deeper appreciation of everything that he accomplished during his short lifetime.
Originally published on December 24, 2015. Last Updated on January 21, 2020 by Pattie Cordova