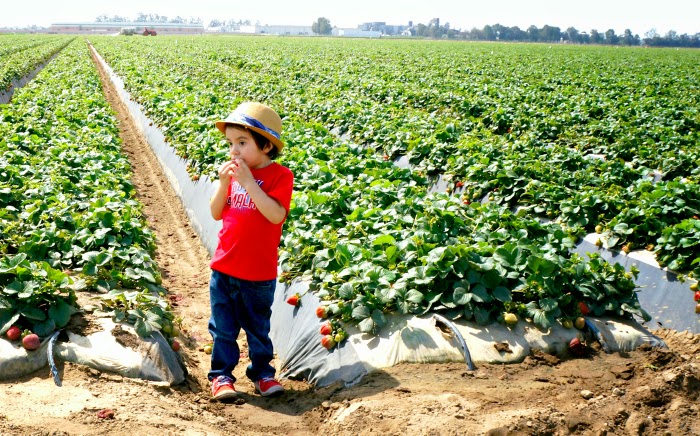 Now in strawberry season, we're sharing with you ten things you didn't know about strawberries. We'd also love to hear about your favorite strawberry recipes in the comments below!
A couple of weeks ago, the kids and I were fortunate enough to dive in to the delicious world of strawberries thanks to California Strawberries. We had two fun days filled with strawberries, food, friends, and a farm.
We began with a reception that included a wide spread of strawberries dishes (my favorite were the strawberry and goat cheese mini pizzas with reduced balsamic dressing) and a crash course on food safety. The next day, we were up and ready to head out into Terry Farms and oh my gosh… I learned so much about strawberries! We came home with boxes of strawberries and plenty of inspiration for new uses.
1. The average strawberry has about 200 seeds, and it's the only fruit that has its seeds on the outside.
2. There is no such thing as a GMO-free strawberry because there are no genetically modified strawberries commercially grown and shipped.
3. Different varieties of strawberries are developed for different climates and growing conditions. These varieties are developed using traditional breeding methods that involve selecting two parents and crossing them using their flowers.
4. Nearly 90 percent of U.S.-grown fresh strawberries come from California, with more than 1.7 BILLION pounds being harvested annually.
Fun fact: if California were a country, it would be the world's largest producer of strawberries!
5. Strawberries are grown primarily in California thanks to its year-round strawberry growing season. In fact, more than four hundred family farmers grow strawberries on approximately 40,000 acres from Orange County, all the way to the Monterey Bay.
6. Eight strawberries contain more vitamin C than an orange. They're also low in sugar, only about 50 calories and they're a great source of fiber, folate and potassium.
7. Nutrients and phytochemicals in strawberries help maintain a healthy heart, boost memory and may lower the risk of developing some types of cancer.
8. According to a recent study, eating strawberries more than twice a week appears to delay cognitive aging by up to 2.5 years!
9. Potassium found in strawberries can help control blood pressure and fight strokes. Plus, antioxidants, fiber and phytochemicals in strawberries have been shown to reduce total cholesterol levels.
10. The American Diabetes Association identified berries, including strawberries, as one of the top ten superfoods for a diabetes meal plan thanks to their low glycemic index.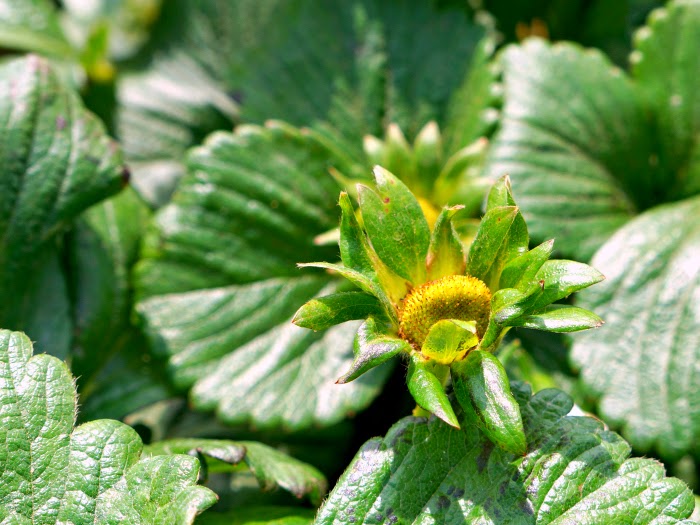 Strawberries start off as a flower.
Terry Farms was a great host and we learned so much at their family-owned farm. We also gained a much deeper appreciation for this hard-working industry.
Bonus facts about strawberry farmers
In California, there are more than 400 strawberry farmers, many from multi-generational farming families who grow both conventional and organic strawberries. California grows more organic strawberries than any other place in the world.
California's strawberry farmers are among the most progressive and environmentally conscious in the state. They have invested more than $13 million dollars in research and sustainable farming practices to reduce pesticide use and environmental impacts.
California's strawberry farmers use less than one percent of California's cropland, but create nearly 10 percent of all California's farm-related jobs.
Originally published on April 14, 2014. Last Updated on May 23, 2023 by Pattie Cordova