I had the opportunity to try some of the delicious foods that the LA County Fair will offer this year. Being a vegetarian, I'm sharing with you my top six picks that you just have to try – all vegetarian.
In no particular order.
Curly Fries via Monster Grill
Price: $8.75
Seasoned to perfection and available with extra toppings.
Cheese Frys via Fresh Frys
Price: $5.73
Pictured with cheese on the side. Reminds me of In 'n Out's fries.
Regular Chips and Chipotle "Dirty" Chips via Tasti Chips
Price: $7.02 and $13.76, accordingly
The chipotle sauce has a nice little kick to it. They are sold as Chipotle BBQ Beef "Dirty" Chips, just ask for them without the meat. It has a bit of blue cheese, green onion, tomato and so delicious.
The Original and The European (added jalapeño) slices via Ten Pound Buns
The vegetarian options are available in three different varieties and range between $7.11 and $7.80.
Blooming Onion with ranch dressing via Fresh Frys
Price: $8.26
The ranch dressing is super delicious. The kids (not normally a fan of onions) loved it!
Strawberry and Mango smoothies and Caramel Blended Coffee drinks via Cornucopia Cafe
Price:$5.29
The smoothies were fresh and the blended coffee drink is also offered in mocha flavor. I love my coffee, and this is definitely comparable to a coffee shop drink. It was not watered down.
I can't help it. I'm going to give you this bonus.
Not-vegetarian:
This deep fried Twinkie, with your choice of strawberry or chocolate glaze, via Chicken Charlie's was very popular with others. It was described as being super sweet. The cream filling inside melts when it's fried and coupled with the powdered sugar and glaze, it can get a bit too sweet.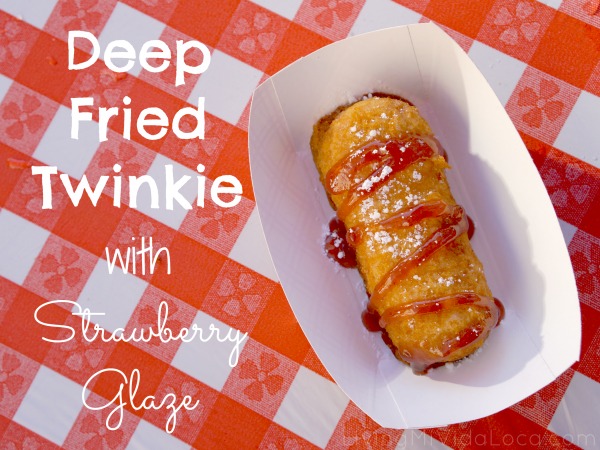 Originally published on August 31, 2013. Last Updated on January 3, 2018 by Pattie Cordova