Holidays
The DMV notice that I hoped would never come
I received a DMV notice in the mail. At first I thought it might just be an auto registration renewal. However, once I pulled it out of the envelope I saw that it was a driver license renewal notice. Okay. I can handle that. But then… I noticed that there was no online renewal code. Uh oh… that is NEVER a good thing. So then I keep reading and I come to this: "you must go into a DMV office to: 1) pay the $25 renewal fee 2) take a vision test 3) take a picture.
Yes, I have to go in and retake my driver license picture. I was hoping that this day would never come. I was hoping that by some pure chance I had been completely skipped the last few picture renewals and that I would never have to take another picture (or at least, not in the next 20 years). But no. I have to go in and have another picture taken! The DMV notice that I hoped would never come was finally here.
The last (and only) time I had my driver license picture taken was when I was 18. With my ponytail held high, I put on some lipgloss and called it a day. I look fresh, young and healthy. It was an effortless picture and one that I am proud of (and will happily whip out when needed).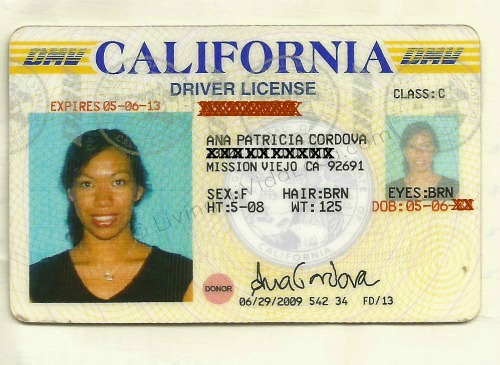 Current driver license
Now, I have to go in, two kids and a blogging life later, and actually attempt to do something to my hair, put on a full face of makeup and give it my best to look refreshed, well-rested and ready to take on the world. I'm not sure if I'm ready for a challenge. I know it's just a picture… but I'll have to show it to a lot of people during the course of the next 10 years and I want it to be good.
So there you have it. Now you know what i'll be doing in a couple of weeks. And of course, I'll let you know how it turns out. But for now, I feel the dark cloud looming over me.
p.s. I do realize that it may seem trivial to some, but I seriously wish I could pay $100 and keep my old picture. I mean, we pay more for personalized license plates, why can't we do the same for driver license pictures?
Are you happy with your driver license picture, or do you wish you could have a do-over on it?
Originally published on March 14, 2013. Last Updated on November 21, 2014 by Pattie Cordova