As a mom of two boys, I will never get a chance to present mi niñas in a Quinceañera dress. The Quinceañera, a rite of passage for young Latinas turning 15 years old, is a huge (I'm talking wedding huge) fiesta with every detail carefully planned out, including the most important detail of the event: the dress. This dress the Quinceañera will wear during her mass, for the fabulous pictures, and the grand reception. For me, it seems that an event like that deserves only the most beautiful dress. This is why I'm so in love with the new 2015 Disney Royal Ball spring collection. The line includes new Quinceañera gowns inspired by beloved Disney characters including Anna and Elsa from Frozen.
The Disney Royal Ball collection debuted in 2013 as the first ever line of Quinceañera gowns inspired by the inner qualities, personalities and stories of the Disney Princess characters. Designed in collaboration with Disney Consumer Products, the gowns combine elements of fantasy and magic to deliver a fairy tale experience to young Latinas celebrating their Quinceañera.
The spring 2015 line features 13 new gowns including a special edition design for "la Corona de la Princesa."
"With new dresses inspired by Anna and Elsa from Disney's Frozen , the collection offers reminders of even more inspiring and strong characters for Latina teens to channel on their special day."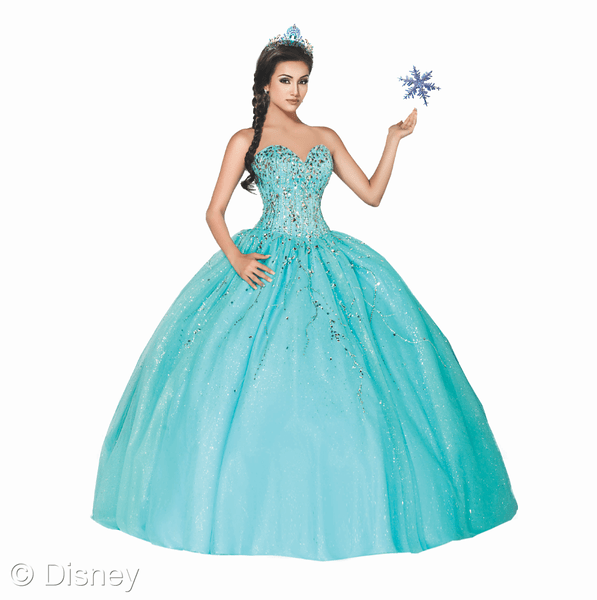 Full 2015 Disney Royal Ball spring line
Anna // Featuring contemporary "Rosemaling," (decorative painting) beadwork and graceful symmetry, this gown captures Anna's warmth and exuberance and shimmers with a natural and organic elegance.
Elsa // Inspired by snow and ice, this gown celebrates Elsa's magical powers with its dramatic palette of icy blues and deep purples that deliver a cool elegance reminiscent of the beauty that sets in eternal winter.
Jasmine // A whole new world awaits with this exotic gown's shimmering beadwork and beautiful silhouette that celebrate Jasmine's bold and adventurous spirit.
Mulan // This Chinoiserie-inspired organza ball gown captures Mulan's heroic spirit and valiant heart.
Ariel // Cascading waves of organza ruffles and oceans of jewels pay tribute to Ariel's courageous yet free-spirited nature.
Belle // Versailles-inspired beadwork and sophisticated silhouettes pay tribute to Belle's elegance, intelligence and beauty.
Cinderella // Inspired by Cinderella's graceful elegance, this timeless gown brings the magic of the ballroom to life, with embellishments including glamorous draping and delicate beadwork.
Sleeping Beauty // As alluring and beautiful as Aurora herself, this dreamy gown features a sweetheart neckline, delicate beadwork and whimsical skirt.
Snow White // Inspired by the compassionate nature and grace of Snow White, this stunning gown makes a graceful yet dramatic statement.
Tiana // This enchanting gown captures Tiana's confident attitude and independent spirit and is perfect for masquerading across the dance floor in a dazzling New Orleans style.
Pocahontas // Inspired by Pocahontas' courageous heart and love of nature, this gown celebrates the beauty of the earth and the sky, with cascading ruffles and elegant draping, adorned with dazzling beadwork.
Rapunzel // A tribute to Rapunzel's passion and artistic spirit, the cap-sleeve, organza ball gown features exquisite beading and a skirt inspired by organic, hand-rolled flowers, while the strapless style features a ruffled detachable skirt.
Corona de la Princesa // A special edition addition to the Disney Royal Ball Quinceañera Collection, this gown's ornate details celebrate being the ultimate princess.
The 2015 Disney Royal Ball spring collection is available now at specialty and formal wear retailers across the U.S. and Canada and is available for pre-order through select retailers. Dresses will be available in sizes 0-20 with MSRPs ranging from $530-$999. For more information on the Disney Royal Ball Quinceañera collection and retail outlets, please visit www.QuinceRoyalBall.com.
Originally published on October 22, 2014. Last Updated on August 9, 2017 by Pattie Cordova