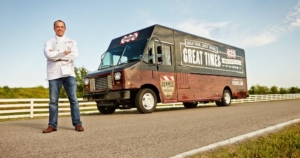 Summer of Fridays has officially kicked off with the launch of the TGI Fridays Handcrafted America Tour – a multi-city journey through the hottest sights and sounds of the U.S. The tour features two custom-built food sampling trucks that will serve up free tastes from the new summer menu at Fridays, including a slider version of the All-American Burger, Ahi Tuna Crisps and the popular Best Fridays Margarita.
Although the food and drinks are certainly a highlight of the tour, there is more to be had because along the way, Fridays will identify and highlight fascinating and unique local handcrafters at each tour stop, such as Bostonian Molly Rosner, the force behind the American Dream House original pop art paintings, clothing and home accessories; "San" Bellino also of Boston, one of the few mobile baristas who is gaining popularity by delivering handcrafted espressos in his tricycle, and Chad and Brandy Dressen of Carver Junk Company, shopkeepers who specialize in handcrafted wares and furniture from local Minnesota artists. Full profiles of each handcrafter will be posted to the tour's site: http://www.summeroffridays.com/.
The tour is live now and you can follow the Fridays Food Truck with hashtag: #SummerofFridays. The tour ends in July after reaching approximately 1.2 million people. Full schedule below.
Schedule
Detroit, MI: May 27-June 1
Red Bank, NJ: May 27-June 2
Chicago, IL: June 3-8
Garwood, NJ: June 5-8
NYC/Brooklyn, NY: June 10-15
Cleveland, OH: June 11-15
Washington, DC: June 17-22
Pittsburgh, PA: June 17-22
Tuckerton, NJ: June 24-29
St. Louis, MO: June 24-29
Houston, TX: July 1-6
Philadelphia, PA: July 1-6
Dallas, TX: July 8-13
Richmond, VA: July 8-13
Louisville, KY: July 15-20
Baltimore, MD: July 15-20
Atlanta, GA: July 23-27
Tampa, FL: July 23-27
Follow Fridays
Originally published on May 29, 2014. Last Updated on August 1, 2017 by Pattie Cordova