[disclaim]This is a sponsored post.[/disclaim]
The kids and I spend over an hour in the car every day. We talk, plan and listen to music. Unfortunately, sometimes there's not a lot of music playing. The radio commercials seem to be never-ending and the kids get antsy. So I created a Spotify playlist with my kids favorite songs.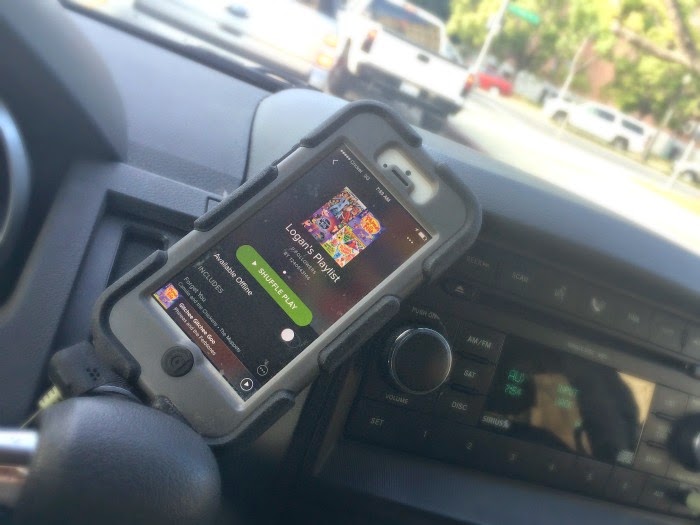 The playlist has everything from "Gitchee Gitchee Goo" from Phineas & Ferb to "On the Floor" by JLo featuring Pitbull. Anything we hear a song on the radio that they like, I hop over to Spotify and add it to their playlist. Needless to say, it's a pretty interesting list. But hey – the kids love it! And the free version of this app gives us just a few seconds of commercials every once in a while, instead of minutes of ad times every few songs.
Because we depend on Spotify so much, it's crucial that we have an unlimited data plan for our cell phone. That's why we rely on Cricket Wireless.
Cricket Wireless offers a nationwide network with simple plans and no annual contract. As an ambassador for Cricket Wireless, I was immediately impressed with the option of owning an iPhone 5S and still be under a month-to-month contract. Of course, there are much more affordable phones available on their site, like the ZTE Prelude – it's only $49.99 and it offers a $50 mail-in rebate Cricket Visa Promo Card. So that makes it free!
I take full advantage of our unlimited plan features by constantly streaming music and videos, send many text and photo messages to friends and family, and even text my cousins in Mexico! I really like not being held back by overage charges.
You should know that certain phones will get 4G LTE service. It will basically be lighting fast. My iPhone only gets 3G for now, but I've found that it's good enough for me. Whenever possible, I do try to go on WiFi to see if it's faster.
I invite you to check out CricketWireless.com for more information on Cricket Wireless service, plans and phones. You should also check out the add-ons, especially if you need phone protection, have family and friends outside the U.S. and want more data. And of course, if you have a must-have song that I need to add to our playlist, please share in the comments below! We're always on the hunt for new music.
[disclaim]This is a sponsored post on behalf of Cricket Wireless. I received compensation and cell phone service to facilitate this post. All thoughts and ideas remain my own.[/disclaim]
Related Posts
Originally published on May 20, 2014. Last Updated on January 2, 2019 by Pattie Cordova