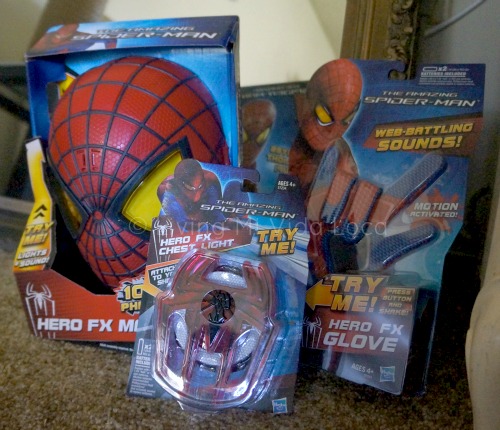 My little man received an early birthday/Christmas present this year – three very awesome, very fun Hasbro Spiderman toys – the Spiderman Hero FX mask, Spiderman Hero FX glove and Spiderman Hero FX chest light. All have received rave reviews from my boys (ages 5 and 18 months).
I'm pretty sure these toys are meant for kids that are just a little bit older – however, my kids will make them work if they want them bad enough. Hence, here above is my 5 year old with a mask that is just a little too big for this head, and gloves that have a strap as tight as it can be, but still a little too big. The chest light fits just right.
And below is my 18 month old who doesn't care just how big everything fits, he wears them, owns them and shrieks when the play toys are taken off.
Having a house full of boys means there's a lot of jumping, running and pretending to be super heroes. These fun Hasbro Spiderman toys makes pretend play even more fun.
The Spiderman Hero FX mask has straps to secure it to the kids head from all angles. You can make it tight enough to fit an 18 month's old head (like my kid above), he won't be able to see very well though – but at least he can walk around and not have it fall off.
Another cool feature on the mask is the button that you can press and hear Spiderman's voice. It has a few catch phrases that it throws out and the button is very nicely camouflaged. The batteries are inserted on the top of the mask under a little placket. Also camouflaged.
The glove has a huge button that goes on the bottom of the wrist and when you press it, it makes web-slinging sounds. I prefer this glove to the one that actually shoots webbing because there is no mess. I couldn't imagine having to go throughout the house picking up the web mess. The sound effects work just fine for us.
The one-size-fits-all Spiderman Hero FX chest light is my fav. I like it because it's easy to put on (there's two pieces to it – one goes under the shirt, the other goes over the shirt), it makes cool sound effects and it lights up. This makes evening play that much better!
Really, you can't go wrong with any of these Spiderman Hero FX toys. They are affordable, very fun, easy to use, and you can re-use them as Halloween costume accessories!
Originally published on December 8, 2012. Last Updated on August 12, 2018 by Pattie Cordova