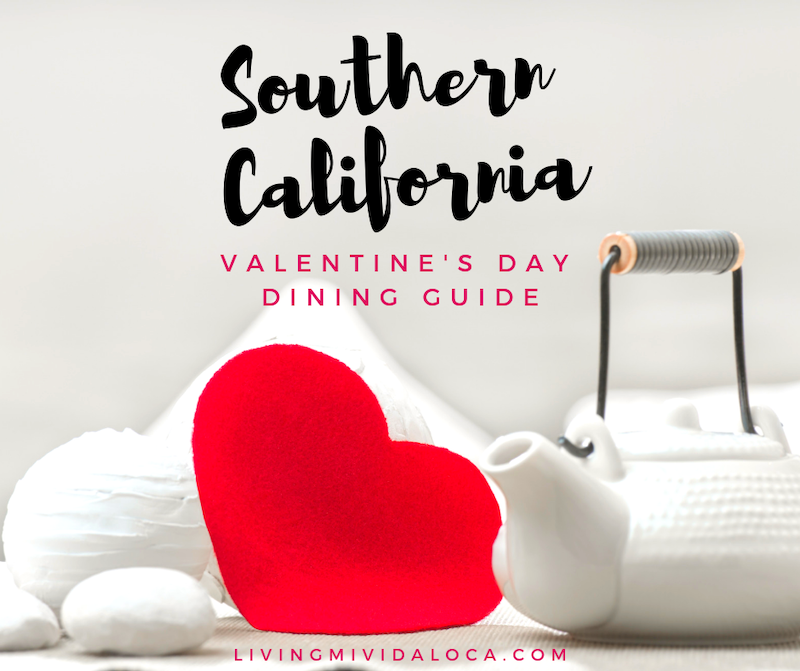 Valentine's Day is coming up soon and you can bet that reservations will soon be filled at the hottest spots in Southern California to spend this love-filled day. This handy Southern California Valentine's Day Dining Guide includes tips and notes on special menu options as well as phone numbers so you can call ahead and make a reservation.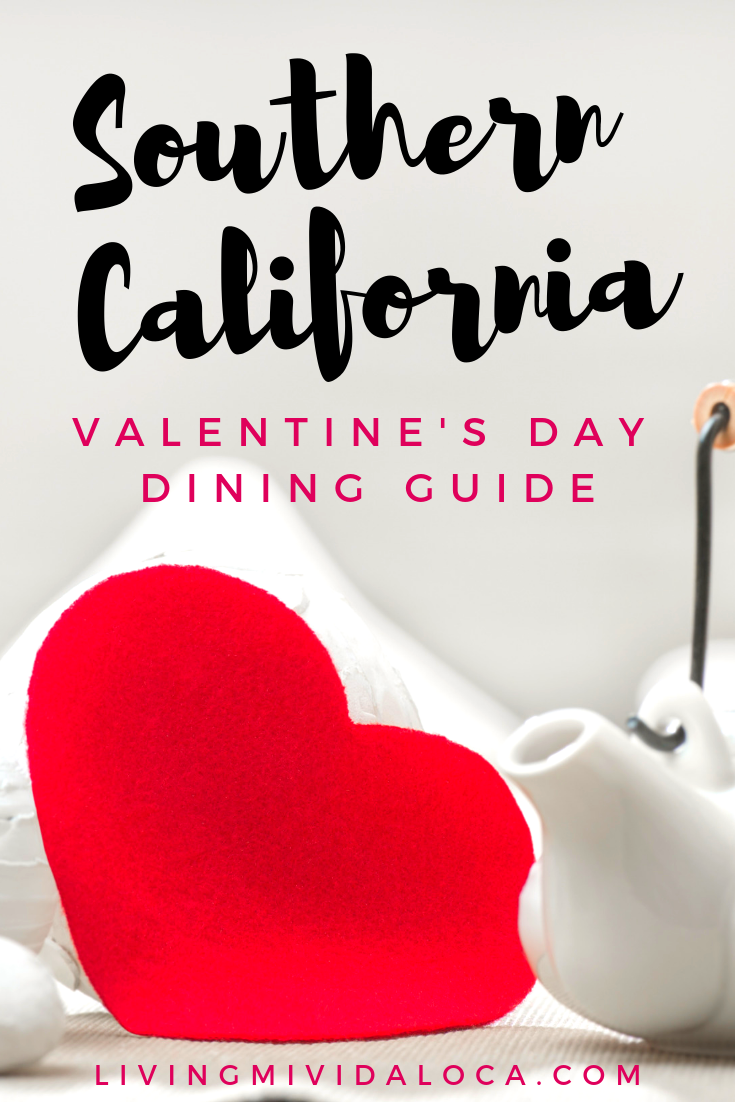 Southern California Valentine's Day Dining Guide
CATAL Restaurant & UVA Bar
1580 Disneyland Drive
Anaheim
714.774.4442
www.patinagroup.com/catal/
Cost: Three-course Valentine's Day prix-fixe menu: $80 per person (tax and gratuity are not included)
Catal is celebrating Valentine's Day on Thursday, 2/14. The Valentine's Day menu at Catal includes entrees such as:
* Beef Tenderloin with crushed potatoes, asparagus, crispy onions, red wine sauce
* Baja Striped Bass with butter poached easter egg radish, braised leek, olive, fennel citrus vinaigrette
* Pork Tenderloin with vanilla celery root puree, roasted broccoli, luxardo bacon jus
* Rack of lamb with tabouli, provencal tomatoes, herb butter, braised lamb shank
Five Crowns
3801 East Coast Hwy
Corona Del Mar, CA 92625
lawrysonline.com/five-crowns
Cost: $150 per couple. One glass of wine per person is included. Tax and tip additional.
Treat your loved one to a romantic evening at Five Crowns this Valentine's Day with a decadent four-course dinner for two, courtesy of Executive Chef Alejandra Padilla from 5pm to 9pm. Entrees include:
* Double Cut Pork Chop with cherry mustard sauce, broccolini, roasted sweet potato
* Potato Horseradish-Crusted Salmon with mustard cream sauce, green bean
* Pasta with spinach, ricotta, artichoke
* California Cut Prime Ribs of Beef with au jus, Yorkshire pudding, whipped cream organic horseradish
Back Bay Bistro
1131 Back Bay Drive
Newport Beach, California 92660
949.999.3170
newportdunes.com/valentines-day-menu-at-the-back-bay-bistro/
Cost: $75 per person. Ticket includes 4-course dinner with special performance. Beverages, tax and 18% gratuity not included in per person price. Free validated parking when you enter from the 2nd gate on Back Bay Drive.
Special Valentine's Day entrees include:
* Pan-Seared Petrale Sole with crab meat, risotto, broccolini, citrus cream sauce
* Center Cut Filet with roasted fingerling potatoes, carrots, asparagus, green peppercorn sauce
* Chicken Piccata with lemon caper sauce, artichoke hearts, angel hair pasta
Silva's Fresh Brazilian
3672 S Bristol Street
Santa Ana, CA 92704
(855) 600-5500
https://www.silvasfresheatery.com/
Cost: $80 for two. Cost includes all you can eat, glass of wine and dessert for two.
Amber Waves at Knott's Berry Farm Hotel
7675 Crescent Ave
Buena Park, CA 90620
714-995-1111
https://www.knotts.com/stay/amber-waves
Cost: $39.99 for two. Meal includes appetizer for two, beverage per person:, entrée per person and dessert for two. No season pass or other discounts apply.
Special Valentine's Day entrees include:
* Petite Filet Mignon with Scampi
* Lemon Caper Salmon
* Grilled Chicken Pasta
* Vegetarian Ratatouille
---
Los Angeles Restaurants
Ray's | Stark Bar
Located at LACMA
5905 Wilshire Blvd.
Los Angeles, CA 90036
Museum admission not required.
323.857.6180
patinagroup.com/rays-and-stark-bar
Cost: $85 four-course & $35 wine pairings, plus Anti-Valentine's Day Specials at Stark Bar from 5pm – 8pm.
Guests enjoying the prix-fixe at Ray's will receive a complimentary glass of Patina Cuvee, plus a sweet takeaway from Chef! Tax and gratuity not included, menu subject to change. The special Valentine's Day menu at this restaurant located inside LACMA is:
* FIRST (Choose One)
Big eye tuna crudo – Tapioca, yuzu dashi vinaigrette
Heart of palm tartare – Saffron, castelvetrano olives
* SECOND (Choose One)
Risotto all'oro
Wagyu tartare al tartufo nero
* THIRD (Choose One)
Poached turbot – Celeriac veloutte, morel mushrooms
Roasted rib eye cap – Caviar hollandaise, potato mousseline
* FOURTH (Choose One)
Caramelized apple pie – Crème fraiche, caramel sauce
Dark chocolate cake – Espresso ice cream
Cafe Pinot
700 West 5th Street
Los Angeles, CA 90071
213.239.6500
patinagroup.com/cafe-pinot
Cost: $70 Three-Course & $85 Four-Course Menus (tax and gratuity are not included)
Cafe Pinot is a California French-inspired restaurant in Downtown Los Angeles offering stunning outdoor dining on our garden patio from 5pm – 8:30pm. The special Valentine's Day menu at this French restaurant includes entree options including:
* John Dory with Peas, Asparagus, Leek Confit, Buttermilk, Dill
* Beef Tenderloin with Roasted Carrot, Brussel Sprouts, Morels, Hazelnut
* Whole Roasted Mushroom with Quinoa Risotto, Snap Peas, White Asparagus
For dessert, choose either Strawberry Shortcake or Chocolate Brioche Pudding
Harbor Breeze Yacht Charters and Cruises
100 Aquarium Way, Dock #2
Long Beach, CA 90802
(562) 983-6880
https://tickets.harbor-cruises.com
Cost: Couple 21+ Sweetheart Table – $250 (unassigned location). VIP Table up to 10 people – $1,500 (priority boarding, window seating). VIP Couple 21+ Sweetheart Table – $300 (priority boarding and assigned window seating)
It is a tradition in Long Beach Harbor to enjoy a Valentines Dinner Cruises and this year Harbor Breeze Cruises is especially thrilled to be able to host this event aboard the beautiful, brand new "Sir Winston." Couples will enjoy a romantic 3 hour dinner cruise around the Long Beach Harbor, a delightful sit down dinner with tray passed Hors d' Oeuvres, free flowing champagne throughout dinner, hosted well bar, DJ on board for moonlight dancing under the stars on open deck.
Guests can choose from two dates:
Saturday, February 9th; Boarding 7:00pm, Cruise 7:30pm-10:30pm.
Thursday, February 14th; Boarding 7:00pm, Cruise 7:30pm-10:00pm.
Embassy Suites by Hilton Mandalay Beach Resort
2101 Mandalay Beach Road
Oxnard, California, 93035
805-984-2500
www.mandalayembassysuites.com
Cost: The cost is $75 per person with an option for an extra $30 wine flight to accompany the meal. Reservations
can be made starting at 5 p.m.
The menu consists of a salad course followed by the main entrée where guests have a choice of:
* Stuffed Chicken Breasts
* Beef Wellington
* Pan Seared Halibut
* House Made Beet Pappardelle
The evening is topped off with a choice of two decadent desserts consisting of Molten Chocolate Cake or White Chocolate Raspberry Crème Brulee.
Far Bar
347 E 1st St
Los Angeles, California 90012
213-617-9990
https://www.farbarla.com
Cost: Three-course $45 per person meal.
Enjoy a colorful evening on Far Bar's romantic skylit patio offering a deliciously special three-course meal. Ignite the evening with a heartwarming bowl of lobster bisque, a choice of white bass and butternut squash or flank steak with chimichurri as the entrée, and finish off with a passion-filled slice of red velvet cake.
Farmhouse
at Roger's Gardens
2301 San Joaquin Hills Rd.
Corona del Mar, CA 92625
(949) 640-1415
http://farmhouserg.com
Cost: A la carte
The seasonal menu will include seven new, special Valentine's Day dishes including two small plates, two mouthwatering individual entrees, two shared entrees and one decadent dessert. Toast to your loved one with "Heart Beets", a specialty cocktail crafted by Anthony Laborin, head of Cocktail R&D. Offered through the month of February and comprised of tequila, chartreuse, beet simple and pineapple, the refreshing, vibrant red beverage will be the perfect complement to a magical evening under the stars.
Originally published on January 29, 2019. Last Updated on December 31, 2022 by Belinda Espinoza Simon