When we found out we were expecting bebe number two we kicked ourselves for not saving any of my now three-year old son's stuff – no clothes, equipment and definitely not the infant car seat. So we've been looking at car seats for a while and fell head over heals in love with the Safety 1st onBoard 35 Air infant car seat. We kept seeing the product featured at different stores and just by the feel of it, we knew our baby would be comfortable and safe strapped into this particular car seat. You cannot feel that plastic under the seat when you push down – just plushness. This infant car seat remained at the top of the list and I was beyond ecstatic when Safety 1st sent me my very own Safety 1st onBoard 35 car seat to review.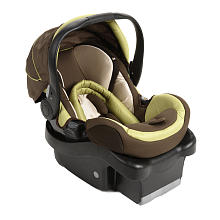 My top three reasons why I love the Safety 1st onBoard 35 Air Infant Car Seat:
Air Protect technology
Through the precise release of air, Air Protect™ shields children from side impact intrusion and immediately reduces crash forces at the most critical spot: around a child's head. Air Protect™ does this by extending ride-down, the amount of time it takes to slow a child's movement in a crash. – Safety 1st
You can feel this technology when you press down on the sides of the car seat. I love it.
Weight limit
This car seat (and car seat base) is longer than others (17% more leg room according to Safety 1st), which I personally love because this means that my little one will fit in it for a longer period of time. According to Safety 1st, it's safe for babies who weigh between 4 lbs. and 35 lbs. My three year old weighs just over 35 lbs. so I could theoretically use it for the next three years. I drive a Dodge Grand Caravan so I don't think it'll be a big issue fitting this car seat in the back.
Easy installation
the one-click LATCH installation system makes for a super-easy and super-fast installation process. It even has a level on the side that lets you know if the car seat is in the correct position for the baby (according to weight). If you choose to use the seat belt to secure the car seat, it has this base belt lock that secures the car's seat belt during installation.
Of course, you have the Safety 1st name that stands behind this product and that means a lot to me too. You can check out their full line of Air Protect products here. Safety 1st is also on Facebook and they continuously have contest and giveaways for different Safety 1st products.
I've also uploaded a video of the unboxing of our Safety 1st onBoard 35 infant car seat. You can watch it below or click here to jump on over to YouTube.
[disclaim]The Safety 1st infant car seat was provided to facilitate this review. All opinions expressed in this review remain my own and have not been influenced by others. [/disclaim]
Originally published on February 26, 2011. Last Updated on February 19, 2016 by Pattie Cordova