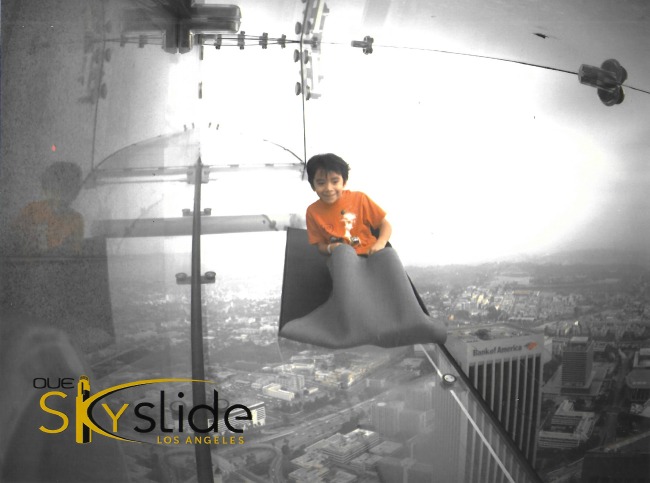 We live in Southern California, and so sometimes we skip doing some things that we may consider "touristy" because we feel like it's always going to be there. That's the only reason I can think of as to why we hadn't been to OUE Skyspace Los Angeles before our first visit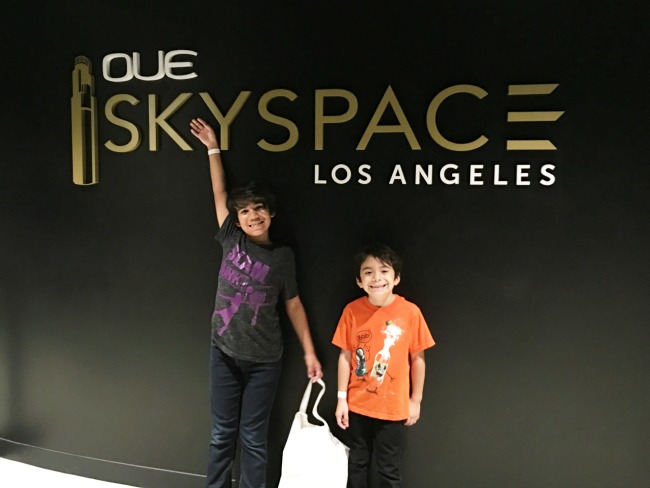 Visiting OUE Skyspace
OUE Skyspace Los Angeles is the tallest open air observation deck in California and it just opened in June of 2016. It's super new, located in downtown Los Angeles and completely different from anything else that we have in Southern California. I think if I'm equating it to any other tourist-focused attractions that we've done, I'd have to say it's like visiting the Empire State Building.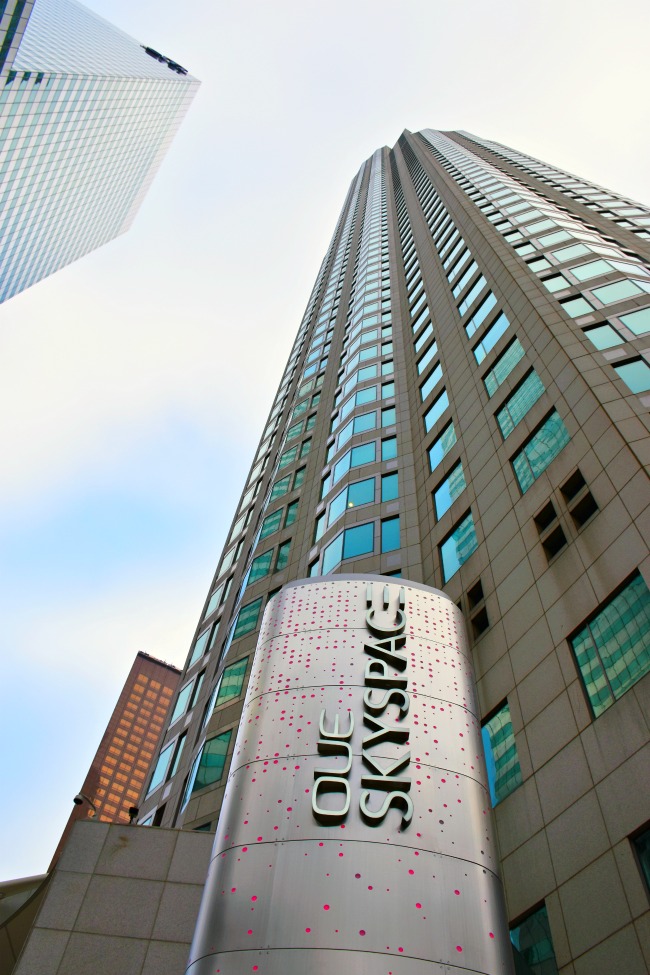 Its location, the US Bank Tower, offers its visitors 360-degree views, but it doesn't stop there. Inside, you can purchase a ticket to go on the thrilling Skyslide! The Skyslide is a 45-foot slide that is made of four inch thick glass and situated outside the building running from the 70th to the 69th floor of the US Bank Tower. If you're not feeling up for the slide, you can also take advantage of the two observation decks and telescopes that allow you to see everything from the San Gabriel Mountains to the Pacific Ocean.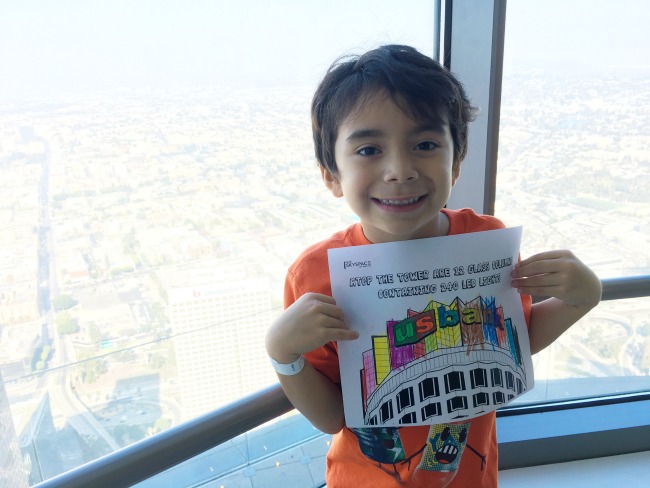 Your visit to OUE Skyspace Los Angeles starts with a gorgeous wall with Southern California-inspired paintings outlined in black and highlighted with gold. It makes for a gorgeous backdrop to your first of many pictures.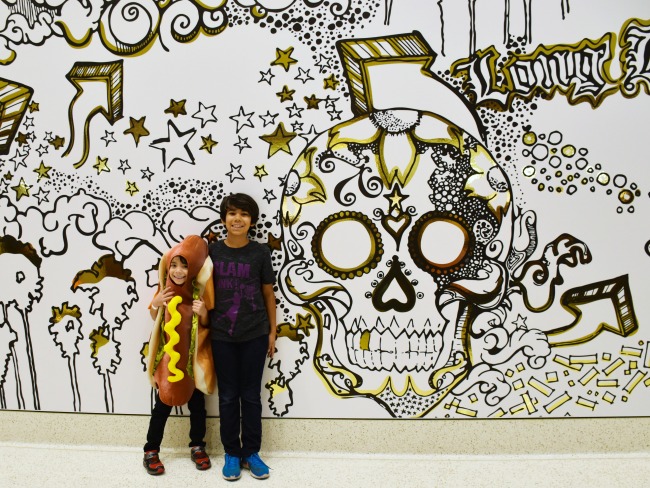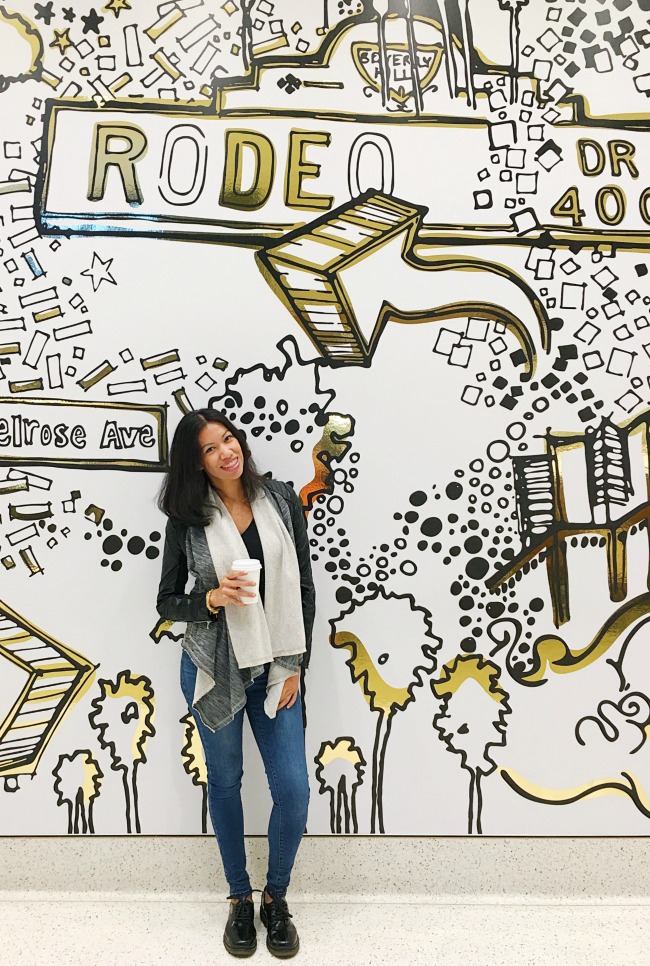 This floor also features Batavia by Barista Society coffee shop which has amazing coffee and even better doughnuts.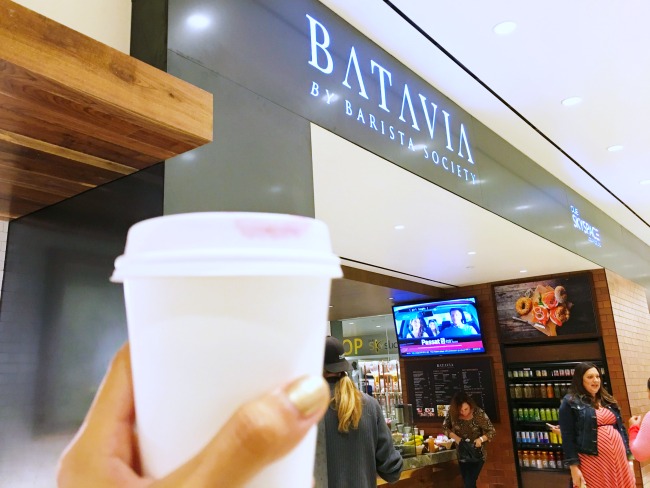 The gift shop is next to the coffee shop, and the entrance into Skyspace is directly across from the gift shop. You'll go through a metal detector before walking into the Art Deco inspired elevator.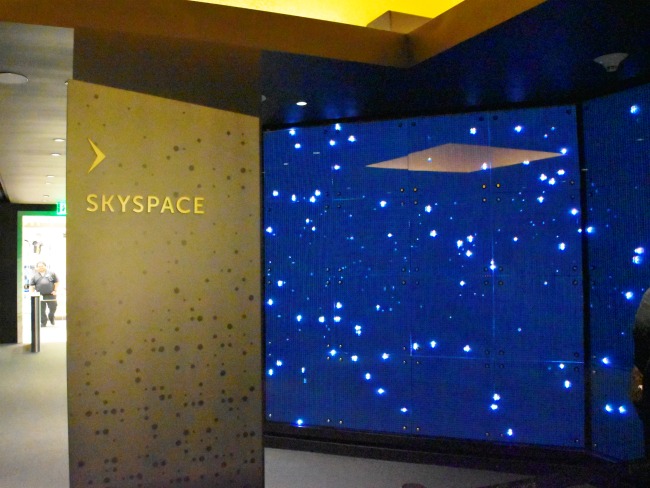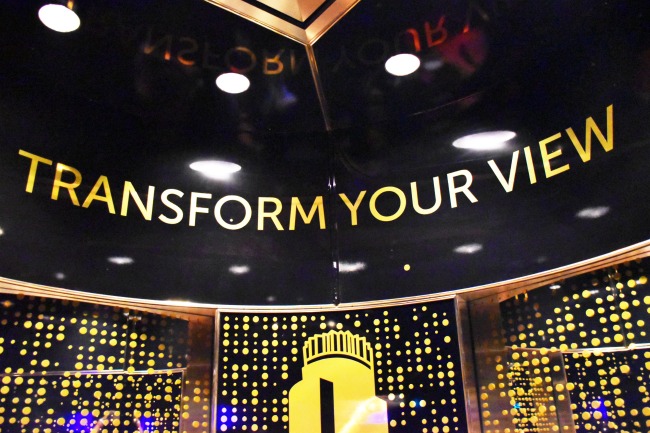 Interactive Level at OUE Skyspace
The elevators will lead you to the event space where they have interactive exhibits, including this spot on the floor that gives you the illusion of looking down all the floors beneath you. It's also a great photo opportunity!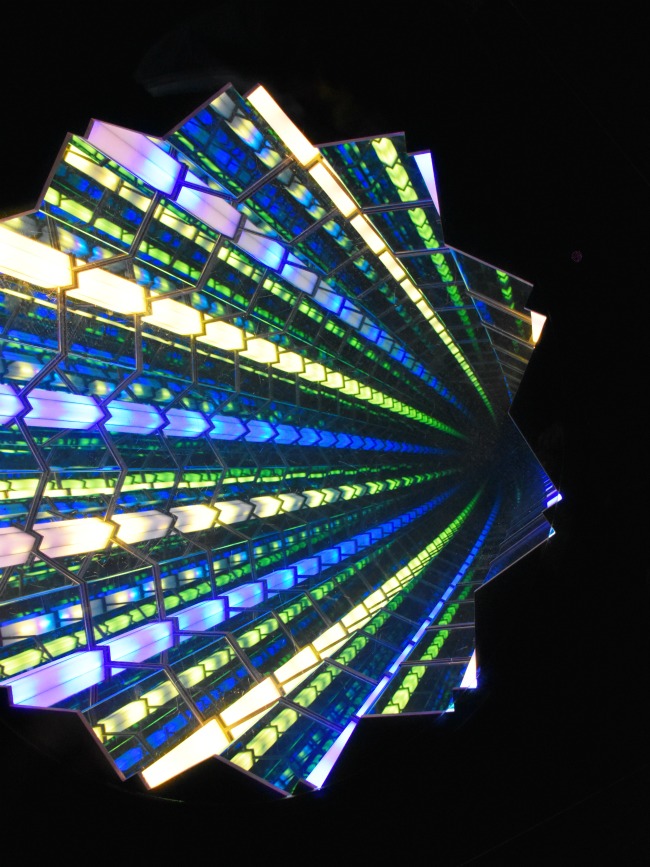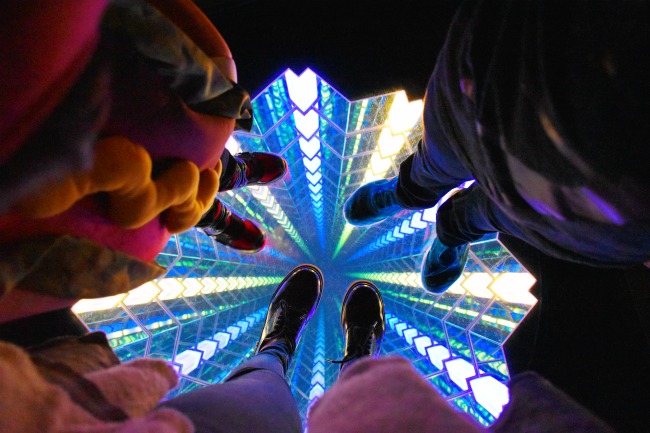 Other exhibits including a wall that responds to the shadows that walk across it. The kids had a blast walking back and forth on it and holding different poses.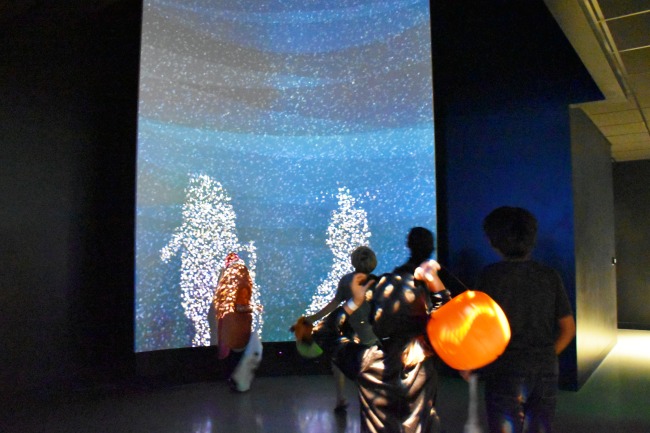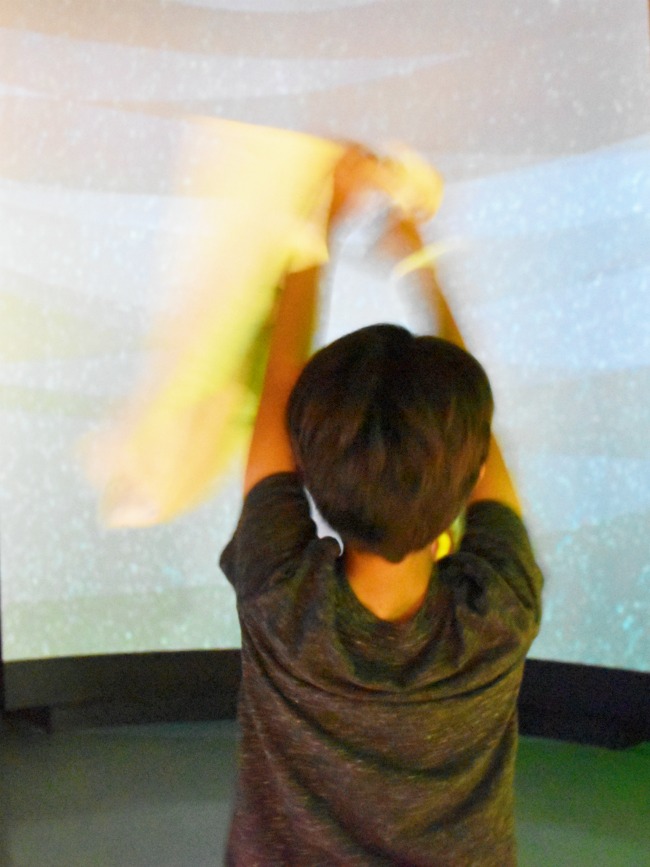 The event space will lead you to some great views, and more photo opportunities.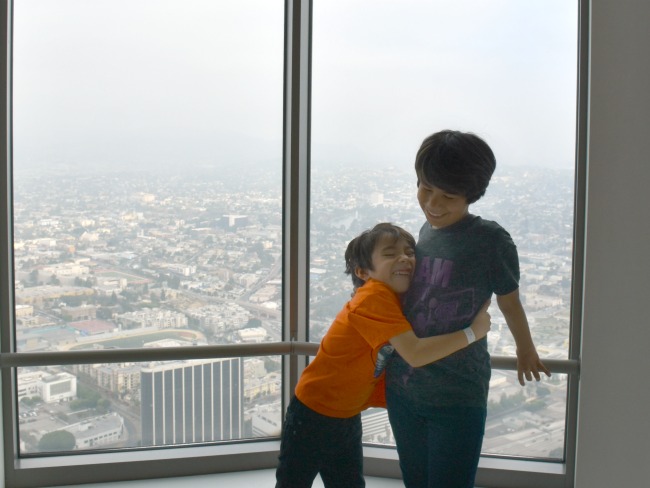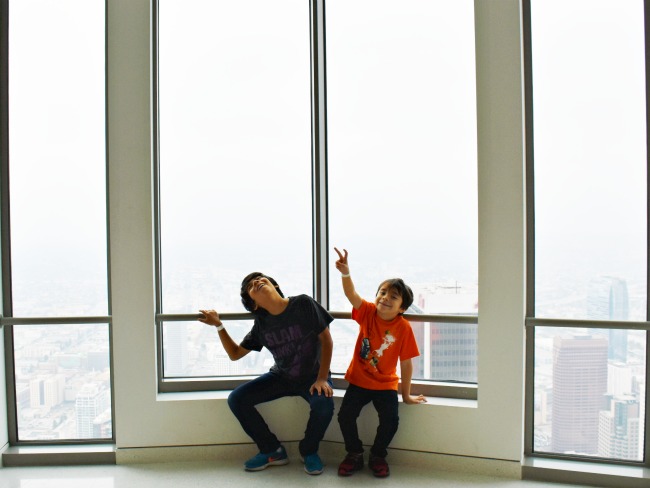 OUE Skyspace Skyslide
The OUE Skyslide is on this floor. An additional ticket is required to go on the slide and can be purchased once you're there for $8. The only other restriction is that kids must be at least five years old to ride the Skyslide.
Riding the Skyslide is so much fun! We rode it a few times and this is what we found – get the craziest experience by looking over to the left side, towards the city, when you ride. The ride is only a few seconds long, so enjoy it while it lasts.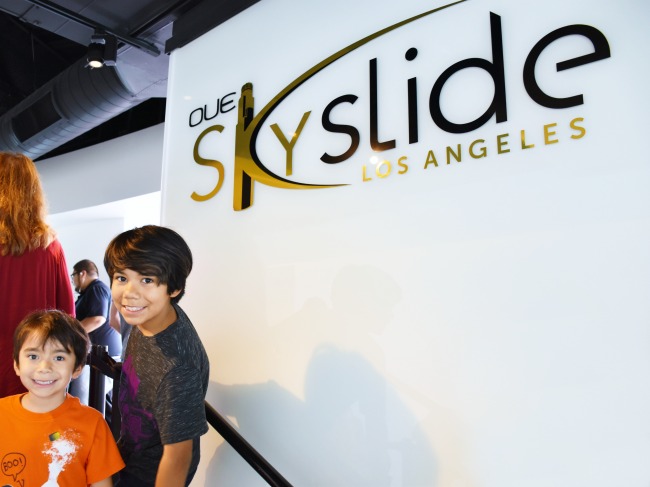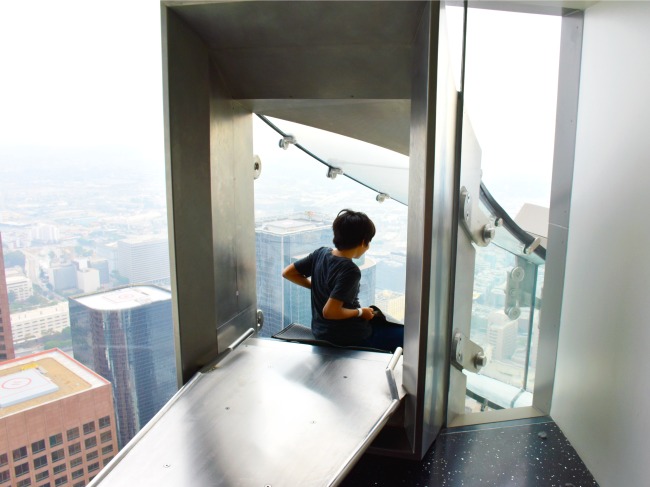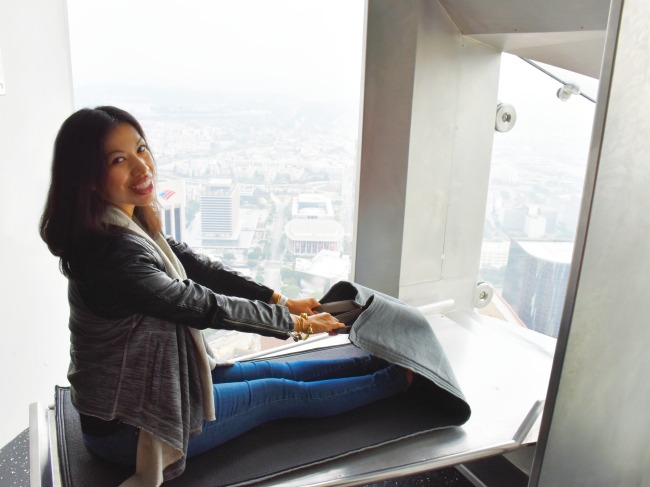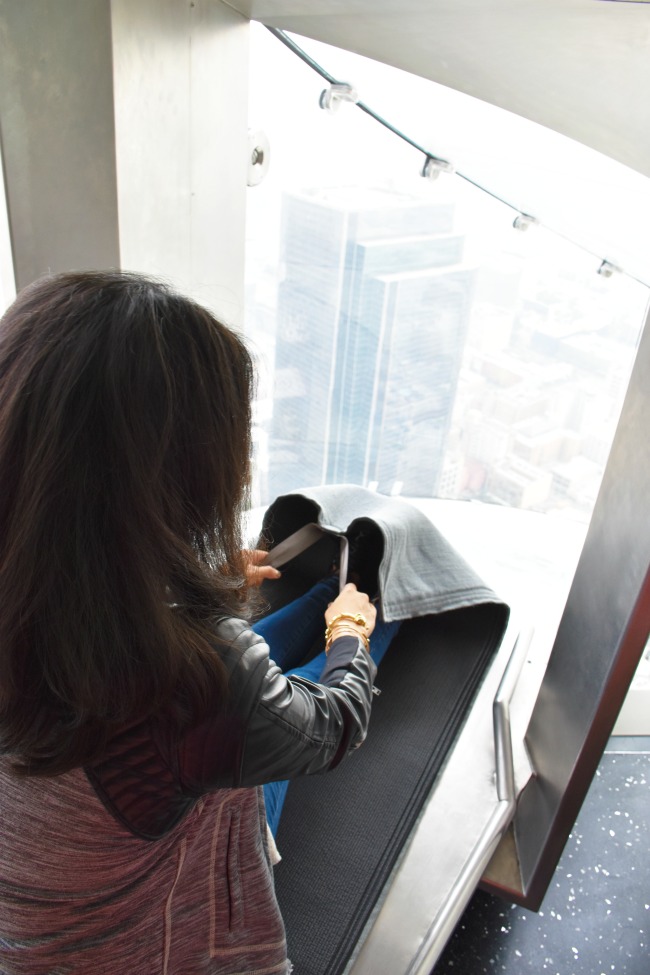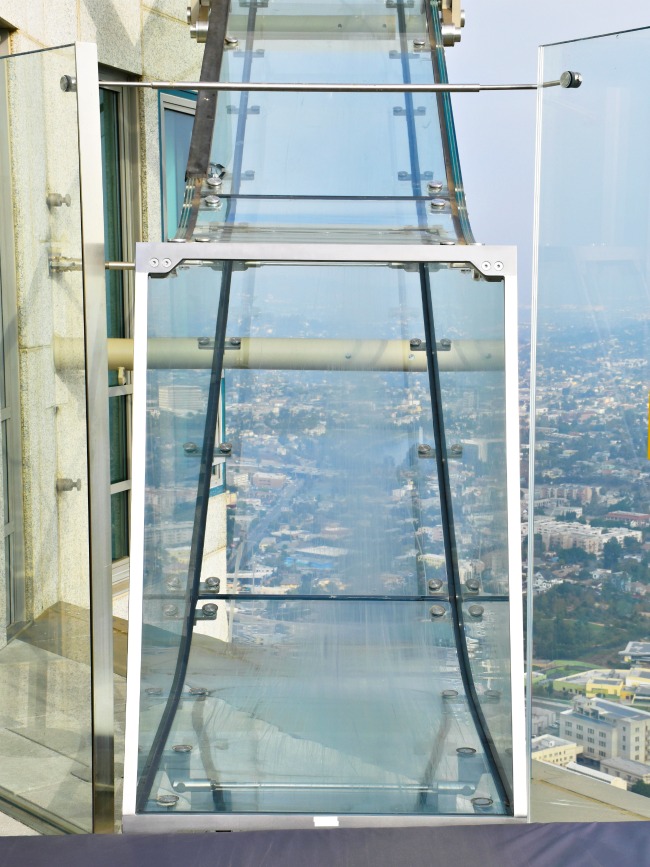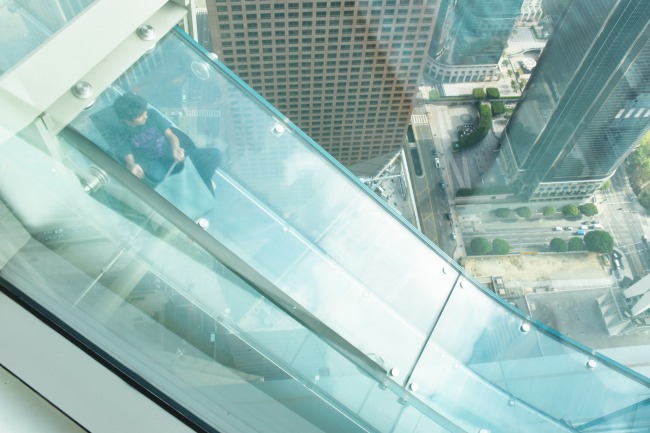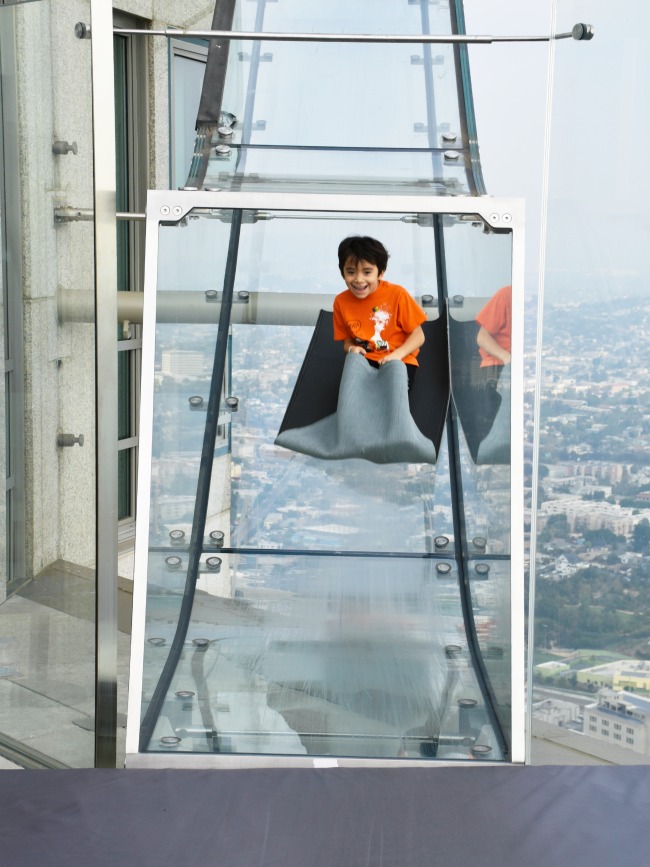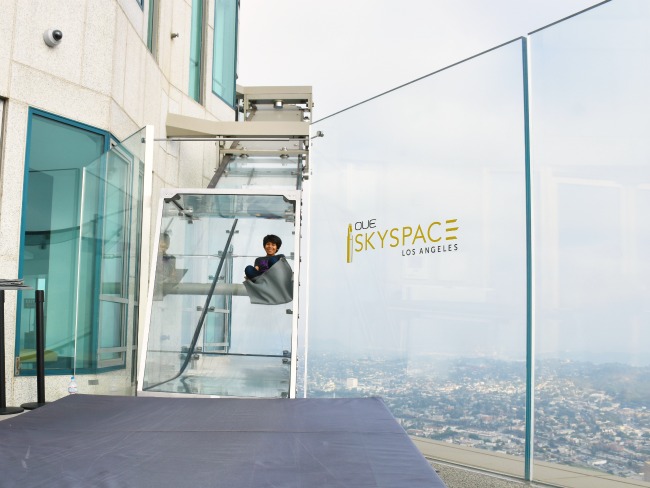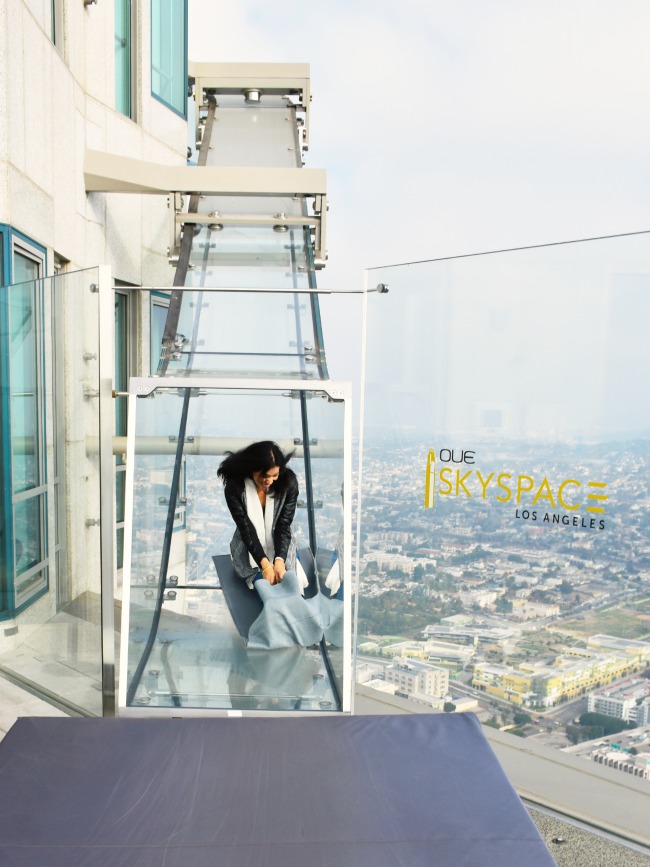 Have someone meet you at the bottom of the slide, the 69th floor, so they can grab a picture or video of you sliding down. The port echoes, so you can just yell down to the person at the bottom that you're going next. Also, don't forget to smile for the camera! You're going to want to purchase the souvenir photo.
Observation Decks at OUE Skyspace
After the slide, hang out on the observation decks and check out the different views of the city. There are also couches located on the terrace – hang out for a while!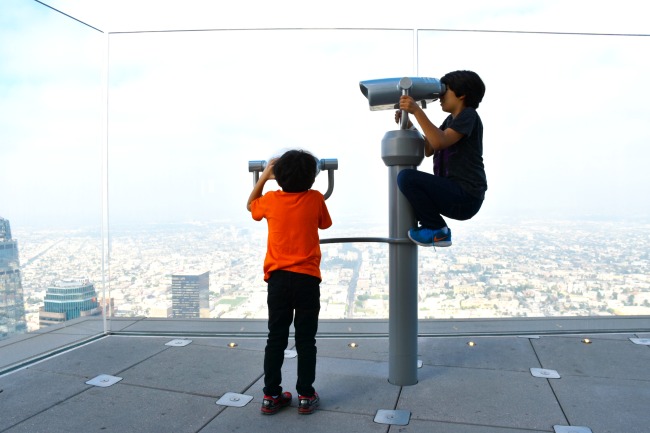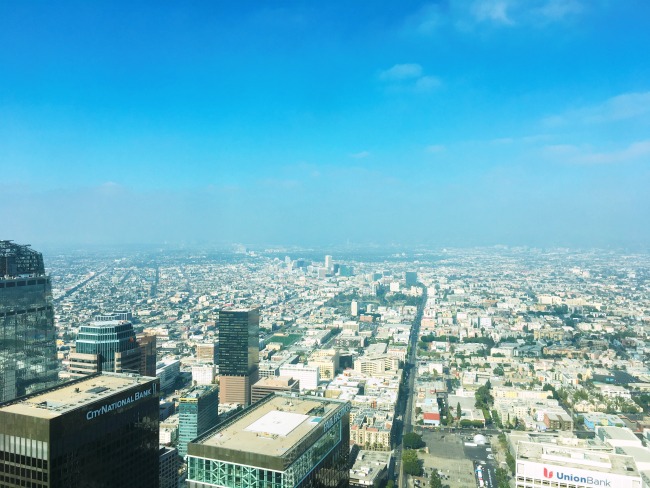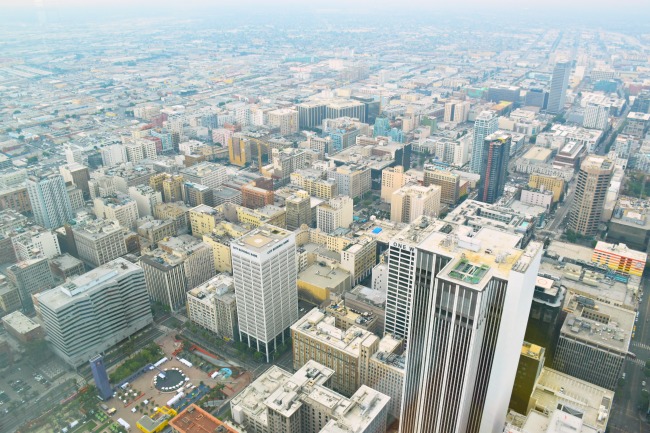 Souvenir photos at OUE Skyspace
Souvenir photos are available for purchase on the 69th floor. You can choose two different images for $29.99. They'll print on 5×7 paper, or you can have them digitally emailed to you. Pictures available for purchase include the one taken as you went down the Skyslide, or the one taken by their photographers. You can even choose different backgrounds for the one taken by the photographer!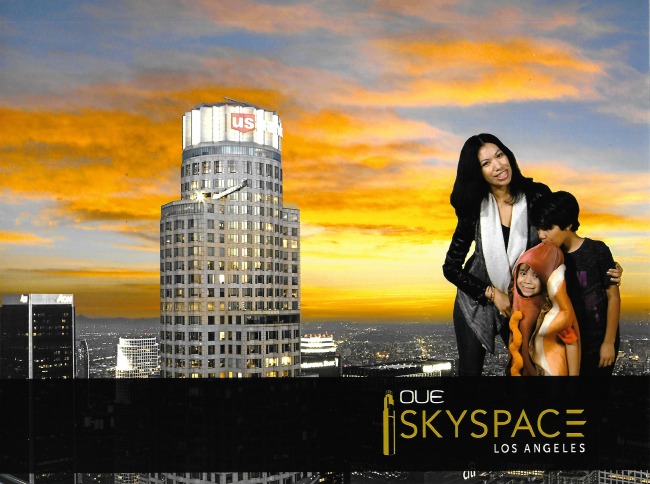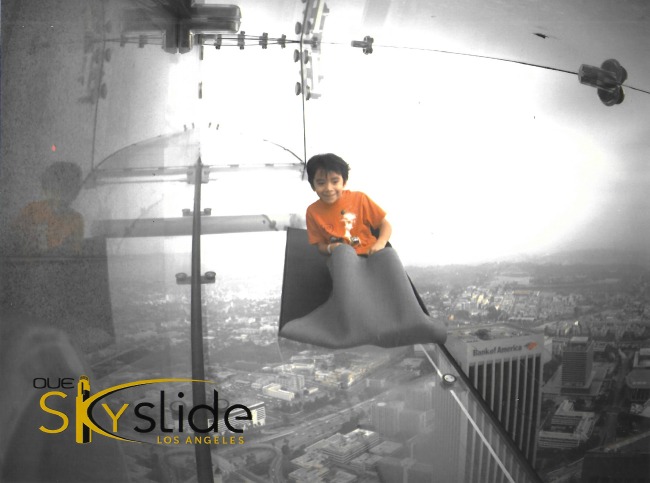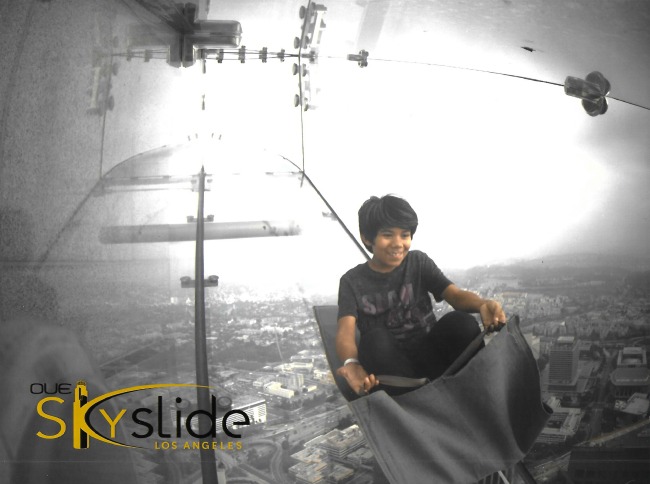 OUE Skyspace is not just for tourists. It's a great spot to take the family, and if you're looking for something special to do on a date – then OUE Skyspace is a great spot too. For more information, visit https://oue-skyspace.com.
OUE Skyspace Los Angeles
Location
633 West Fifth Street
Los Angeles, CA 90071
213.894.9000
Hours of Operation
Sunday through Thursday 10 a.m. to 9 p.m.
Friday and Saturday 10 a.m. to 10 p.m.
Ticket Prices
All tickets are timed entry and available in 30-minute intervals, with the exception of Flex Admission packages. Add-ons, including Skyslide and parking for an additional fee, subject to availability. Minors under 18 years of age must be accompanied by a ticketed parent or guardian during their visit.
Adult: $25 (ages 13-64)
Senior: $22 (ages 65+)
Youth: $19 (ages 3-12)
FREE Admission for children 2 and under with valid regular admission.
Skyslide – $8
OUE Skyspace

Parking

Parking is located at the Westlawn Parking garage at 524 S. Flower Street Los Angeles, CA 90071, across the street from OUE Skyspace.
$8 for up to 2 hours on weekdays (8am – 4pm)
$8 after 4pm on weekdays (until 8am the next day)
$8 on the weekends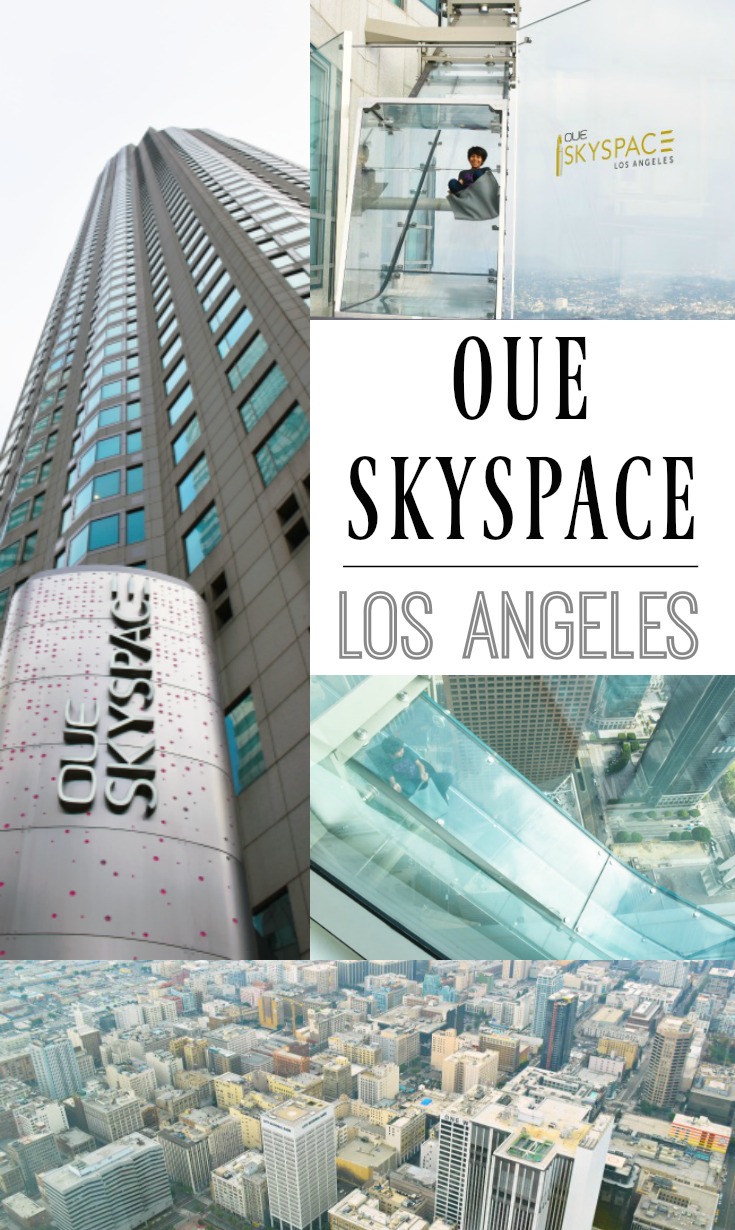 Originally published on January 1, 2017. Last Updated on May 23, 2019 by Pattie Cordova